Amex Delivers Gold
Bob Moriarty
Archives
Jan 6, 2023
For months I have been predicting a major bottom for gold and an exceptional opportunity for investors to profit from the lows. Silver hit bottom on September 1st and gold followed three weeks later along with the major gold indexes. With the XAU up almost 50% over three months it is probably time for the resource market to take a short break. January 6th is the day of a full moon and according to Tom McClellan full moons tend to mark turning points or a time of acceleration in the direction the commodity has been moving. We will see in a couple of days.
(Click on images to enlarge)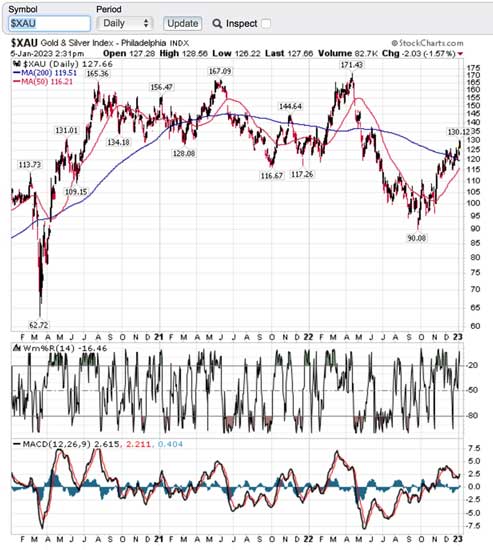 In my view we are in one of the most dangerous times in history. I am on record as saying we will have more change in the next six months than in the last fifty years. China, North Korea and Iran could well join the fray of Nato against Russia. It is a time to be super conservative. No margin, no loans, take on no debt, hunker down. The banking system is on the verge of a total meltdown. Clipto currencies already have collapsed $2.2 trillion and only have $800 billion more to fly off to Clipto Heaven.
One of the companies I have covered before is named Amex Exploration (AMX-V). I mentally put companies in a couple of different groups. You will make the highest percentage return with the cheapest stocks. If you can time a major bottom as I think we have just seen, literally the shares under $.05 will go up the most. At least the ones who survive. A lot won't. But if you want a really quality stock, one with attributes similar to that of a high-grade bond, you want to buy something like Amex.
One of the things I am now 100% convinced of is that if you invest in the penny dreadful juniors, you have to treat them like bubblegum baseball cards. You have to trade them and take a profit when you can rather than hanging on and hoping for a 10,000% return. If you don't sell when you have a profit, the only other alternative is that you sell at a loss. I say that in my book and it is that simple.
Amex is a perfect example. It's the right commodity, gold, in a safe jurisdiction, Canada, with the Perron gold project 100% owned and good solid management. But look at the chart. Depending on when you bought and when you sold, you could have lost 55% of your investment from March to July or you could have made an 80% profit in a month from mid-July to early August.
I have tried to make the point in one of my investment books that when nothing else has changed, the price of a stock going down is not a bad thing, it is an opportunity. Naturally investors want to see nothing but prices going up but markets go up and markets go down.
If it was a good company with a bright future at $3.37 in March, it was the steal of a lifetime in July at $1.45 and again at $1.48 in September. The shares were $1.57 at the end of October and bounced higher by 30% in a week. There is lots of room to profit in the juniors but you have to be willing to take a profit.
Amex owns 100% of the Perron Gold property in Quebec. It consists of 4,518 ha of land. That is in the heart of the prolific Abitibi Greenstone Gold Belt surrounded by dozens of high grade gold mines both producing and past producing. The entire belt has produced over 170 million ounces of gold. It is elephant country. The company is in the midst of a $50 million drill program and has been releasing excellent drill results for literally years. A month ago Amex was awarded The Exploration Company of the Year Award at the Mines and Money gold show in London.
Amex has a lot of high grade gold. They haven't yet come out with a 43-101 but they have millions of ounces. Until the arrival of a resource, investors are just guessing at what they have but with the size of the drill program and the really high grade hits, I think the 3-5 million ounces is very possible making this some of the cheapest and safest gold projects in Canada.
Amex is an advertiser. I do not yet own any shares but I would like to buy some. Do your own due diligence. They have an excellent presentation. Read it.
Amex Exploration Inc
AMX-V $1.70 (Jan 05, 2023)
AMXEF-OTCBB 103.2 million shares
Amex Exploration website
###
Bob Moriarty
President: 321gold
Archives
321gold Ltd