Getting it Exactly Right
Bob Moriarty
Archives
Jan 6, 2014
My last trip of 2013 may have been the most rewarding. I flew to Papua New Guinea in early December. The trip itself was pretty brutal but it made the project more interesting. My flights from home to PNG totaled 30 hours of travel and back 4 days later I did another 28 hours. I picked up a bug en route and it laid me on my back for three days. It's all part of being part of the jet set; long hours and the flu.
The company I went to see is called WCB Resources (WCB-V) and they have a major gold rich copper porphyry on Misima Island in Eastern PNG. So far they have got it exactly right and are well on the way to owning a major piece of a company-making project.
I thought I was familiar with the name of the island, Misima. I had just finished a great book written about the battle of the Coral Sea in 1942 on the trip over. The carrier battle between the forces of Japan and those of the US in the Coral Sea between the Solomon Islands and PNG was the first sea battle in history where the ships never came within sight of each other. Japan was moving their troops into a position to occupy Port Moresby so they could attack Australia. The US wanted to block the Japanese.
(Click on images to enlarge)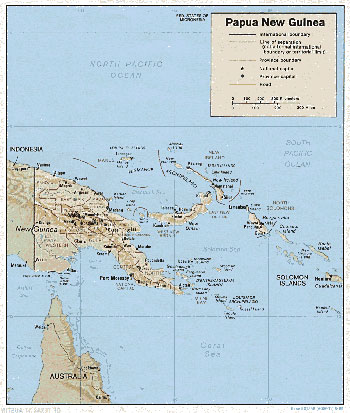 Japan lost one carrier and had another severely damaged. The US lost the Lexington and had severe damage to the Yorktown. Along with the Battle of Midway only a month later, Japan was contained and lost every battle from then on. I didn't realize until my visit to Misima Island for WCB that the Japanese carriers were only 20-30 miles north of the island during the battle.
Gold mining began on Misima Island after its discovery in October of 1888. It was the 2nd gold discovery in PNG. Placer mining on a small scale has taken place since that time and continues today. Hard rock mining has taken place on Misima for almost 100 years and the first railroad in the country was an 11.5 km link between the gold mine and the harbor.
Placer Pacific/CRA operated a gold mine where WCB is now exploring between 1989 and 2004 producing over 4 million ounces of gold and 20 million ounces of silver. They began mine closure in 2001 even though their drilling revealed a rich copper/gold deposit. But copper was a mere $.65 a pound so they walked away after reclaiming the property in 2004.
WCB entered into a JV with Pan Pacific Copper in December of 2011 and began ground operations in 2012. The JV is probably the most interesting I have seen. Pan Pacific Copper (PPC) is owned 66% by JX Nippon Mining and Metals and 34% by Mitsui Mining and Smelting. Both companies want copper production to feed their smelting plants. They do not want to do exploration. WCB on the other hand has no interest in production, they want to explore.
The JV between PPC and WCB calls for WCB to spend $9 million (AU Dollars) over a four-year period. When WCB spent the first $1 million, they earned a 30% interest in the project. They now have another year to spend $3 million to earn 19% more and can earn another 21% bringing them up to 70% by spending $5 million more in exploration.
It's a sweet deal for both companies. WCB company president Cameron Switzer pulled one coup by locating and buying the drill data from Placer Pacific. That's $100 million worth of drilling data. In addition, the project already has a JORC [Joint Ore Reserves Committee] resource of 1.57 million ounces of gold and 8.5 million ounces of silver.
The main deposit is a classic Island Arc Copper Porphyry called the Misima Porphyry prospect. It measures 1100 meters by 800 meters and is a high-order copper-gold anomaly with multiphase veining and intense fracturing.
WCB believes the project most closely resembles the giant Wafi-Golpu deposit owned by Newcrest Mining and Harmony Gold but the entire area finds home to many giant copper/gold projects. Grasberg is on the same island with some 24 million tonnes of copper and 82 million ounces of gold; Batu Hijau is nearby with 7.2 million tonnes of copper and 18 million ounces of gold. Newcrest has the Lihir Gold mine in production on New Ireland with production of 650,000 [corrected] ounces of gold a year and the Hidden Valley mining hoping to produce 250,000 ounces of gold yearly and 2.5 million ounces of gold once full production is achieved.

The Misima gold project consists of three parts. The elephant and primary target is the Misima porphyry prospect. Aeromagnetic data shows a large zone of magnetite alteration under the 1100 by 800-meter zone. It is a classic Island Arc porphyry.

The Umuna Zone contains a resource of 1.57 million ounces of gold and 8.5 million ounces of silver. It's a shear zone hosted epithermal gold deposit. It has not been fully tested to depth or along strike. Recent channel samples conducted by WCB have extended the zone an additional two km to the Northwest along strike.

What WCB calls the Quartz Mountain is yet another distinct mineralization event similar to that found at Wafi-Golpu. There are three zones of separate hydrothermal brecciation with elevated gold and silver values associated with the open pit production totaling about 250,000 ounces. The company interprets a large oval magnetic high as potential porphyry mineralization.

In mineral exploration serendipity plays a much larger part than anyone wants to admit. A lot of exploration and mining is based on pure chance. Gold mining in PNG started in the islands off the east end of PNG. Gold mining started at Misima Island in 1888 and continues today. The island hosted one of the bigger gold mines on Papua until 2004. The island has been the center of training for miners for a hundred years. When the mine shut down ten years ago, all those trained and skilled workers were forced to move elsewhere.

I went to the mainland of PNG years ago. Many parts of the country are not far from the days of cannibals and headhunters. I went to a BBQ for a company that invited the residents of two villages nearby. The men got liquored up and by the afternoon were chasing each other with machetes. I wouldn't visit mainland PNG ever again. But Misima Island is totally different and peaceful. When this project goes into production - and I believe they are on to something big and will be going into production - all those local boys will want to come home to work.

WCB Resources with their Misima Island project have put together the perfect package. It's a JV with the best of partners; guys with deep pockets who want the output of the mine to feed their mills. WCB is holding $100 million dollars worth of drill results so they already have a keen idea of what they have and what they need to test. WCB has passed the first phase of earning and now owns 30% of a project with a 43-101 resource of 1.57 million ounces of gold and 8.5 million ounces of silver.

Of course, every silver lining must have its cloud. WCB needs to raise money for drilling. Because it's an island far from infrastructure, they need to bring in a drill on a barge, probably from Australia. But drills can be had and drillers are eager for work right now. The mobilization costs will be high so WCB needs to raise $3-$5 million to poke some 1000 meter hole into the center of that copper porphyry.

However, as my readers are well aware, I am convinced we have been in a bottoming process for 6 months and the first couple of days of 2014 are confirming that the prices of resources are rebounding. I see the general stock market topping and when investors realize it was the sound of a bell ringing that they heard, money is going to be a lot easier to raise.

WCB is not yet an advertiser, they may well be. I did buy some shares as soon as I got back from PNG so I am biased. As always, do your own due diligence.

WCB Resources
WCB-V $.30 (Jan 3, 2014)
35.3 million shares
WCB Resources website


###

Bob Moriarty
President: 321gold
Archives