Gold Market Update
Wait and watch
Clive Maund
Archives
21 December, 2004
As long as gold's fortunes remain hostage to the movements in the dollar, that is until investment demand is the primary driver, then it is to the course of the dollar that we must look to ascertain movements in the gold price.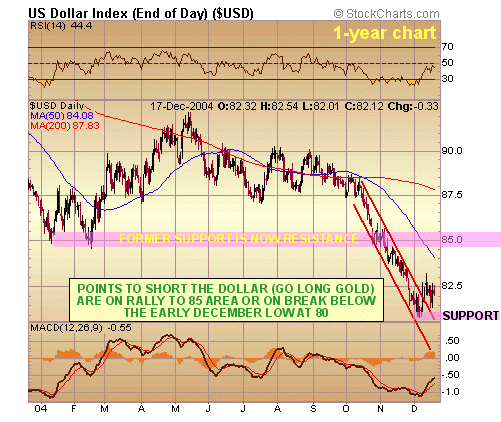 The dollar remains in a dominant long-term downtrend, although it broke out upside from a steep intermediate downtrend early this month, and is now in position to make a countertrend run towards the strong resistance in the 85 area. The fundamentals remain awful, and with the oversold condition of a few weeks ago unwinding, it may not rally significantly from here at all - the decline could resume at any time. This being so there are 2 clear points at which it becomes favourable to short the dollar (go long gold). One is on a rally up to the strong resistance in the 85 area, where the probability of the rally ending and the larger downtrend reasserting itself is high. The other is on a clear break below the low early in the month, which will signify a failure of support at this level.
If the first scenario comes to pass and the dollar rallies to the 85 area, then gold is likely to simultaneously react back to its long-term uptrend channel line currently at about $410, where it will be an automatic trading buy, with optional close stops. Conversely if the dollar breaks to still lower levels from here, by dropping below 80, then gold would be expected to resume its advance towards its upper long-term trend channel, now at about $490, making gold a buy on this dollar breakdown.
In the meantime it is considered wisest to wait and watch how this plays out. This applies also to gold stocks - our general stop on the HUI index was triggered at 218, and the index is now marking out a potential downflag beneath resistance at about 220, indicating potential for another sharp drop to the 195 - 200 area.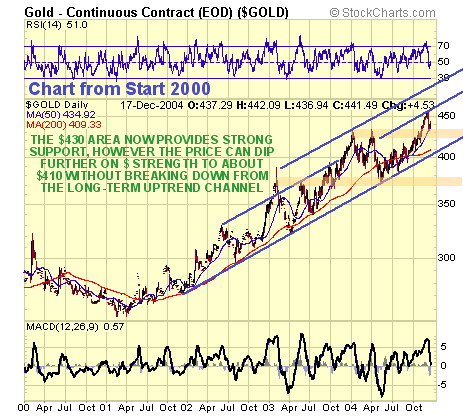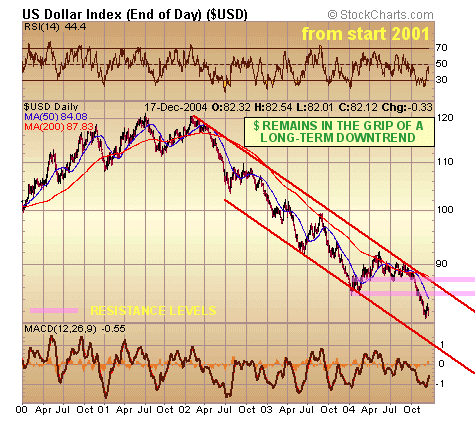 Clive Maund
Archives
Clive.Maund@t-online.de

Clive Maund is an English technical analyst, holding a diploma from the Society of Technical Analysts, Cambridge and living in southern Bavaria, Germany.

Visit his subscription website at clivemaund.com.[You can subscribe here].

No responsibility can be accepted for losses that may result as a consequence of trading on the basis of this analysis.

Copyright © 2003-2004 CliveMaund. All Rights Reserved.

321gold Inc Miami USA