Silver Market Update
Silver's done its heavy lifting
Clive Maund
8 November, 2004
Last week the focus was on gold as it limbered up for its breakout above key resistance in the $430 area, and this was appropriate also for silver investors, as a successful breakout by gold above this hugely important strategic level will have a very positive effect on the silver price. In fact, silver has already done its "heavy lifting" by breaking out above its key $7 resistance level, and then consolidating its position above $7.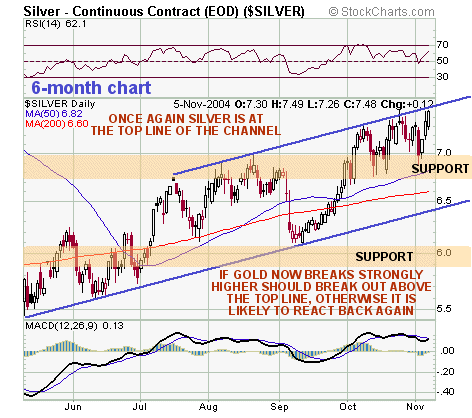 On the 6-month chart we see that silver, having again dipped down to test support below $7 as predicted in the last update, is once again up at the top of its intermediate trend channel. This time, however, it is not as overbought as when it nudged this line on 2 occasions in October, increasing the possibility of a breakout above this channel line. Looking at the 6-month chart alone, it looks more likely that it will retreat from here, so let's now look at the chart going back to July 2002, on which we can see that there is a good chance that the advance will accelerate from here, especially given the positive developments in gold.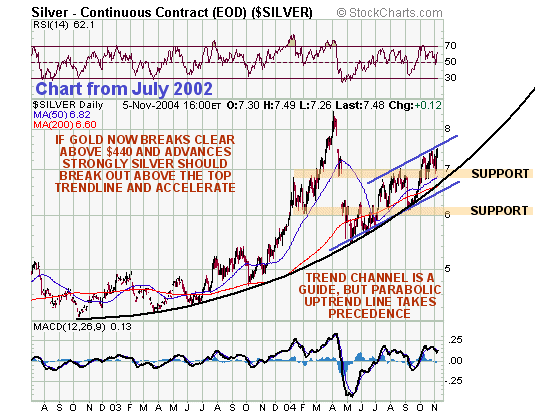 This longer-term chart reveals a fine parabolic uptrend which originated from a low in October 2002. There can be no doubt of the importance of this uptrend, as the price rallies from it no less than 5 times. This is why this parabolic uptrend is said to take precedence over the straight line channel shown, in other words, on a reaction the price should find support at it, and not fall further towards the lower straight trendline shown. The overbought peak back in March is thought to be the result of the excessive amount of hype about silver that was widespread back last winter and spring, which resulted in a "crash and burn" reaction in April that stopped bang on the parabolic uptrend.
The gold breakout above its key $430 resistance zone - and we will know for sure once the $440 level is cleared and the buy stops kick in - is an event of huge importance for silver. The obvious scope for a dramatic acceleration in the rate of advance of silver is clear from the parabolic uptrend which is getting rapidly steeper. This implies that, in the event of gold taking off as expected, silver will leap above the intermediate top channel line shown and surge. The $7 level was the key resistance level for silver, and its already cleared it. The resistance at the high of last April above $8 is not expected to be much of an impediment as the price was not up there for more than a few days.
Should gold back off again in coming days and then mark time forming a handle to the cup formation that developed during this year, as discussed in detail in the latest Gold Market update, then silver would be expected to retreat back and hang around the $7 area above the parabolic uptrend, until gold is ready to go up. The more likely scenario is that gold now gets on with it and enters a strong uptrend, and silver breaks above its upper channel boundary and surges, quite possibly taking out the April high very quickly.

Clive Maund
Clive.Maund@t-online.de

Clive Maund is an English technical analyst, holding a diploma from the Society of Technical Analysts, Cambridge and living in southern Bavaria, Germany.
Visit his subscription website at clivemaund.com.[You can subscribe here].

No responsibility can be accepted for losses that may result as a consequence of trading on the basis of this analysis.

Copyright © 2003-2004 CliveMaund. All Rights Reserved.

321gold Inc Miami USA