Gold Market Update
Studying those bowls and cups
Clive Maund
5 November, 2004

Gold had a crack at breaking out above $430 yesterday, and managed to get to $433.13 before being beaten back, but what was more important was that the dollar broke down below its lows of last February.

This development greatly increases the chances that it will continue to fall steeply towards the lower long-term trendline, shown on the 3-year chart, which is a long way below. If so, then it should not be long now until gold clears the big resistance around $430. With a lot of buy stops believed to be positioned between $434 and $440, i.e. above the intraday highs of last March - April, sentiment should switch abruptly once the price gets above $440, with selling drying up and an influx of buying propelling the price rapidly higher.
There are a lot of charts with this update, in order to illustrate various points of interest. The 1-year dollar chart highlights the break of support yesterday, although the break is not by a sufficient margin just yet to be relatively sure that we're on our way.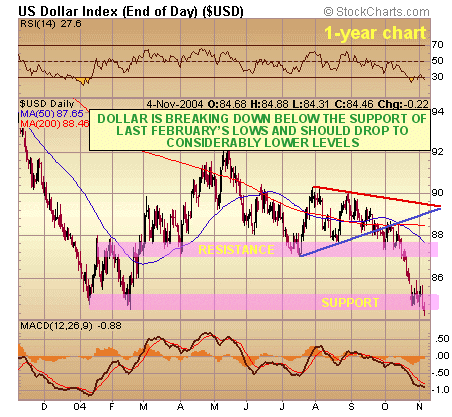 The 3-year dollar chart shows the downside target at the lower long-term trendline.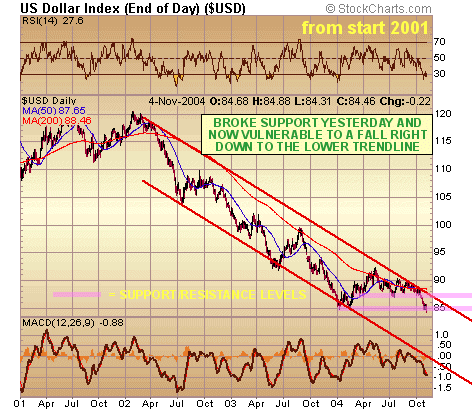 The 6-month gold chart shows the action of recent days in detail.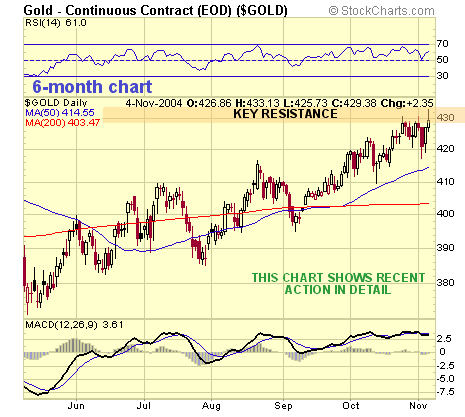 The 2-year gold chart shows the bowl or cup formation that has appeared this year, and that may go on to develop a "handle" before breaking higher, if gold does not breakout above $430 shortly.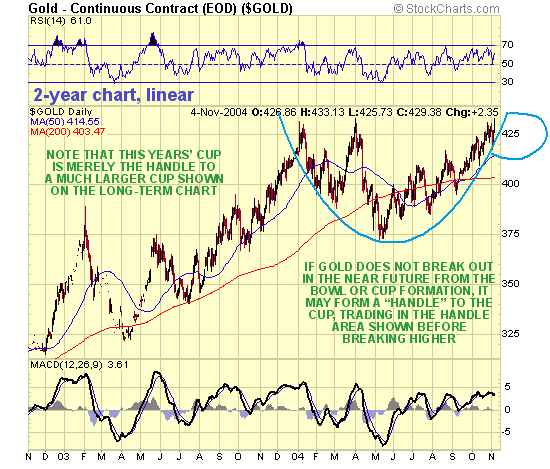 The long-term chart reveals that this years' bowl or cup is actually the handle of a much larger cup that started forming way back in 1995 and whose measuring implications call for an advance to $600 at least. Sometimes these formations are like Russian dolls, with smaller ones of lesser degree nestled inside them - we can see a smaller cup and handle that developed between 1999 and 2002 on this chart, and what happened when it broke out upside.
The reason for using linear 2-year and long-term charts is that the bowls/cups are more rounded.

Clive Maund
Clive.Maund@t-online.de

Clive Maund is an English technical analyst, holding a diploma from the Society of Technical Analysts, Cambridge and living in southern Bavaria, Germany.
Visit his subscription website at clivemaund.com.[You can subscribe here].

No responsibility can be accepted for losses that may result as a consequence of trading on the basis of this analysis.

Copyright © 2003-2004 CliveMaund. All Rights Reserved.

321gold Inc Miami USA