Gold and Silver updates
The odds favour a correction
Clive Maund
Archives
22 February, 2005
Gold

While gold did not become anywhere near as overbought as silver on its mid-month run-up, the odds favour a short-term correction from here. There are several factors that taken together make this likely. Looking at the 6-month chart we can see the strong advance in the middle of the month, comprised of 3 white candles, but following this the advance has slowed right down, and several "doji" candles have formed. This type of candle frequently signals a reversal, particularly when, as is the case here, other technical factors concur in signalling the likelihood of a downturn. These other factors are that the price has stalled right at the resistance at the highs of much of last month's trading range, and, coincidentally, right at the resistance at the falling 50-day moving average, both of which increase the likelihood of a short-term pullback.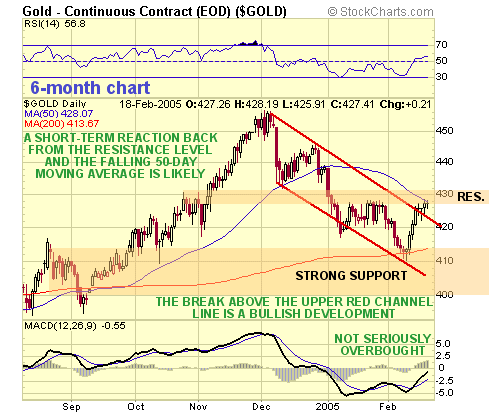 Otherwise the picture is quite bright, with gold having taken off nicely from support at its long-term trendline, breaking the downtrend in force since December in the process. As already mentioned it is not seriously overbought, so after a short-term reaction, probably back to support in the $420 area, it is likely to pick up again.

Dollar

The dollar has dipped back into an area of support above its 50-day moving average, from which a short-term bounce back up towards the 85 area is likely, which fits the outlook for gold.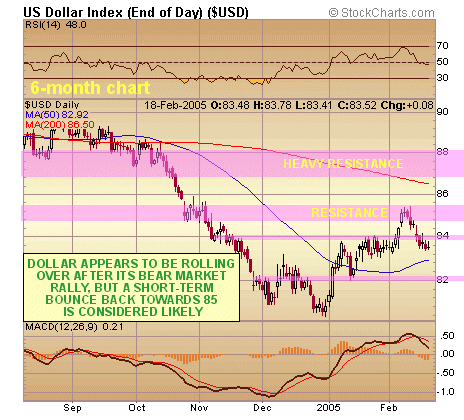 Silver

Although silver could spike higher towards $8 from here, the odds favour a reaction short-term, not merely because of the outlook for gold and the dollar, but for its own reasons as well. Although the price continued incrementally higher last week, it has clearly been running into resistance towards $7.50 and upside momentum has waned. The RSI indicator is now at a normal overbought extreme, and the MACD indicator is approaching its normal overbought extreme. After the sharp rise earlier in the month it would be reasonable for the price to react back somewhat from the current overbought level, towards support in the $7.10 area, which would allow the short-term overbought condition to unwind and the moving averages to move into a more bullish alignment.

Otherwise, the sharp advance in the middle of the month augers well for continued progress after an expected short-term reaction.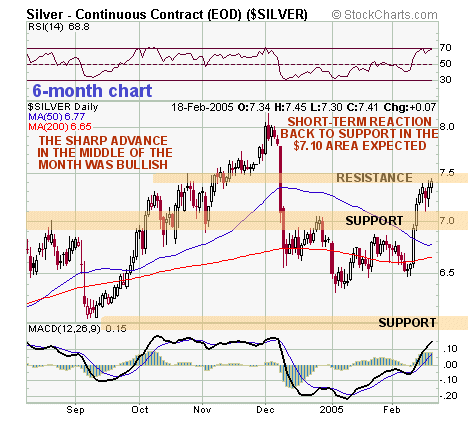 ###
Clive Maund
Archives
Clive.Maund@t-online.de

Clive Maund is an English technical analyst, holding a diploma from the Society of Technical Analysts, Cambridge and living in southern Bavaria, Germany.

Visit his subscription website at clivemaund.com.[You can subscribe here].

No responsibility can be accepted for losses that may result as a consequence of trading on the basis of this analysis.

Copyright © 2003-2005 CliveMaund. All Rights Reserved.

321gold Inc