Sectorwide Upside Breakout Alert
Clive Maund
Archives
19 January, 2005
Further to the "General Buy Alert" posted on clivemaund.com on the 8th January, there is now additional evidence that PM stocks are about to break higher and enter into a new uptrend. A bullish falling wedge pattern has developed in the HUI index above what is clearly very important support at 200.
On the 6-month chart we can see that the index has steadied for long enough above the 200 level to make the channel line drawn beneath the early January low valid, which is good news indeed because it results in a very clear - and very bullish - falling wedge. Although now falling and providing some resistance immediately above the index, a closing break above the 200-day moving average, which would be simultaneous with a breakout from the falling wedge pattern, is expected to lead to a strong move up. This would be similar to what happened last September. Note also on this chart how the RSI and MACD indicators are starting to turn up from low levels, suggesting that an uptrend is imminent and also signifying that there is plenty of leeway on the upside.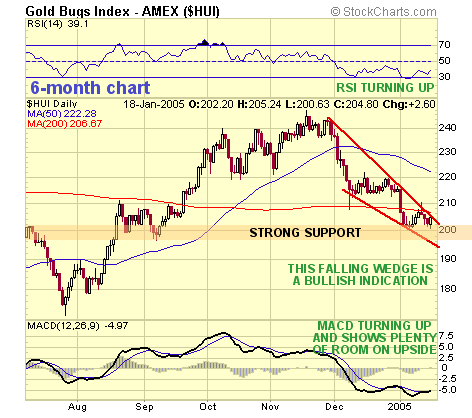 A look at the longer-term charts gives us more of an idea just how important this 200 level is. Zooming out to a 1-year chart brings into full view the trading range that developed between mid-April and mid-August last year. The early sellers in this range are a potent source of support at the current level.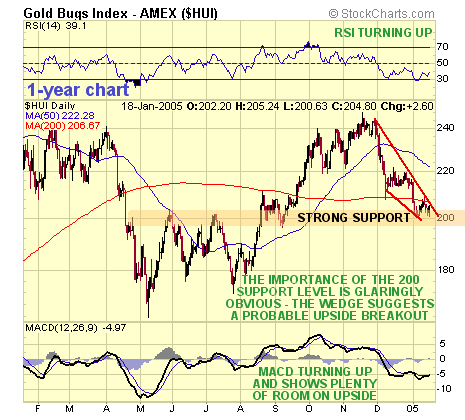 Looking now at the 3-year chart we see that the HUI index is right on its long-term uptrend line. Of course it could break down from here, but as I have just made clear above it is looking much more likely now that it will break out upside - and if it does then we should see a substantial uptrend that comfortably surpasses the earlier highs, although we can expect it to tarry around the former highs before breaking out into open country.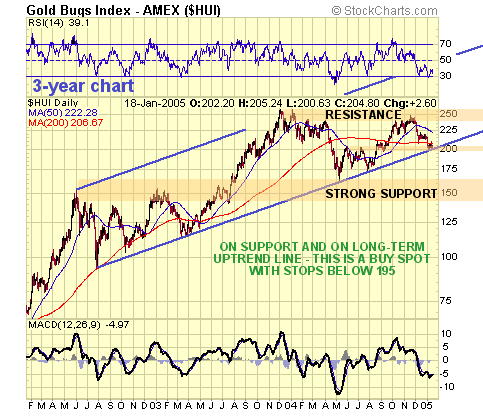 We are now at a major cusp, and the weight of the evidence points to a vigorous uptrend starting from here. This is an optimal buy spot. A break below the clear support at 200 would, however, be bearish, and it is therefore considered wise to place general stops beneath the 193 level, this amount of leeway being considered prudent to guard against an attempted intraday shakeout being engineered by big money with the aim of scooping up your shares on the cheap, and also to take account of the position of the lower line of the wedge. Note that an upside breakout may well involve a "kicker move," with the HUI index up between 8 and 12 points in 1 day. There are a lot of traders sitting on the fence right now and if this situation resolves itself to the upside they will pile in, particularly as the current situation is so finely balanced.
Silver is also expected to pick up strongly and with the big silver stocks having been beaten back severely to sit just above strong support levels, there is clearly lots to go for with the silver stocks.
Oil is now strengthening as earlier predicted and this is having a positive influence on the precious metals. With an attack on Iran looming, it is hard to see how the price of oil could fall, and despite the fact that the attack or attacks will probably be confined to precision bombing and sabotage, for the time being, it can be expected to generate considerable friction internationally. This will be a supportive influence on the precious metals.
A wide range of big PM stocks are now looking ready to advance and provide important additional evidence to support the view that a breakout and new uptrend are imminent.
More on individual gold and silver stock opportunities follows for subscribers. You can subscribe here.
Clive Maund
Archives
Clive.Maund@t-online.de

Clive Maund is an English technical analyst, holding a diploma from the Society of Technical Analysts, Cambridge and living in southern Bavaria, Germany.

Visit his subscription website at clivemaund.com.[You can subscribe here].

No responsibility can be accepted for losses that may result as a consequence of trading on the basis of this analysis.

Copyright © 2003-2005 CliveMaund. All Rights Reserved.

321gold Inc Miami USA