Gold and Silver Market Updates
Clive Maund
Archives
18 January, 2005
Gold - The dollar behaved as expected last week, reacting back from an extremely overbought condition, only to turn higher again towards the end of the week, and gold's action was the inverse of the dollar action. The dollar does look set to run higher towards the 85 area shortly, which is expected to result in gold continuing to test key support in the $410 - $420 area.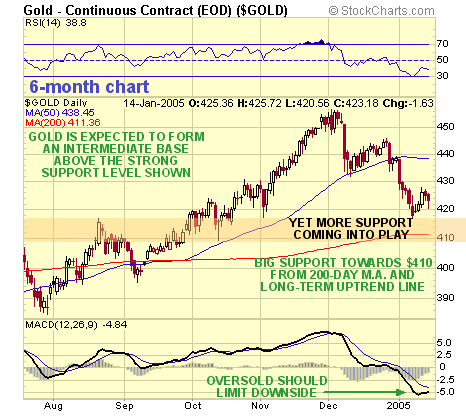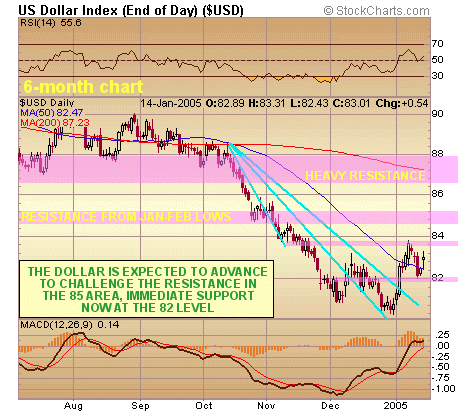 Unless the dollar continues to drive higher than the 85 area, which is possible but considered unlikely, then gold should base above its long-term trendline before beginning a new intermediate uptrend. In addition to the long-term uptrend line there is strong support in the $410 - $420 area arising from the considerable volume of past trading in this area, which is why a break below $400 would be viewed as a negative development that would usher in a lengthier correction. However, the most probable outcome is a test of this support followed by a new uptrend, as now appears to be happening with oil. We will be watching this with interest, as should an intermediate base now develop at and a little below the current price, it will signal a fresh intermediate uptrend in gold stocks.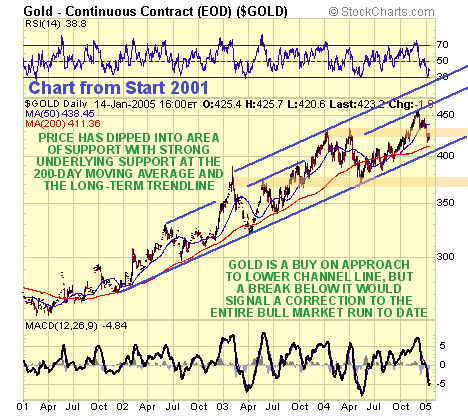 Silver - Although looking a bit "punch drunk" after its recent hammering, the downside for silver is now looking more limited. Price action last week reflected the moves in the dollar, which reacted back from an extremely overbought condition early in the week, only to stabilize and rally again towards the end of the week. Technically, silver is the antithesis of crude oil - the latter is a huge, liquid market which generally behaves itself well, whereas silver is a thin, speculative market, subject to the predations of manipulators, to a degree that is impossible to determine. The practical consequence of this is that it is important not to always take breaks of support and trendline breaks at face value, as such a market is vulnerable to false moves. This is discussed in more detail in the article A Fresh Look at Silver that went up on 10th January. [for subscribers]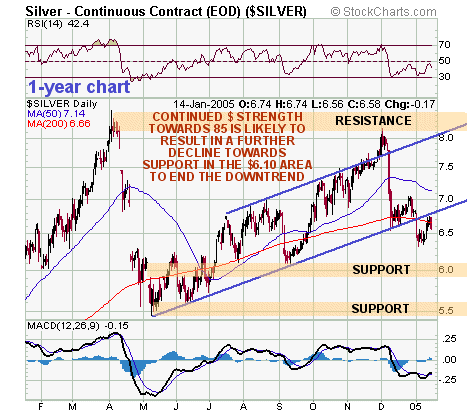 With the dollar expected to push ahead to the 85 area on the index short-term, gold is expected to test its support between $410 and $420, form an intermediate base and turn up again, and at this time silver is likely to retreat back towards strong support in the $6.10 area, and should not drop below this level unless the dollar pushes on beyond 87, which is viewed as possible, but unlikely. We will therefore be watching for signs of an intermediate base developing in coming weeks, which will obviously be of key importance to silver stocks which are now approaching key support levels.
Clive Maund
Archives
Clive.Maund@t-online.de

Clive Maund is an English technical analyst, holding a diploma from the Society of Technical Analysts, Cambridge and living in southern Bavaria, Germany.

Visit his subscription website at clivemaund.com.[You can subscribe here].

No responsibility can be accepted for losses that may result as a consequence of trading on the basis of this analysis.

Copyright © 2003-2005 CliveMaund. All Rights Reserved.

321gold Inc Miami USA