Gold and Silver Market Updates
Clive Maund
Archives
6 January, 2005
Gold
Gold is retreating as the dollar rallies. So far this correction is quite normal and, with the dollar looking set to run to the 85 area on the index, and possibly the 87 area, gold is expected to drop back to test its long-term uptrend line now at about $410.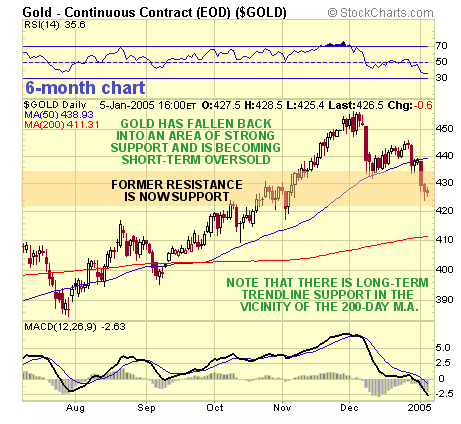 The 6-month chart shows the recent action in detail. After the initial decline back to support in the vicinity of the 50-day moving average, a down pennant formed above this average leading, as expected, to renewed decline, which is bringing the price down into an area of strong support in the vicinity of the peaks of last Winter and Spring. This support is underpinned by the strong support provided by the long-term uptrend line and the 200-day moving average in the $410 - $412 area. Nevertheless, with the dollar expected to rally further, gold is expected to be forced down to thoroughly test this support in coming weeks. Note that the breakout by the dollar this week has led to a sharp move to its falling 50-day moving average and so it may consolidate/back off for some days before the expected advance resumes. Should gold go on to break down below its long-term uptrend, it will signal that a deeper and longer correction is due - a correction to the entire bull market run from 2001. This would also signal a dollar breakout from its long-term downtrend and a corresponding larger correction to its entire bear market run from 2002.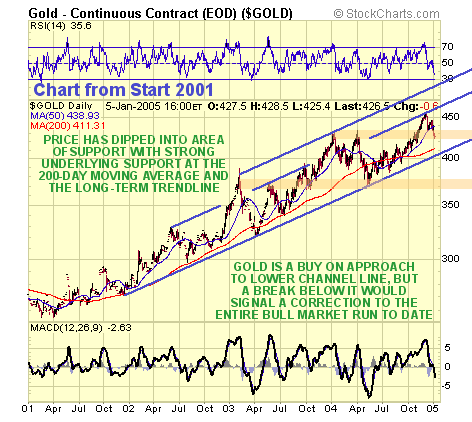 The outlook for the dollar following its breakout has been discussed in detail in yesterday's article Dollar breaks out from 3-set fan, to which readers are referred.
In view of the above a further decline by gold into the $410 - $420 area will be regarded as a buying opportunity, but should the long-term uptrend fail, positions should be closed out.
Silver
The technical condition of silver continues to deteriorate, with the failure below the highs of last Spring being compounded by the failure, last week, of the intermediate uptrend in force since last May. This is a considerably weaker picture than that for gold. With the dollar expected to make further gains in coming weeks, the immediate prospect is for a continuation of the current decline initially to support in the $6.10 area, and, should this fail, on down to the stronger support near the lows of last May in the $5.50 area.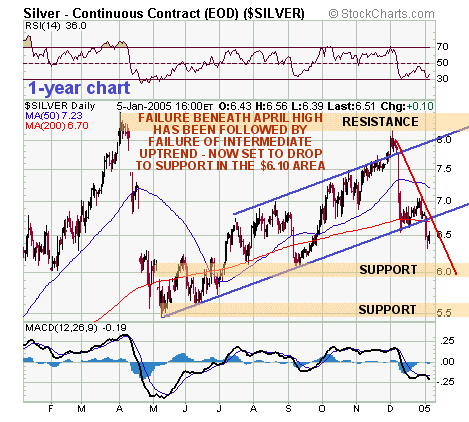 Gold's ability to remain within its long-term uptrend and the outlook for the dollar are, of course, factors that will have a crucial bearing on the outlook for the silver price.

Clive Maund
Archives
Clive.Maund@t-online.de

Clive Maund is an English technical analyst, holding a diploma from the Society of Technical Analysts, Cambridge and living in southern Bavaria, Germany.

Visit his subscription website at clivemaund.com.[You can subscribe here].

No responsibility can be accepted for losses that may result as a consequence of trading on the basis of this analysis.

Copyright © 2003-2005 CliveMaund. All Rights Reserved.

321gold Inc Miami USA