The Pilbara Gold Rush
CEO Technician
Posted Mar 19, 2018
Two people in particular have been responsible for the vast majority of my education and understanding of the "Pilbara Gold Rush": Bob Moriarty and @HHorseman from CEO.ca. Both gentlemen are very passionate about Novo Resources and the potential for a massive gold discovery in Novo's Pilbara (Northwest Australia) land package (more than 10,000 square kilometers).
Recently HHorseman (Erik from Sweden) wrote a lengthy missive (59 pages in all) about the Pilbara Gold Rush filled with geology and earth history from 3 billion years ago in an effort to understand how the gold came to be in the Pilbara, how the gold bearing conglomerates were formed, and where there might be more gold found in the area.
What Erik has created is fascinating because he's put together many of the puzzle pieces in a very complex puzzle to help us understand how the conditions to form gold in the Pilbara may have been virtually perfect. This process took literally 3 billion years and involved at least one meteor strike (roughly 2.7 billion years ago). It also helps to understand why the gold may have not been found for so long, because it was not understood how it got there and where it might be.
Sure, artisinal miners and guys going out for weekend fun have been digging up nuggets for decades all around Australia. However, driving 100 miles out into the middle of no where and spending tens of hours toiling in unbearable heat in order to dig up a few 2-5 gram nuggets isn't exactly the get rich quick fantasy that most "Gold Rush" watchers might have envisioned. The Pilbara gold nuggets have not been commercially economic for a large mining firm because they were thought to be too sparse and the lack of infrastructure in the surrounding area made it virtually impossible to create a large scale operation.
All of this changed in the 2nd half of 2017 when Novo's work caused a rethink of the entire story. Now we have the #2 Pilbara gold story, Artemis Resources, drilling a very deep hole in an area very close to where a company called CRA drilled during the 80s. CRA stopped at around 2,000 meters depth and only found one thin layer of gold grading around 10 grams/tonne. Artemis (and presumably Novo as well) believes that CRA didn't drill deep enough because the conglomerate gold layer is submerged much deeper in the earth as one moves "down dip" away from the shoreline. What Novo found at Purdy's was the area where the conglomerate layer "daylights." Comet Well, where Novo is currently working, is similar in that it is a unique location where the conglomerate layer is near surface.
Go read the rest of Erik's work here (the US$130 is worth it if you care at all about the Pilbara story) and I suggest sticking with best of breed (either Kirkland Lake which owns a ton of Novo, or NVO.V itself). Quinton Hennigh, Novo CEO, staked the best areas in the Pilbara after having first dibs. He knew exactly what he was doing and everyone else is simply chasing an "area play" now that is most likely not nearly as good in the areas that they staked after Novo. Notice that while Novo shares have doubled in the last six weeks, Artemis and the 'Pilbara Sisters' have remained largely dormant:
(Click on images to enlarge)
NVO.V (Daily)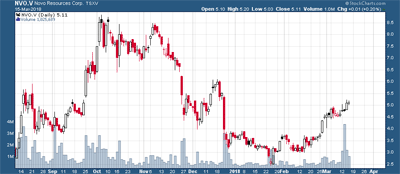 ARTTF (Daily)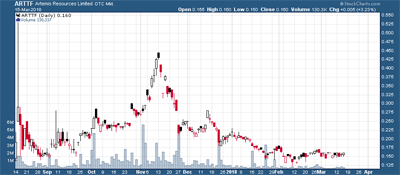 ###
CEO Technician
email: ceotechnician@gmail.com
website: tradinglab.co and EnergyandGold.com
Disclaimer: The work included in this article is based on current events, technical charts, and the author's opinions. It may contain errors, and you shouldn't make any investment decision based solely on what you read here. This publication contains forward-looking statements, including but not limited to comments regarding predictions and projections. Forward-looking statements address future events and conditions and therefore involve inherent risks and uncertainties. Actual results may differ materially from those currently anticipated in such statements. The views expressed in this publication and on the EnergyandGold website do not necessarily reflect the views of Energy and Gold Publishing LTD, publisher of EnergyandGold.com. This publication is provided for informational and entertainment purposes only and is not a recommendation to buy or sell any security. Always thoroughly do your own due diligence and talk to a licensed investment adviser prior to making any investment decisions. Junior resource companies can easily lose 100% of their value so read company profiles on www.SEDAR.com for important risk disclosures. It's your money and your responsibility.