The Pilbara Gold Rush Manifesto - snippet
The Hedgeless Horseman
Posted Mar 12, 2018
During the last few weeks I have spent pretty much all of my time digging deeper into why there seems to be so much widespread conglomerate gold in Pilbara, something which I highlighted in my first paid Novo article, and which is also apparent when you take a look at one of Novo's slides:
(Click on images to enlarge)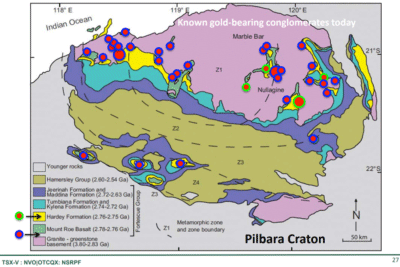 Source: Novo Resource's March Presentation
They say "a picture tells more than a thousand words", and I think this one speaks loud and clear about the size of the potential prize. With that said I believe that not all Mount Roe Basalt targets are created equal and that Novo's claims are primarily concentrated in a particular area with a somewhat unique setting, for multiple reasons, all which will be obvious if you read my latest article.
What's more, I believe that there is potential for this Pilbara gold play to not only be even more laterally extensive, but that it might also be more vertically extensive than the market is aware of. This has all become more apparent to me after going over probably over a hundred research papers and presentations that covered anything from cyanobacteria to meteoric impact structures.
I personally believe that the "Pilbara Gold Rush" will kick in a higher gear this year, and I think it's important for investors to know what kind of land holdings to look for in a Pilbara junior and be positioned accordingly, before the potential stampede starts. I think that all it takes for us to see another run up like last year in the Pilbara juniors is for one or more of the following things to happen; 1) Comet Well turning out to be as good as it looks, 2) Novo finding some fine gold pretty much anywhere, 3) other prospects many kilometers away gets proven up by any junior, 4) a junior gets bought out, 5) a major takes a stake in a junior, and/or 6) Artemis's deep drill hole shows any traces of gold at all etc.
Not only should the Pilbara juniors you invest in have the right geological units present, but these units should also be located in a particular area in Pilbara that is the most prospective. This article will explain why.
There are countless companies currently joining the fray, but many of these have second rate land holdings with no real Pilbara conglomerate targets at all, and some who do, are in the wrong neighborhood. This of course won't stop some fortune seekers to pretend to have let's say "Comet Well style targets" and/or shout that they are the "next Novo Resources" etc.
I repeat, not all Pilbara conglomerate targets were created equal and after reading my latest article you will understand why, and also why I believe this is a very important factor all Pilbara investors should be aware of. There are reasons WHY Novo staked the kind of geology they staked, and also WHERE they staked it. These are the same reasons why Sprott and Kirkland took positions in some select few Pilbara juniors, and I believe I know why.
To summarize:
If investors want to be along for a potentially historical ride then I think it's crititcal to get positioned now, in the right companies, with the right geology, in the right places. A rising tide might lift all boats, but I personally would feel safer owning Pilbara juniors who have the highest chances of finding something of economic value. If you buy the wrong companies to start with, then it potentially won't matter how good some select areas in Pilbara might turn out to be, because you won't have a piece of the same precious pie in the end. Remember, not all areas in the Witswatersrand Basin were home runs either so start by setting yourself up by picking the right companies with the best odds for success in this already risky business we call gold exploration.
While my second big Novo article covered what might be "beyond" the outcropping Mount Roe Basalts in Pilbara, my new big Pilbara article will focus on:
Why I think Novo and Artemis have the majority of a unique land package and what processes were involved to create it.
Why I think the "Pilbara Gold Rush" will potentially grow bigger (Both horizontally and vertically, which I don't think the market is fully aware of).
In what ways I think parts of Pilbara differs from Witswatersrand (in a good way).
What parts of Pilbara I think are the most prospective.
Why I think "West is best" and what it means.
Pilbara juniors that I think might have prospective land in the "right" places.
What areas in Pilbara seem relatively poor and that I would try to avoid investing in.
You will hopefully understand what I consider to best ground and why Novo's staking activity is potentially a very positive sign for some select juniors.
Why I am excited for Artemis's deep drill hole.
A snippet from the document that should interest shareholders of some of the "Pilbara Juniors" as much as shareholders of Novo Resources: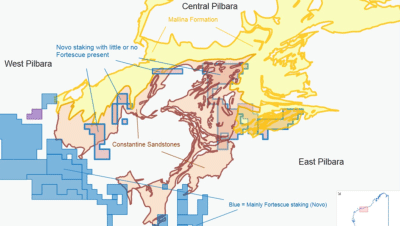 Source: The Hedgeless Horseman via DMIRS mapping tool.
As most people who follow me know, I do 95% of my work for free, and these big purchasable articles is a way for me to be able to keep researching mining companies with a focus on Pilbara as a full time job. This time around there is an additional reason, because I have been invited by Novo Resources to visit the project in Karratha, and potential revenues from this document will help me be able to do so.
Since I think this latest article is my best and most important article yet that will cover more critical subjects than the last two, I have decided to include my previous articles for free when you buy this one. I will also share my experiences from the coming site visit if all goes well and I am able to go!
If you want to know more about where to invest in Pilbara and why, then simply donate 135 USD to my Paypal account HERE, and I will send you a link and the password you need to access all articles, as quickly as I can.
(Please do not forget to include a valid email address)
Note: I am a shareholder of Novo Resources and it is my single biggest position, and has been for quite some time. I am thus biased. Always do your own due diligence and remember that exploration stocks are risky and can be very volatile. I have received NO compensation in any form, from any party, in order to write this document. I bought my shares in the open market.
Best regards,
###
The Hedgeless Horseman
email: contact@thehedgelesshorseman.com
website: www.thehedgelesshorseman.com
Disclaimer: My work is dedicated to shine a light on the perilous state of the global monetary system, which will inevitably result in a reset.
Today every country on earth is using artificially created units of currency, backed by nothing for commerce. This FIAT system can only remain alive as long as more and more currency units are issued since it is a debt based system that needs more units created to cover the old monetary base plus interest.
It is my personal belief that now is the time to prepare by investing in hard assets that has no second or third party liabilities and is not in a bubble created by cheap credit (ie. real estate)
(Note: I am not "hedgeless_horseman" who posts on zerohedge)
For any questions, you can find my contact info on the "About" page on my website.