[Editor's note: This page is no longer updated]
The Islamic Gold Dinar
"A time is certainly coming over mankind in which there will be nothing [left] which will be of use save a dinar and a dirham." (The Musnad of Imam Ahmad ibn Hanbal)

The World Islamic Trading Organisation following the standard of Umar Ibn al-Khattab, established the following standard:
DINAR Weight: 4.25 grams
Alloy: 22 carats (0.916) Gold
Diameter: 23 millimetres click.
[Editor's note: This page is no longer updated]
[Editor's note: Some of these websites don't archive, so you may find dead links]

05/22/06 Husam To Explain To PM On Dinar Currency Bernami
---

12/02/04 Resurrection of The Islamic Gold Dinar J. Kent Willis 321gold


11/24/04 Where is that gold dinar? Jude Wanniski Al-Jazeera


11/24/04 Solid Reasons to own Gold Gary North LRC


07/21/04 Gold Dinar Fiat Fiasco Continues Tim Wood Mineweb it's vaporware!


07/01/04 Is the islamic Gold Dinar a real threat? Craig R. Smith SwissAmerica


01/19/04 Big trouble for the US Dollar? David Chapman 321gold

---

10/15/03 Dr M: Only 2 countries needed to trade with gold Dinar TheEdge


08/01/03 Launch of Malaysian Gold Dinar paves way for role as a bilateral trading currency Minesite


07/30/03 Malaysia's first Gold Dinar available to public next week Khilafah not!


07/02/03 Greater use of gold dinar for trade soon TheStar.my


07/02/03 Malaysia Hopes to Trade in Gold Dinar with Iran RiyahdDaily


05/13/03 Gold dinar can help Third World nations TheStar.my


04/23/03 The Malaysian Gold Dinar only a few months away Jim Sinclair jsmineset


04/21/03 Gold dinar and the currency crisis Shan Saeed Dawn


01/27/03 The raping of America WND


01/22/03 Malaysian PM calls for Islamic e-information network DailyStar


01/20/03 Malaysia's gold dinar a significant contribution IRNA


01/08/03 Islamic Gold Dinar Will Minimize Dependency on U.S. Dollar IslamOnline

---

11/19/02 Malaysia places gold on global faultline Tim Wood Mineweb


11/19/02 THE 5TH COLUMN In Gold We Trust Preiss feer


11/18/02 Malaysia for 'gold dinar' as Muslim currency Ihtashamul Haque Dawn


11/16/02 Gold Dinar: An Economic and Strategic Response to Chaos Billington EIR


11/15/02 Feature: Gold dinar could soon be reality UPI


11/13/02 How the Islamic World Plans to Beat the West LewRockwell


11/13/02 The proposed Islamic Dinar could be test run gold-backed Chinese currency Minesite


11/13/02 The return of the The Return of the Dinar Umar Ibrahim Vadillo Jamiat


11/01/02 Gold dinar can boost palm oil mart DailyExpress.my


10/24/02 Seminar recommends gradual introduction of gold dinar TheStar


10/24/02 Dr M: Secretariat for gold dinar a good idea TheStar


10/24/02 Malaysia pushes for 'gold dinar' GulfDailyNews


10/23/02 Speech by Dr Mahathir Mohamad at the Gold Dinar in Multi-Lateral Trade Seminar neac.gov


10/02/02 Malaysia to use gold dinar in trade with Islamic nations BusinessDay.za


08/21/02 Western World would be unwise to ignore proposal for Gold Dinar currency... Minesite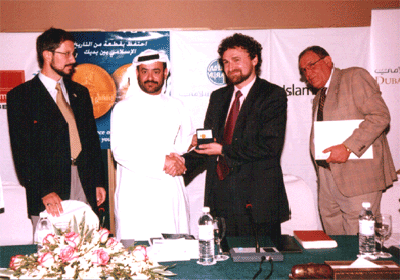 08/20/02 Gold Dinar Can Play Big Role in Global Trade IslamicBanking


08/19/02 Islamic States spurn world currency News24


08/19/02 Assessing the impact of Malaysia's gold plan Tim Wood Miningweb

---

11/07/01 Launching the Islamic Gold Dinar and Silver Dirham in UAE Islamic Mint


08/01/01 Seminar to discuss introduction of Islamic gold dinar as world currency Islamidag