Silver Now Outperforming Gold
Roland Watson
Posted Feb 28, 2008
As readers may know, silver has put in a sterling performance this week and has outperformed gold into the bargain. The prediction that silver will eventually outperform gold as the precious metal bull market reaches a new zenith point is being fulfilled before our very eyes.
In my last article, I pointed out that the net short commercials may well begin to feel the heat and begin their third capitulation of this 5 year old silver bull market. Indeed, if they haven't began to cover at cents below $20 an ounce, the sense of urgency brought on by mounting financial losses must be as loud as a roaring silver bull bellowing right into their ear holes.
As said before, silver is a prime choice to leverage any rise in the price of gold. Historically this has proven true and there is no reason why that strategy will not produce extra profits again - so long as you exit near the top and not swallow the huge losses that can afflict those who buy too near the top without a proper exit stratagem.
Since the August lows silver has gained over 70% while gold has put on 50%. Divide those two numbers and you get silver outperforming gold by 40%. Of course, very few people sunk all their money into silver at $11.15 on August 16th 2007 so this picture is not representative of silver investors. That is why I use a four year rolling leverage indicator called the SLI. It is currently somewhere north of 1.20 and rising. That 1.20 means that anyone who invested in silver four years ago would now be 20% better off than the one who put the same amount of money into gold. Studies indicate that when this number reaches 80%, the silver bull market makes a major top.
In fact, silver continues to be a better investment than even the HUI. The underperformance of precious metal mining stocks continues to frustrate but when we look at how silver has performed on a similar four year rolling basis against the HUI we get the chart below.
(Click on image to enlarge)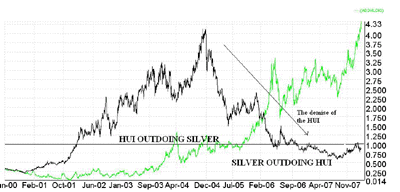 The leverage that the HUI offers over silver is in black with the price of silver in green. When the black line is above 1.00 then the HUI is the best place to be but when it is below 1.00 then silver is your man.
Clearly since mid-2006, silver has had the upper hand on the HUI basket of stocks and without the risks that accompany such stocks. That is why The Silver Analyst prefers silver to gold as a majority holding in precious metals. As silver attacks $20 and beyond, we hope to see this leverage over gold increase until the final blow off which in our estimation cannot be too far away now.
Roland Watson
email: silveranalysis@yahoo.co.uk.