Stocks bear market to begin in earnest
Ken Ticehurst
Posted Mar 10, 2016
Our forecast algorithm is currently predicting a global stock market rout to begin in earnest over the next few weeks and months, below is our monthly forecast for the S&P 500 which we believe is about to enter a correction lasting until early 2017.
(Click on images to enlarge)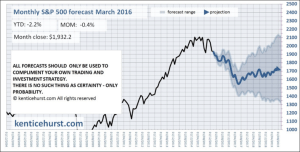 We create multiple forecasts over multiple time frames and below is our daily forecast indicating we are ending a consolidation phase and heading lower over the coming weeks. As far as we are concerned this is not an end of the world scenario but a healthy and long overdue correction after a multiyear rally.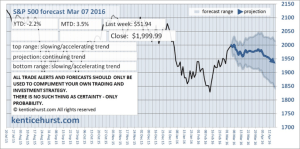 We create forecasts for a wide range of markets from stocks to currencies, energy to precious metals and many of these markets are signalling a sizeable correction which is about to begin.
It is our belief that markets are not driven by central banks and policy makers but by the participants themselves, sentiment is slow to change and forward guidance or minute changes to monetary policy are powerless in the face of global capital flows.
We have long warned that all is not well with the markets and the global economy and we believe we stand on the edge of a major bear market, policy makers have ignored the commodities and emerging markets breakdown and will again be surprised at the direction markets will take over the course of the next year.
We expect the Dollar to rise for the next six months and then top out, yields to plummet on US Treasuries, commodities to continue to languish and precious metals to consolidate during the second half of the year at best.
We believe 2016 will be remembered as the year everyone worried about deflation before the resurgence of a massive multiyear reflation gets underway. We have always maintained that eventually there will be a great inflationary trend but that what was needed beforehand was a deflationary trap to wipe out the bulls first, this has certainly taken place in the commodities markets over the last couple of years and now stocks and currencies need to correct to this new normal.
We can also see the likelihood of a final bond market blow off top as yields crash to signal the end of a bull market that began in 1980 and has been a major driver in the levels of excess debt built up across the globe.
We now create forecasts for a wide range of markets, stocks, commodities, forex, interest rates and energy along with gold.
We have a free subscription service and we send our subscribers a forecast every weekend. To view some of the most accurate and unique market forecasts available sign up at: http://www.kenticehurst.com
###
Ken Ticehurst
email: ken@kenticehurst.com
website: www.kenticehurst.com
Disclaimer: Ken Ticehurst is not a registered investment advisor or broker/dealer. Nothing you read on this site should be considered investment advice. Readers are advised that the information contained herein should be used solely for informational purposes. Users and readers should seek professional advice from a registered advisor before making any investment decisions.