Graceland Updates 4am-7am
Dow Party: All Aboard The Hindenbank
Stewart Thomson
email: s2p3t4@sympatico.ca
Jul 27, 2009
1. RBC analyst Gerald Cassidy says a thousand American banks could fail in the next couple of years. He originally predicted a few hundred would fail. At the time, that was shocking. He warns investors to stay away from bank stocks for a long time.
2. Of course, Joe Investor and Joe Golf Ball Advisor won't let a minor detail like that get in the way of their free money schemes. They are charging into bank stocks. After being destroyed over the past eight years. On a personal level, the biggest investment losers I know are buying bank stocks right now, or slobbering to buy.
3. The bankers look at people who buy the current issues of their stock not as investors, but as marks. The bankers hand out the bank stock toilet paper, while their band plays "One More For The Gipper!" The marks are laying down tens of billions. "No commissions if you take a double roll!" blare the loudspeakers across Wall Street. And the crowd surges forward. JP Morgan, the world's largest toilet paper manufacturer, conducts the band, while lead singer Goldman Sachs sings rousing renditions of "Dance Price Chaser Dance" and "This Time Is Different". Bloomberg Sound supplies the 1 million watt sound system at no cost, and the crowd roars their approval. The Rothschild family put the entire party aboard their new airship, the refurbished "Hindenbank", but announce that sadly they won't be attending themselves, due to "personal matters."
4. 99% of investors are price slaves. The bankers crack the news whip, and Joe Blow makes the price chasing trip. The Dow news you see now reflects the 40% rise in the Dow that JUST HAPPENED, and nothing more.
5. Those who shorted bank stocks into the low at Dow 6500 are now on fire or already burnt to financial death. But investment memories are short. Now the new braindeadstorm is: Buy the banks now!
6. On Tuesday I began shorting the Dow. This is the beginning of a campaign, not a top call. I'm still long Dow positions bought into 6500 from 8000. When I look out my Dow window, I see strength, so I'm a seller. End of story.
7. If you want to trade as a professional, you have to sell strength. Allocate your capital carefully. If a move to Dow 9200 wipes you out, you aren't handling yourself professionally. Not at all. You should be able to easily withstand a 2000 point move against you. A while back as we wallowed around Dow 7000, I mentioned my theory that the bankers had a hatched a "triple play" scheme. First, buy the Dow while telling the institutional money to buy bonds. That worked perfectly. The institutions bought bonds while the bankers bought their stock at rock bottom levels. Phase two, I believed, would see the bankers unload their stock onto the institutions at huge gains while diluting it at the same time. The bankers would make gains, fees, and interest, with the "deal" being that the institutions would make decent money, but not the monster money the bankers made. With Phase 3 seeing the bankers help the institutions hand their stock to the public for incineration.
8. My view is we are in Phase 2 right now. Try and find an institutional bear on Bloomberg. There are none. How far could Phase 2 carry the Dow upwards? In the very short term, not very far, which is why I'm shorting it. Here's a look at the Dow daily chart.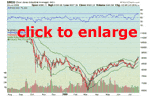 9. The RSI is over 70. The most overbought in a year. Price is well above the green upper keltner supply line. Stochastics is into the "ceiling".
10. The point here is that all the GRAVY money is gone. Most of you missed it. Yes, the Dow will probably make its way higher by year-end, although the next 8 weeks could see a smackdown. The August 1 to Oct 30 period is the most dangerous time of the year for the stock market.
11. The trillions in cash held by institutions is coming into the market now. The bankers have made hundreds of percent in 2 months, while the institutions may make 20% in a grind to the end of the year. You basically get to kill yourself in effort, to make pennies in a grind.
12. And even THAT may not work out for team Price Chaser. A CIT group blowout could turn the whole show into a big mess.
13. I've told the gold community repeatedly, "follow the bankers." Following the institutions feels good. Buy when you feel uncomfortable, not when you feel good. Or you will sell when you are uncomfortable, and perhaps not just uncomfortable, but terrified. Of course the news is good right now. Companies just fired huge slabs of their work force. Revenues are stuck in the mud, but profits are growing.
14. The institutions are placing money in the stockmarket, so of course they are talking their books, reading the script sheets handed to them by the bankers.
15. What about the stimulus program, the $800 billion, won't that help the economy? Yes, it IS working. And that is another reason why the Dow just surged up 40%. But that is not a reason to buy the Dow now.
16. The great thing about Gold is that if the Dow goes higher, gold is likely to go higher. If CIT group blows up and the next of many coming stimulus programs is launched, gold will hold its ground reasonably well.
17. So should you buy gold right now? I only buy weakness. Gold is strong here. But as sure as night follows day, the current gold day will turn to night at some point and you can buy then. Of course, you won't feel like buying then, any more than you feel like shorting the Dow now. Looking at the chart below I see modest strength. So I'm a modest seller. I hope you see the same thing. Mild profit taking.
18. If you look at the RSI on the chart, it has a ways to go to reach the overbought level of 70. A move to 975 would probably take it there, or close to it.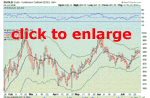 19. I believe every analyst is "dead on" at some point. Everybody has hot streaks and cold ones. I try to get a feeling for the players in market, and then picture how they would act at various price points. Jon Nadler, Kitco's main man, has spoken of a possible 930-975 trading range move for gold.
20. That makes sense to me. A move from here to 975 would TERMINATE the gold shorts, most put on at 920-930. Many are already dead. But the heavier speculative money generally uses very wide stops. A strong move over 960 would like cause them to say, "ok, enough red ink, I'm out". At the same time, a move from 975 down to 930 would cause the new longs, that the current COT report shows came in over the last week, to bail.
21. That would leave the bankers standing on top of the gold castle looking down at the carcasses of blown up shorts and longs. (As usual). From there a major move would likely start. In which direction? I think it will be up. Will I bet money we're going to 975 and then to 930? No. But if we rise to 970, I'm an automatic seller, and then an automatic buyer at 940 and every 10 dollars down after that. How far down am I prepared to buy gold in 10 dollar increments? Answer: All the way to zero.
22. Friday's COT report shows the bankers had a party last week. Booking profit on 2,000 longs and booking profit on 2,500,000 ounces of their physical gold. By shorting a mindblowing 25,000 contracts on COMEX. Take a look at their party below. The bankers are the "commercial" category.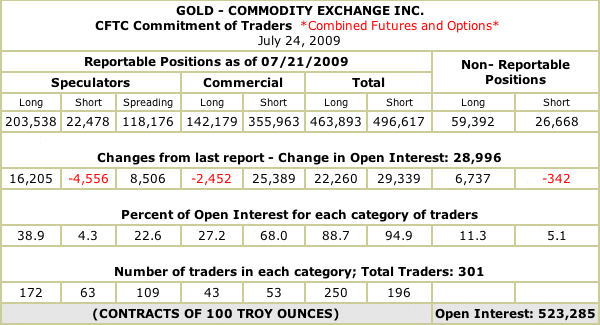 23. Meantime, back on the Price Chasing ranch, the fundsters turfed 4,000 flaming short positions put on into 905, and added 16,000 fresh longs as price surged towards 960. Not to be outdone by their big brothers, team retail (shown as "nonreportables") added 6,000 gold longs into the massive strength. The bankers took the other side of almost every trade put on by the funds and the public.
24. If gold rises towards 1,200-1,400, you may see the bankers' short position rise to nosebleed levels, as they book obscene profits on their physical gold, while taking the other side of the fund and specsters' trades on the COMEX. When you short gold against an existing physical position, you are booking profit. If price then falls, you then cover the short and buy more physical gold with the profits! A risk-free trade!
Thank-you.
###
Jul 27, 2009
Stewart Thomson
Graceland Updates
website: www.gracelandupdates.com
email for questions: stewart@gracelandupdates.com
email to request the free reports: freereports@gracelandupdates.com
Tuesday 19th May 2020
Special Offer for 321Gold readers: Send an email to freereports@gracelandupdates.com and I'll send you my free "Gold & Silver Junior Shotguns!" report. I highlight key junior miners set for magnificent upside action as gold bullion blasts above $1800. I include key tactics for each stock.
Graceland Updates Subscription Service: Note we are privacy oriented. We accept cheques. And credit cards thru PayPal only on our website. For your protection we don't see your credit card information. Only PayPal does.
Subscribe via major credit cards at Graceland Updates - or make checks payable to: "Stewart Thomson" Mail to: Stewart Thomson / 1276 Lakeview Drive / Oakville, Ontario L6H 2M8 / Canada
Stewart Thomson is a retired Merrill Lynch broker. Stewart writes the Graceland Updates daily between 4am-7am. They are sent out around 8am. The newsletter is attractively priced and the format is a unique numbered point form; giving clarity to each point and saving valuable reading time.
Risks, Disclaimers, Legal
Stewart Thomson is no longer an investment advisor. The information provided by Stewart and Graceland Updates is for general information purposes only. Before taking any action on any investment, it is imperative that you consult with multiple properly licensed, experienced and qualifed investment advisors and get numerous opinions before taking any action. Your minimum risk on any investment in the world is 100% loss of all your money. You may be taking or preparing to take leveraged positions in investments and not know it, exposing yourself to unlimited risks. This is highly concerning if you are an investor in any derivatives products. There is an approx $700 trillion OTC Derivatives Iceberg with a tiny portion written off officially. The bottom line:
Are You Prepared?