Graceland Updates 4am-7am
Gold and USD Chart Show
Stewart Thomson
email: s2p3t4@sympatico.ca
Jun 15, 2009
"Do you shave your face with a CHAINSAW? Well, don't take a chainsaw to your gold bullion either."
1. As we prepare for summer, it's time for my chart summary of the major markets. Gold and the US dollar are the two greatest markets in the world. They are what I'm looking at today. Readers know my role is more coach than prediction. I'm interested in readers making money. I'm not just a coach, I'm a player.
2. The gold market's big technical story is the head & shoulders on the weekly chart. A small H&S top exists, and the neckline was broken Friday morning near $940 around 4am. I was working at the time, and alerted investors. That I was BUYING. That H&S target is around 890. The main right shoulder low of the big weekly H&S is at 850. I don't want to see price violate 850, but even if it does, I'm a buyer . On any and all further price weakness. I don't care if that weakness is to gold 929, gold 890, gold 850, gold 700, or gold 1 cent. I'm a buyer all the way down. You should create the same mindset for yourself. Be a buyer into any and all price weakness. Not a bailer. Price is falling this morning BECAUSE losers are bailing. Let's give them a golf clap and a handshake for playing the gold game. And then wash our hands. In case we're contaminated.
3. No pattern, no analysis, no supply/demand numbers, nothing but price rules my market actions. I buy weakness and sell strength. End of story. If 850 breaks, does it open up the door to 700? Yes it does. If you sold nothing into the rally to 1000, you have nothing to buy if it falls to 700.
4. And, frankly speaking, you should already have capital ready to buy gold 700, should it occur. Here's the weekly chart for gold: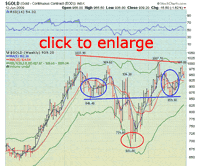 5. Click the link now, below, to view my technical summary of the gold weekly chart in video:-
Gold Weekly Chart Video.
6. What about the shorter time frame? There is, unfortunately, a small head and shoulders that has developed on the daily chart. Click on the link, below, to view my daily gold chart summary:-
Daily Gold Chart Video.
7. To get a better look at this head and shoulders, it is best seen on the 60 minute chart. The target is 895. Click here to view the summary of the intraday gold chart:-
Gold Intraday Video.
8. I'm not simply an Ivory Tower coach. I'm a player. I probably take 90% of the thousands of trades my Pgen creates myself, and every single trade I book is a winner. And the party continues this morning. I come from a family of athletes and teachers so you know one thing about me: I hate failure and loss. Investors, traders and business owners get demoralized when they lose. Athletes tend to go into a rage when we lose. We are maniacally obsessed with winning. Keep that in mind as you watch me buy this morning from the gold bustouts.
9. My own focus is not junior stocks or even senior stocks, I focus on the world's major markets. Gold, Silver, Base Metals, US dollar and currencies, Oil & Gas, Uranium, Major Commodity Indexes, the Dow/China's Xinhua 25, US T-bonds, etc. Regardless, the Pgen mindset can applied to the tiniest junior as easily as to Gold Bullion. My subscribers don't buy chart resistance breakouts. They take profit into them. Buy signals from trendline breakouts? Sell into them! When the MACD gives a sell signal to technicians to sell, I start buying into the following price weakness.
10. Readers know I have been pounding the table until I'm blue in the face. To sell some gold into the recent price strength. Many sold, but then, sadly, rebought again almost immediately. Instead of systematically. Terrified they would miss out on the head and shoulders generated astroblast to 1200 or 1300 gold. Now you may be watching gold melt away and wondering what to do.
11. Bottom Line: Price chasing adventure number 257 million goes up in flames. Live your financial life by the exception like the fundsters do and... You die by the banker's rules.
12. Some have wondered if I'm actually an agent for the bullion bankers pretending to be a gold community writer, and I am short gold. No, I'm not short gold and my name is Stewart Thomson. Not James "the banker" Bond! I short a strictly limited amt of gold and silver, against my physical position. To book profit on portions of my physical position in pre-set stages. Like a man shaves his face one stroke at a time, I take profits in small bits into strength. Selling paper gold against my physical long position. The greater the strength, the more I shave off.
13. Question: Do you shave your face with a CHAINSAW? Well, don't take a chainsaw to your gold bullion either. Establish a modest amount of risk capital for trading gold. Gold is the world's lowest risk investment. Repeat that to yourself as many times as it takes, so you don't liquidate when it falls...
"Gold is the world's lowest risk investment.
"Gold is the world's lowest risk investment.
"Gold is the world's lowest risk investment.
"Gold is the world's lowest risk investment."
...If you play flipper with your core positions, your odds of leaving this planet as an overall market loser are about 99%.
14. Shorting gold against a physical position can be mentally tricky. It's easier, emotionally, to simply sell a piece of your gold. That transaction is done in one move. When you short gold/silver, you are now carrying two positions, your long physical and your short paper. The temptation is to begin trying to bet gold will fall to a certain point. That's a huge error for 99% of you. What I'm doing is locking in profit on my physical position and nothing more. If I short at say, 970, 980, 990, and price moves to say 1100, I leave the shorts alone. If price doesn't fall below 970 to my next gold buy points, I don't cover the short until I liquidate all my physical metals, which is many years away. Brokers don't accept physical gold as margin, so it takes additional cash to operate the program. I suggest you read this paragraph a few times to understand the difference between what I'm doing and what the gold wannabe timers are doing when they short gold as a speculation, with their "price targets."
15. Use short positions in the metals to reduce physical transaction costs and to book profits against a modest portion of your physical metal in a systematic manner. Do not speculate on some imaginary downside price targets in a gold bull market by going short gold. Over time those do that repeatedly... will fry. If the US treasury revalues gold upwards, you could face the mother of all margin calls.
16. Throughout this entire bull market, my short position has not once exceeded 33% of my long position. I'm not interested in naked shorting gold in a bull market or in a gold bear market. I'll buy the general stock market, US dollar, and bonds in a gold bear market. End of story.
17. Speaking of the US dollar, the profit parade there continues this fine Monday morning. USD is soaring. With my exclusive Pyramid Generator, the Pgen, I've turned around the investment lives of tons of investors. More a mindset than a trading system, the Pgen allows even the smallest investor to systematically buy weakness, sell strength, and book only profits, not losses. Just like the bankers!
18. Click here to view my June 15 US dollar video covering the daily, and weekly, and monthly charts:-
USD Video Monday June 15
20. Do not over-analyze the USD-gold relationship. Use them BOTH as money-making tools. In the very big scheme of things, gold is the only "real" money. And the US dollar, the ultimate paper money, will move opposite to gold unless it is backed by gold in some way. But in the short and even medium term, the US dollar and gold can move together.
21. I took the weekend off to recharge. I got an absolute firestorm of Pgen emails from my last posting that I'm still chewing thru. I'll be caught up by later this week. These individual Pgen emails aren't like regular emails. Each email takes me a bit of time to do properly. If you haven't heard from me, you will!
###
Jun 15, 2009
Stewart Thomson
Graceland Updates
website: www.gracelandupdates.com
email for questions: stewart@gracelandupdates.com
email to request the free reports: freereports@gracelandupdates.com
Tuesday 26th May 2020
Special Offer for 321Gold readers: Send an email to freereports@gracelandupdates.com and I'll send you my "ETFs Versus Individual Miners!" free report. I highlight the unique risks and rewards associated with key individual miners and ETFs, so investors can decide whether to own the miners, the ETFS, or both! I include buy/sell points of action for each item.
Graceland Updates Subscription Service: Note we are privacy oriented. We accept cheques. And credit cards thru PayPal only on our website. For your protection we don't see your credit card information. Only PayPal does.
Subscribe via major credit cards at Graceland Updates - or make checks payable to: "Stewart Thomson" Mail to: Stewart Thomson / 1276 Lakeview Drive / Oakville, Ontario L6H 2M8 / Canada
Stewart Thomson is a retired Merrill Lynch broker. Stewart writes the Graceland Updates daily between 4am-7am. They are sent out around 8am. The newsletter is attractively priced and the format is a unique numbered point form; giving clarity to each point and saving valuable reading time.
Risks, Disclaimers, Legal
Stewart Thomson is no longer an investment advisor. The information provided by Stewart and Graceland Updates is for general information purposes only. Before taking any action on any investment, it is imperative that you consult with multiple properly licensed, experienced and qualifed investment advisors and get numerous opinions before taking any action. Your minimum risk on any investment in the world is 100% loss of all your money. You may be taking or preparing to take leveraged positions in investments and not know it, exposing yourself to unlimited risks. This is highly concerning if you are an investor in any derivatives products. There is an approx $700 trillion OTC Derivatives Iceberg with a tiny portion written off officially. The bottom line:
Are You Prepared?