The Main Reason Why Gold Mining Stocks are Underperforming Gold
Boris Sobolev
May 23, 2007
As investors are well aware, costs in the mining industry have been rising over the last several years. Here at Resource Stock Guide, we track production costs for several dozen small and mid-tier gold, silver and uranium producers with around 100 operating mines. Quarterly, we analyze cost and margin trends.
Silver and uranium stocks have been good performers over the last 12 months. RSG Silver Benchmark is up over 20%, while Uranium Benchmark is up over 100%; gold stocks, however, have been definite laggards.
We poured through Q1 financials of a large number of gold producers and selected the most representative to summarize our findings.
The list includes 8 companies encompassing 23 mines spread over 12 countries in diverse geographical regions. In our analysis, we used total cash costs per ounce, a common metric used by companies to manage and evaluate operating performance at each mine and widely reported in the gold/silver mining industry as a benchmark for performance measurement.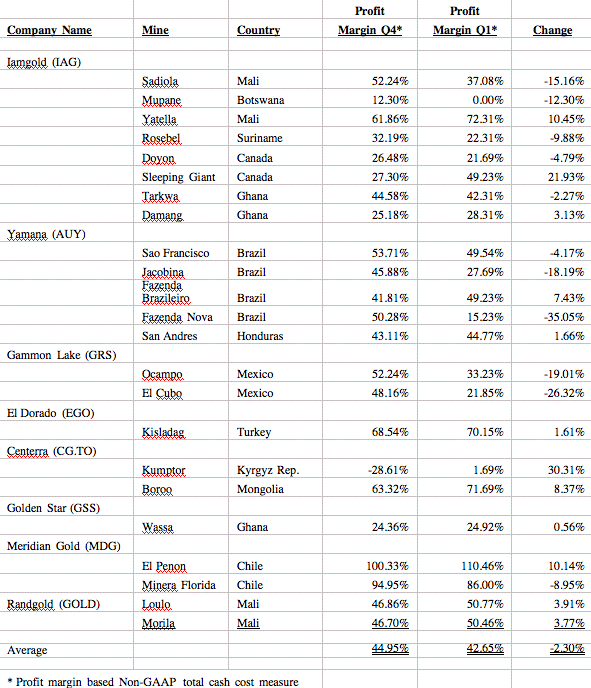 As seen in the table above, average profit margins based on total cash costs fell from 44.95% in Q4/06 to 42.65% in Q1/07. This is at the same time when gold rose from an average price of $613.5/oz in Q4/06 to an average $650/oz in Q1/07 or 5.96% gain.
Cash costs were negatively impacted by the industry-wide escalations in labor, spare parts and energy costs, due to the processing of lower grade ores and in some cases lower mine production. So, in fact total cash costs per ounce are rising at a faster rate than the gold price. As a result, most gold producers have become less profitable over the past 2 quarters.
This appears to be one of the major reasons why gold stocks have been underperforming the yellow metal.
As paradoxical as it may sound, the best thing that can happen to gold producers is an economic slowdown especially if one remembers the anti-cyclical nature of gold.
As far as silver producers are concerned, their stock prices have been rising despite decreasing profit margins. But the situation there is quite different in terms of investor expectations, which is the subject of our next article.
Boris Sobolev
Denver, Colorado
email: Contact@ResourceStockGuide.com
website: www.ResourceStockGuide.com
Disclaimer: The above information in this article pertaining to investing, stocks, securities must be understood as information provided and not investment advice. The information provided by Resource Stock Guide is obtained from sources believed to be reliable but is not guaranteed as to accuracy or completeness. Resource Stock Guide advises all readers to seek advice from a registered professional securities representative before deciding to trade in stocks featured on Resource Stock Guide or any stocks for that matter. All statements and expressions of the companies featured are not meant to be a solicitation or recommendation to buy, sell, or hold securities.
Copyright © 2006-2007 Resource Stock Guide, All rights reserved.