One more Dance before Midnight Strikes
Gary Dorsch
Editor Global Money Trends magazine
Dec 17, 2009
"As the old saying goes, what the wise man does at the beginning, fools do in the end," said Warren Buffett, at Berkshire Hathaway's Annual Meeting, in May 2006. "It's like Cinderella at the ball. You know that at midnight everything's going to turn back to pumpkins and mice. But you look around and say, one more dance, and so does everyone else. Everyone thinks they'll get out at midnight. The party does get more fun, dance partners get prettier, - one more glass of champagne. And besides, there are no clocks on the wall. And then suddenly, the clock strikes 12, - and everything turns back to pumpkins and mice," the sage of Omaha said.
Nowadays, there's a multitude of speculators who are engaging in the US-dollar carry trade, all betting that they'll reach the exit door first, before the clock strikes midnight, - or when the Fed begins to tighten liquidity. However, recent signs that the US-economy is rebounding from its two-year slump, at a much faster pace than expected, has widened the US-Treasury's yield curve to its steepest level in more than two-decades, a sure sign, that Fed rates won't stay pegged near zero percent much longer, and that higher interest rates lie ahead in 2010.
Although the Yield Curve is signaling that the clock will strike midnight, as early as Q'2, 2010, Fed officials continue to implore US$ carry traders to dance on the dollar's grave awhile longer. "The recession now appears to be over, but the economy is still weak and the unemployment rate is much too high," said NY Fed chief William Dudley on Dec 7th. "These circumstances underpin the Fed's commitment to keeping short-term rates exceptionally low for an extended period."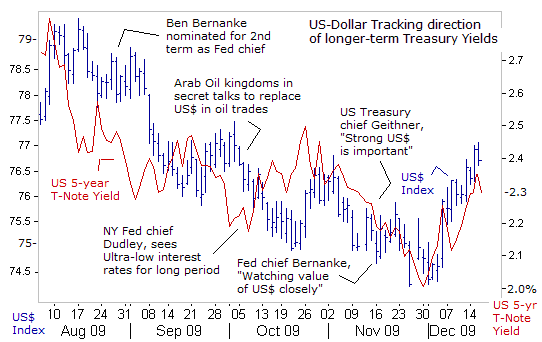 Dudley says the US-economy still faces "quite a few headwinds generated by the hangover of the financial crisis. Banks are still under pressure from credit losses, and the shadow banking system is impaired. Next year, growth will be slightly weaker, as fiscal stimulus fades," he explained. Dudley emphasizes that the Fed has the ability to exit smoothly from its extraordinary stimulus, when the time arrives, but that day of reckoning is still several months away.
Still, over-extended US$ carry traders began scaling back their bets on Dec 4th, after US Labor apparatchiks shocked the market, by reporting that 11,000 jobs were lost in November, far less than what was expected, and the best showing for the jobs market since the "Great Recession" began. Labor apparatchiks skewed the numbers further, figuring that 159,000 fewer jobs were lost in September and October than previously reported. Four sectors, including the government, added jobs.
Since the Labor apparatchiks unleashed their bombshell report, yields on the US Treasury's 5-year note have risen by 30-basis points, to around 2.30% today, which in turn, had the effect of lifting the US-dollar index higher. Beijing has often voiced its dismay over the Fed's policy of printing money to buy Treasury debt, and Japan's ministry of finance is greatly disturbed by the dollar's slide under 90-yen, which threatens to choke-off its export led recovery. Thus, behind the scenes, America's two largest creditors might be demanding a credible defense of the US-dollar, by the Treasury, which can only be engineered with higher interest rates.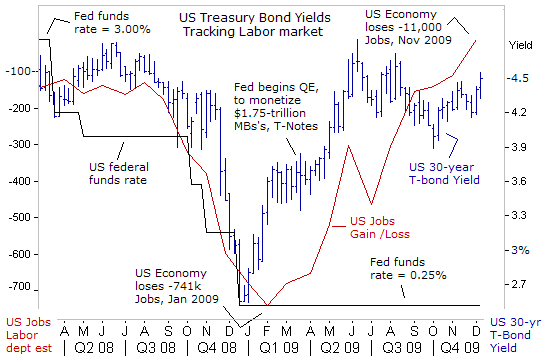 As experts debate the potential speed of the US recovery, one figure looms large but is often overlooked: nearly 1 in 5 Americans is either out of a job, too discouraged to look for a job, or working part-time, at a lesser wage. According to Labor's broadest measure of unemployment, the U-6 jobless rate is 17.2%, the highest since the Great Depression of the 1930's. Still, bond traders are looking through the front view window, not backwards, and see job creation returning next year.
Bond-market Vigilantes are monitoring developments on the labor front, and have jacked-up 30-year Treasury yields to 4.55% today, on expectations of a tighter Fed policy starting next year. On October 12th, St Louis Fed chief James Bullard said a falling unemployment rate is a precondition for an up-tick in the federal funds rate from near zero. "You want some jobs growth and unemployment coming down. That is a prerequisite for an increase in interest rates. It doesn't mean you need unemployment all the way down to more normal levels," Bullard added. Since 1954, the Fed has raised rates only after unemployment has peaked.
After the last two recessions the Greenspan-Bernanke Fed waited for 2-½-years before tightening. That has fueled criticism that the Fed is quick to slash rates when the stock market is plunging, but slow to raise rates, when the stock market is going up. The outcome of this asymmetrical monetary policy is the emergence of asset bubbles, "boom and bust" cycles, and wild roller coaster rides in the markets.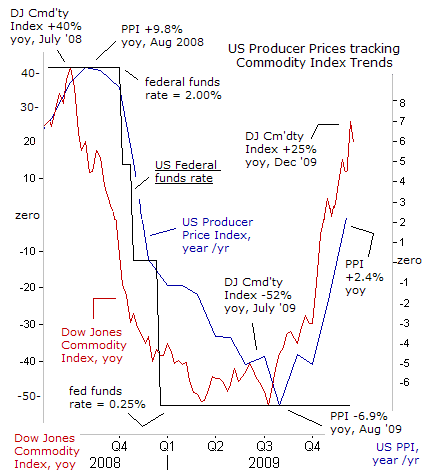 Time is running out on the Fed's ultra-easy money scheme, after US producer prices rose more than expected in November, lifted by a surge in energy costs, and recording the first year-on-year gain since last November. Labor apparatchiks said prices paid at the farm and factories were +1.8% higher than a year ago, following a +0.3% rise in October. For now, the Bernanke Fed has averted the threat of a deflationary spiral, thanks to its electronic printing press.
The sharp up-turn in the Producer Price Index (PPI) isn't a surprise to commodity watchers, who track key indicators, such as the Dow Jones Commodity Index, which stands +25% higher than a year ago. The Reuters-CRB Commodity Index is up +39% from a year ago, benefitting from the US dollar's index's slide of -9.1% over the same period. If the Fed and US-Treasury allow the dollar to fall further, American households would get slammed by a double whammy, - a lack of job availability and higher commodity prices, for food and energy.
To view the rest of this article, please click on the hyper-link below:
http://www.sirchartsalot.com/article.php?id=120
Dec 16, 2009
Gary Dorsch
SirChartsAlot
email: editor@sirchartsalot.com
website: www.sirchartsalot.com

To order a subscription to Global Money Trends, click here, or call 561-391-8008 to order, Sunday thru Thursday, 9 am to 9 pm EST, and Friday 9 am to 5 pm.

Mr Dorsch worked on the trading floor of the Chicago Mercantile Exchange for nine years as the chief Financial Futures Analyst for three clearing firms, Oppenheimer Rouse Futures Inc, GH Miller and Company, and a commodity fund at the LNS Financial Group. As a transactional broker for Charles Schwab's Global Investment Services department, Mr Dorsch handled thousands of customer trades in 45 stock exchanges around the world, including Australia, Canada, Japan, Hong Kong, the Euro zone, London, Toronto, South Africa, Mexico, and New Zealand, and Canadian oil trusts, ADRs and Exchange Traded Funds.

He wrote a weekly newsletter from 2000 thru September 2005 called,"Foreign Currency Trends" for Charles Schwab's Global Investment department, featuring inter-market technical analysis, to understand the dynamic inter relationships between the foreign exchange, global bond and stock markets, and key industrial commodities.

Copyright © 2005-2015 SirChartsAlot, Inc. All rights reserved.

Disclaimer: SirChartsAlot.com's analysis and insights are based upon data gathered by it from various sources believed to be reliable, complete and accurate. However, no guarantee is made by SirChartsAlot.com as to the reliability, completeness and accuracy of the data so analyzed. SirChartsAlot.com is in the business of gathering information, analyzing it and disseminating the analysis for informational and educational purposes only. SirChartsAlot.com attempts to analyze trends, not make recommendations. All statements and expressions are the opinion of SirChartsAlot.com and are not meant to be investment advice or solicitation or recommendation to establish market positions. Our opinions are subject to change without notice. SirChartsAlot.com strongly advises readers to conduct thorough research relevant to decisions and verify facts from various independent sources.