Gold Stock Cycles
Steve Saville
email: sas888_hk@yahoo.com
Sep 26, 2006
Below is an extract from a commentary originally posted at www.speculative-investor.com on 21st September 2006.
For more than 10 years there has been a strong tendency for the gold sector's intermediate-term trend to reverse direction during October-November. In particular, when the gold sector -- represented in this discussion by the AMEX Gold BUGS Index (HUI) -- trends higher into October-November it will regularly reverse course and trend lower over the ensuing 6-12 months; and when the trend is 'down' going into the October-November period there will often be an upward reversal leading to a 6-12 month rally. This is why an October-November bottom for the current decline is likely and why such an outcome would have intermediate-term BULLISH implications. It is also why an immediate upward reversal (during September, that is) followed by a sharp 1-2 month rally would potentially have BEARISH intermediate-term implications.
As noted in many TSI commentaries over the past few months, we are anticipating an intermediate-term low during October-November of this year. Ideally and as was the case during both 2001 and 2002, the coming Oct-Nov low will prove to be a successful test of the June low (the coming low will ideally be either slightly above or slightly below the June low).
Since the beginning of the long-term bull market in November of 2000 there has also been a strong tendency for important turning points to occur during May. Furthermore, May peaks have tended to be followed by Oct-Nov lows and May lows by Oct-Nov peaks.
The intermediate-term turning points that have occurred during May and Oct-Nov are indicated on the following weekly chart of the HUI. The chart illustrates the fact that during the long-term bull market there has only been one instance (2003) when May failed to provide an intermediate-term turning point (an intermediate-term high or low) and only one instance (2005) when October-November failed to provide an intermediate-term turning point. In other words, since the long-term bull market got underway the May/Oct-Nov cycle has had an 83% success rate (it was worked on 10 of a potential 12 occasions).
When the May/Oct-Nov cycle hasn't worked the market has continued to trend in its preceding direction until the next turning point in the sequence. For example, after Oct-Nov of 2005 failed to produce an intermediate-term peak the market stayed on its upward path until May of 2006. So, a failure to reverse upward following an extension of the current decline into Oct-Nov would imply that the decline was going to continue until May of next year. This, in our opinion, is an extremely unlikely outcome because the only previous May bottoms have followed October-November PEAKS. We'll also note that a continuation of the gold stock decline into the second quarter of next year would be inconsistent with most of our other market/economic views.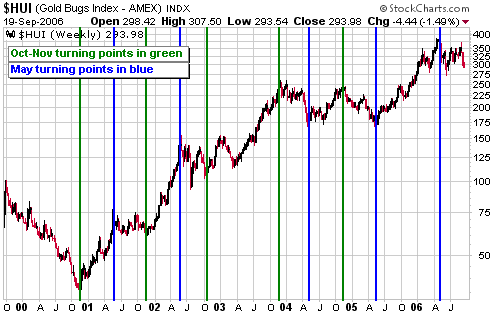 Steve Saville

email: sas888_hk@yahoo.com
Hong Kong
Regular financial market forecasts and analyses are provided at our web site:
http://www.speculative-investor.com/new/index.html.
We aren't offering a free trial subscription at this time, but free samples of our work (excerpts from our regular commentaries) can be viewed at: http://tsi-blog.com

Copyright ©2002-2019 speculative-investor.com All Rights Reserved.
Saville Archives