Gold
Steve Saville
email: sas888_hk@yahoo.com
Posted Aug 27, 2013
The following is excerpted from a commentary originally posted at www.speculative-investor.com on 26th August 2013.
Meaningful price trends in the gold market are not driven by Chinese housewives or US retail coin collectors or Indian wedding-season buyers. They are driven by large speculators and investors trading in anticipation of, or in reaction to, macro-economic, monetary and financial-market developments. The general assessment of the issues that drive the investment/speculative demand for gold will not always be correct, but it is what it is. For example, the main driver of the gold-price decline during the first half of this year was the increasing popularity of the view that a) central-bank monetary stimulus had set the economy on a self-sustaining growth path without causing an inflation problem, and b) a new secular bull market in equities had begun. We are confident that this assessment is wrong, but right or wrong it clearly had a material adverse effect on the total demand for gold.
A major shift is probably now happening, with equities in a topping pattern and gold in a bottoming pattern. But just as it took more than 12 months for the belief in the return of economic/monetary stability to gain the upper hand, it will take time for the majority of market participants to embrace a different reality. Therefore, it is unrealistic to expect that the gold rebound of the past two months will continue to build upward momentum over the months immediately ahead. It's far more likely that there will be a short-term top within the next three weeks followed by at least 1-2 months of 'backing and filling'. The 'backing and filling' could encompass a test of the June low during October or November.
With regard to a likely level for the next short-term price peak in the gold market, we've had the $1400-$1530 range in mind for a while. That the bottom of this range has already been reached (last Friday's high was $1399.90) improves the chances of getting to near the top of the range during the first half of September, but the main point we want to make right now is that it isn't realistic to expect gold to do any better than rise to the low-$1500s within the next three months. So, we suggest that you ignore the far more bullish short-term targets that will undoubtedly get bandied about if the gold price breaks decisively into the $1400s in the near future.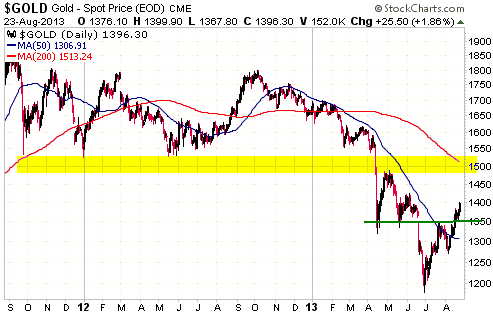 ###
Steve Saville

email: sas888_hk@yahoo.com
Hong Kong
Regular financial market forecasts and analyses are provided at our web site:
http://www.speculative-investor.com/new/index.html.
We aren't offering a free trial subscription at this time, but free samples of our work (excerpts from our regular commentaries) can be viewed at: http://tsi-blog.com

Copyright ©2002-2019 speculative-investor.com All Rights Reserved.
Saville Archives