Will silver do better than gold?
Steve Saville
email: sas888_hk@yahoo.com
Posted Feb 15, 2011
Below is an excerpt from a commentary originally posted at www.speculative-investor.com on 10th February 2011.

Many analysts are convinced that silver is going to outperform gold this year and for years to come. Are they right?

We don't know. What we do know is that: a) most of the recent silver-related commentary has focused on silver's upside potential and has not mentioned, or has glossed over, silver's downside risk, and b) silver bulls are generally ignoring the relationship between the silver/gold ratio and the economic growth theme. These two points go together in that silver's downside risk is linked to the potential for the 'growth trade' to collapse.

By way of further explanation we present, below, a weekly chart comparing the silver/gold ratio with the copper/gold ratio (in green) and the S&P500 Index (in blue). This chart shows that over the past 12 years silver has out-performed gold during periods when copper has been out-performing gold and when the broad stock market has been trending upward; in other words, when growth-oriented speculations have been gaining in popularity. The chart also shows that silver has performed very poorly relative to gold when growth-oriented speculations have been falling in popularity, especially when there has been a financial/banking crisis.

The chart's message is that you should be intermediate-term bullish on silver relative to gold if you are bullish on the economy, and intermediate-term bearish on silver relative to gold if you are bearish on the economy and/or the financial system. Strangely, though, some of the most vociferous silver bulls are bearish on the economy and the financial system.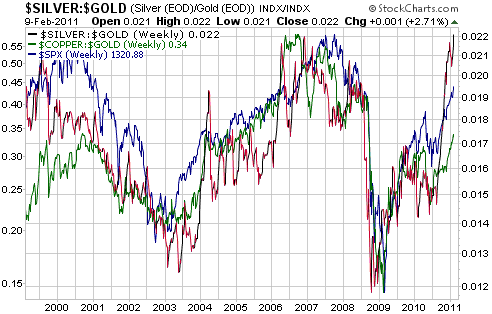 We have always said that silver stood a good chance of out-performing gold over the course of the long-term precious metals bull market, simply because silver is a vastly smaller market than gold and therefore has the potential to make disproportionately large gains in response to increasing investment demand. However, we have also said that we favoured gold over silver due to gold's lesser downside risk. It's the risk relative to the potential reward -- not just the potential reward -- that determines the merits of a speculation. The risk is that a future banking crisis and/or major deflation scare will have the same effect on the silver/gold ratio as the last three such episodes (the early-1990s, the early-2000s, and 2007-2008), when silver cheapened relative to gold to the point where it took 80-100 ounces of silver to purchase an ounce of gold.

If you believe that there is almost no chance of a banking crisis or major deflation scare happening over the next few years then you should definitely favour silver over gold.
###
Steve Saville

email: sas888_hk@yahoo.com
Hong Kong
Regular financial market forecasts and analyses are provided at our web site:
http://www.speculative-investor.com/new/index.html.
We aren't offering a free trial subscription at this time, but free samples of our work (excerpts from our regular commentaries) can be viewed at: http://tsi-blog.com

Copyright ©2002-2019 speculative-investor.com All Rights Reserved.
Saville Archives