Gold: So all in all...
Richard Russell snippet
Dow Theory Letters
Oct 20, 2006
Extracted from the Oct 19, 2006 edition of Richard's Remarks
Since most of my subscribers own some kind of gold or gold shares, let's check out the weekly chart of gold (showing price action through yesterday). RSI appears to be forming a base. Gold is in a critical area just 8 points below 600. Meanwhile, the 10-week moving average for gold stands at 599 and the 40-week MA stands at 604. The histograms have been contracting toward zero, which is bullish. The full stochastics are in oversold territory and appear ready to turn up. So all in all, gold's technical position is about as good as it's been since the correction lows of last June. Let's see what gold can come up with now.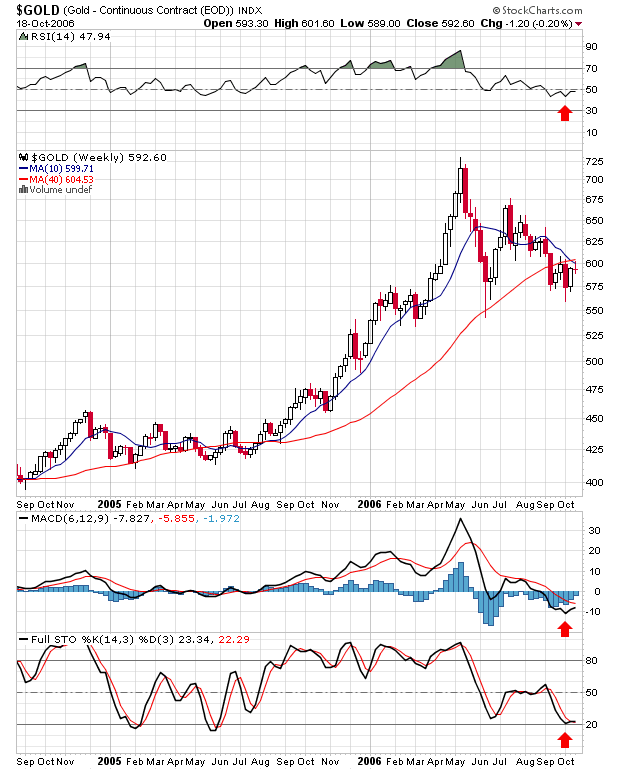 Actually, the situation in both the stock market and gold is rather exciting. In the background, the news has turned rather bullish with home sales up for the month, the dollar holding up, inflation (according to the government) "in control," and consumers still buying their heads off.
lots more follows for subscribers...

Oct 19, 2006
Richard Russell
website: Dow Theory Letters
email: Dow Theory Letters
Russell Archives
© Copyright 1958-2014 Dow Theory Letters, Inc.
Richard Russell began publishing Dow Theory Letters in 1958, and he has been writing the Letters ever since (never once having skipped a Letter). Dow Theory Letters is the oldest service continuously written by one person in the business.
He offers a TRIAL (two consecutive up-to-date issues) for $1.00 (same price that was originally charged in 1958). Trials, please one time only. Mail your $1.00 check to: Dow Theory Letters, PO Box 1759, La Jolla, CA 92038 (annual cost of a subscription is $300, tax deductible if ordered through your business).

321gold Inc