Not For Sale
Richard Russell - snippet
Dow Theory Letters
Oct 2, 2007
Extracted from the Oct 1, 2007 edition of Richard's Remarks
The gold picture: The other item I'm bullish on at this point, is gold -- but, of course, I've been bullish on gold for the last five years. The P&F chart below tells a fascinating story. Last month gold broke out of its long consolidation pattern -- with the aid of a powerful four-box reversal to the upside. Next, referring to the chart, gold rose to the 745 box. That represented a new 27-year high. The advance left gold overbought -- so gold corrected for three boxes down to the 730 box I believe this is another of those "continuation patterns."
Next, we see a further rally taking gold to a new recovery high at the 750 box. This latest rally to new highs gives us a P&F "count" of 930. Again, this does in no way guarantees that gold is going to advance to 930, it simply tells us that the technical foundation is strong enough to allow gold to rise to the 930 level.
Any time I make a definitive statement, I ask myself,
"But what if I'm wrong? In the present case, what if gold now drops to the 725 box, thus giving an intermediate-term sell signal?"
Personally, any gold I possess is a long-term hold -- it's not for sale. What, even if gold was to fall all the way back into its support below 690?
That's right, I consider gold a very long-term hold. Just, I might add, as I consider fiat money a long-term sale.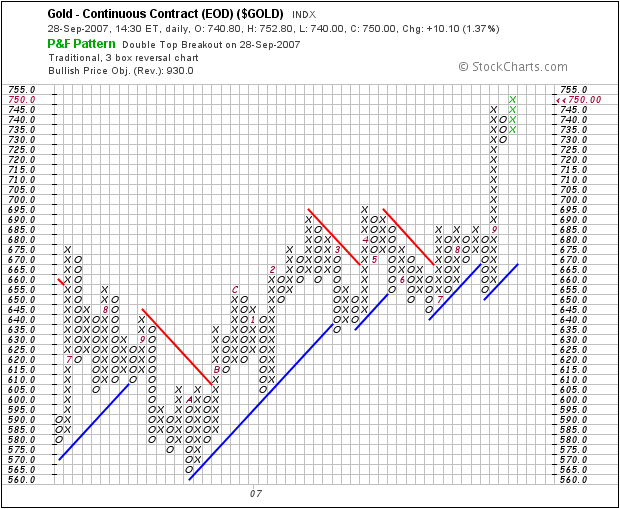 lots more follows for subscribers...
Oct 1, 2007
Richard Russell
website: Dow Theory Letters
email: Dow Theory Letters
Russell Archives
© Copyright 1958-2014 Dow Theory Letters, Inc.
Richard Russell began publishing Dow Theory Letters in 1958, and he has been writing the Letters ever since (never once having skipped a Letter). Dow Theory Letters is the oldest service continuously written by one person in the business.
He offers a TRIAL (two consecutive up-to-date issues) for $1.00 (same price that was originally charged in 1958). Trials, please one time only. Mail your $1.00 check to: Dow Theory Letters, PO Box 1759, La Jolla, CA 92038 (annual cost of a subscription is $300, tax deductible if ordered through your business).

321gold Ltd