Pure Wealth
Richard Russell
Dow Theory Letters
October 1, 2004
Extracted from the Sep 30, 2004 edition of Richard's Remarks
...But there's one area that's showing real improvement, and that's the world of gold. Below I show a daily chart of the metal itself, and it's a bullish chart showing rising bottoms and rising tops. The last preceding peak for Dec. gold was the August 20 peak of 415.50.

Today Dec. gold gapped up over 420 -- this is an important technical achievement, and the metal is at a five-month high.
Gold, the metal, hit a peak of relative strength against the gold shares (HUI) on July 26. Since then, the gold shares (HUI) have been consistently outpacing the metal. I'm going to include a few representative examples of gold shares below. The charts are really self-explanatory.

First we see ASA, the South African holding company. The stock has climbed above both its moving averages, but the 50-day MA has yet to rise above its (red) 200-day MA. Note that RSI at the top of the chart, has moved into the overbought zone.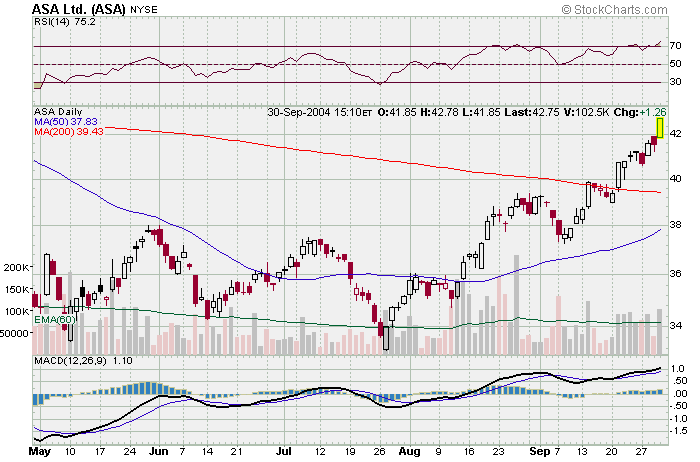 Next we see Placer-Dome, one of my favorites. I've long felt the PDG was a takeover candidate (think NEM?), but for whatever reason the stock is taking off -- to the north. PDG has also entered the overbought zone, and for that reason the stock could be in for a "rest."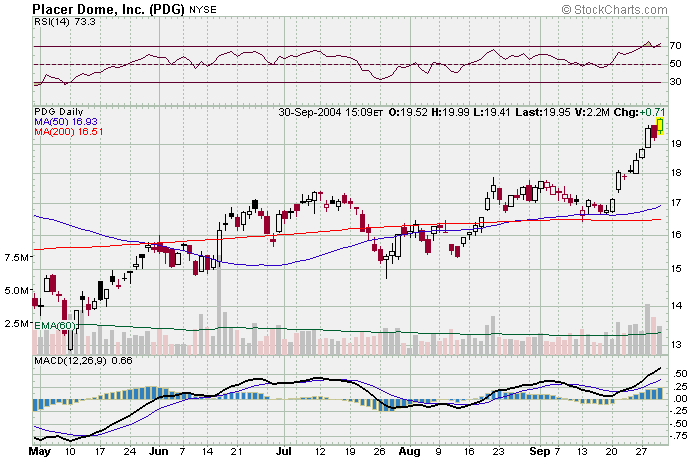 Next, I show Newmont, the world's largest producer of gold. This is the gold stock that has probably attracted the greatest number of institutions. The (blue) 50-day MA is about to rise bullishly above its 200-day MA. The preceding peak for NEM was its Sept. 1 peak of 44.79.

As I write NEM is 45.153, and this is good action. Next target -- to get above its April 1 peak of 46.75.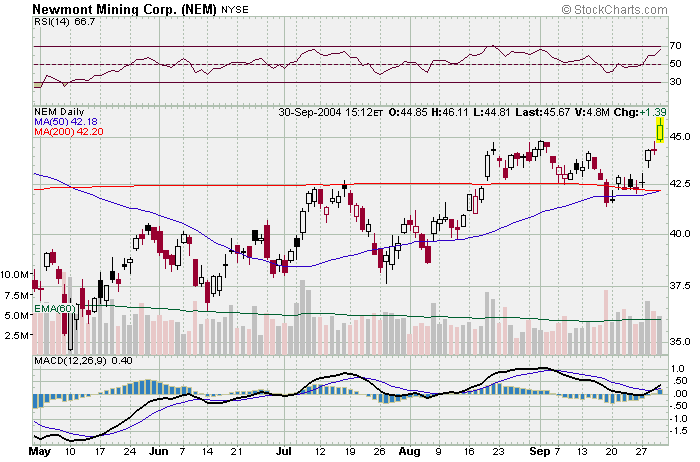 I want to say something about owning gold and gold shares. Personally, I have an easier time owning gold over gold shares. Wife Faye, who has a different personality, has no trouble holding gold shares, and she has held many for years.

I don't view gold, the metal, as a trading vehicle or something akin to stocks. I view gold as pure wealth. The economic world can roll over on its fannie, my house can burn down, any stock can crash and burn (think MRK) -- but gold as wealth is as old as civilization. Gold is pure wealth -- it was wealth in 2000 BC, it was wealth in the 1400s and the 1600s, and it's wealth today. The people at the Fed may tell you that gold is just an ancient "relic," but gold will be accepted as wealth when these yo-yo's at the central banks are gone and forgotten along with the whole un-Constitutional Federal Reserve system and its currency-printing operations.

Did you hold on to your golds as I begged you too? You did -- good. You didn't -- damn. But it's never easy to sit through a bull market. At this point I believe most of the gold speculators and in-and-out traders have traded out of their golds. Ah well, nobody said it would be easy.

For the rest of us -- sit tight.

more follows for subscribers . . .
Richard Russell
Dow Theory Letters
© Copyright 2004 Dow Theory Letters, Inc.
Richard Russell began publishing Dow Theory Letters in 1958, and he has been writing the Letters ever since (never once having skipped a Letter). Dow Theory Letters is the oldest service continuously written by one person in the business.
He offers a TRIAL (two consecutive up-to-date issues) for $1.00 (same price that was originally charged in 1958). Trials, please one time only. Mail your $1.00 check to: Dow Theory Letters, PO Box 1759, La Jolla, CA 92038 (annual cost of a subscription is $250, tax deductible if ordered through your business).
_________________
321gold Inc