Rather Exciting
Richard Russell - snippet
Dow Theory Letters
Sep 19, 2007
Extracted from the Sep 18, 2007 edition of Richard's Remarks
The gold picture is becoming rather exciting. Below we see a P&F chart of GLD, the ETF for gold. I've included this P&F chart many times this year, and I wrote months ago that I take all the action since last February as the consolidation "box" that you see on the chart, a box with support at 64 and a lid at 68. I said that a move to 69 would be very bullish breakout, and this would put gold in line to try for the recent high at the 72 box (720 on gold).
In September gold finally broke out above its 68 ceiling and the latest row of Xs has now advanced to the 71 box. The bullish P&F "count" for gold is now 85.00. This in no way guarantees that gold will rise to 850. But what it does tell us is that a technical structure is in place (a large enough base) which would allow gold to advance to 850.
Latest -- On the news of the Fed Funds cut, gold surged over 8 dollars in the aftermarket with the Dec. contract at 731.70.
Note: The Bank of Spain, which has recently been the biggest seller of gold, has just announced that it is finished selling any more of its gold. While the legacy European nations have been selling their gold, the new gold demand is now coming from the oil producing countries such as Russia, Kazakhstan and Qatar, and, of course, China and India.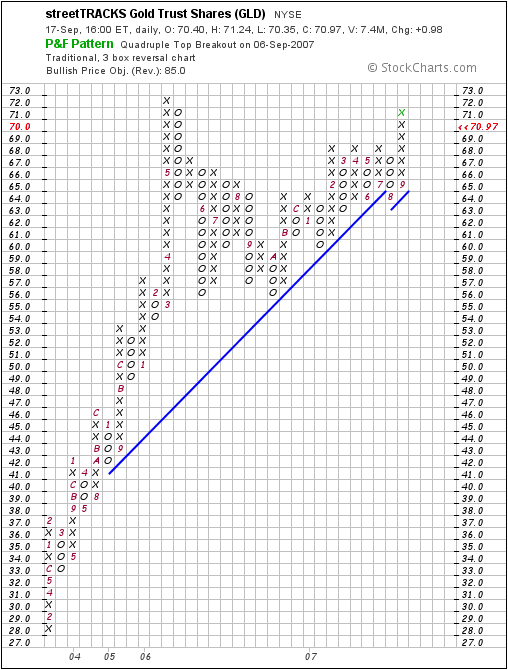 lots more follows for subscribers...
Sep 18, 2007
Richard Russell
website: Dow Theory Letters
email: Dow Theory Letters
Russell Archives
© Copyright 1958-2014 Dow Theory Letters, Inc.
Richard Russell began publishing Dow Theory Letters in 1958, and he has been writing the Letters ever since (never once having skipped a Letter). Dow Theory Letters is the oldest service continuously written by one person in the business.
He offers a TRIAL (two consecutive up-to-date issues) for $1.00 (same price that was originally charged in 1958). Trials, please one time only. Mail your $1.00 check to: Dow Theory Letters, PO Box 1759, La Jolla, CA 92038 (annual cost of a subscription is $300, tax deductible if ordered through your business).

321gold Ltd