The Gold Universe is Coming Alive
Richard Russell snippet
Dow Theory Letters
Posted Jul 29, 2013
July 25, 2013 -- "We want to own things central banks can't print." John Mauldin
................................
Thank God for newsletters. Without them we'd never know what is going on. Newsletters are not part of the government or of the reigning establishment, which is one reason why people subscribe to them. Take Jim Cook of Investment Rarities, for instance, and I quote below --
"Inflation is a dishonest act on the part of the government. We are in the midst of the greatest monetary crime ever known. We are impoverishing ourselves and most especially those who cannot afford financial distress. The dire consequences are beyond anything your imagination can conjure up. It will be the greatest collapse, the greatest crisis and the greatest punishment in history."
And the Russell comment -- One unusual aspect of living as long as I have is that I can remember what life was like before America went off the gold standard and headlong into the fiat money standard. You see, I remember when a nickel was worth something. I used to pay a nickel to ride the NYC subway 25 miles up from 72nd Street in Manhattan to Yonkers where my high school was. And I could also ride from Manhattan all the way to Coney Island for a nickel. Furthermore, five nickels would buy me a good lunch in New York in 1950. Yes, 2% inflation year after year since the end of WWII has wiped out the savings of America's middle class and turned this nation into one huge gambling machine.
The Fed has become a champion bubble-blower, and I suspect that Americans are getting sick of it. I also sense that Americans are so disgusted with the way the nation is being run that they are very close to taking their anger to the streets.
This is a very nasty and dangerous attitude and situation, and I wonder what I can do about it. Maybe I should just move up to my son's sustainable farm in the wilds of northern California. No, I think I will just sit tight and write about it. Here in La Jolla, nobody seems worried about anything (well, they might be a bit worried about Britain's cute new heir to the throne).
Since we can't do much about our dishonest government, we might as well try to make money out of the situation. The market remains bullish, and I assume most of my subscribers hold the DIAs and some gold.
Yesterday the Transports closed near their lows of the session, but the Dow reduced its losses, and closed on the strong side. I took that as a sign of bullish strength. If so, then the market appears to be saying, "no disaster in sight," despite the fact that interest rates are creeping higher. Furthermore, will rising interest rates clamp the brakes on the stock market? If past experience means anything, the market can rise (for quite a while) even as interest rates rise.
Below I show the benchmark interest rate on the 10 year Treasury bond. Actually, the formation looks like a tiny head-and-shoulders top, so the next move may even be to lower rates.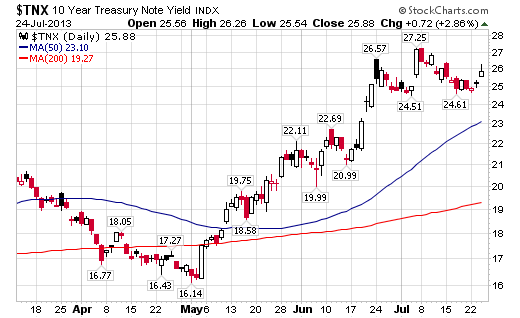 Below we see the DIAs, and happily they have broken out of their little consolidation formation to the upside. So my thought is to sit with them a while longer -- or at least as long as they trade above 154.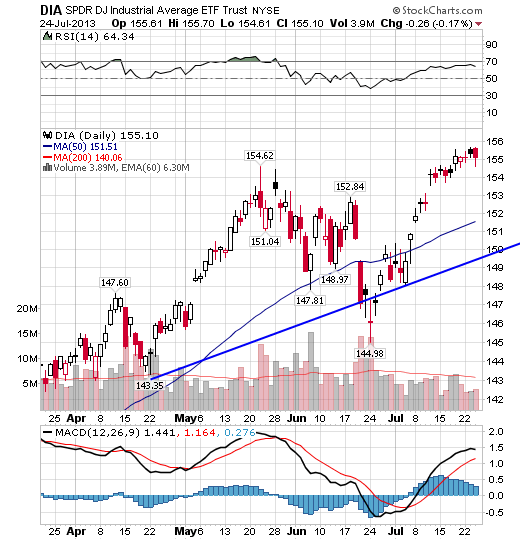 OK, how about gold? I like the way it's acting. The chart below shows gold rising above both its trendline and its 50-day MA, which stands at 1331.
So although we're living in a crazy, rootless world, things seem to be all right -- at least so far.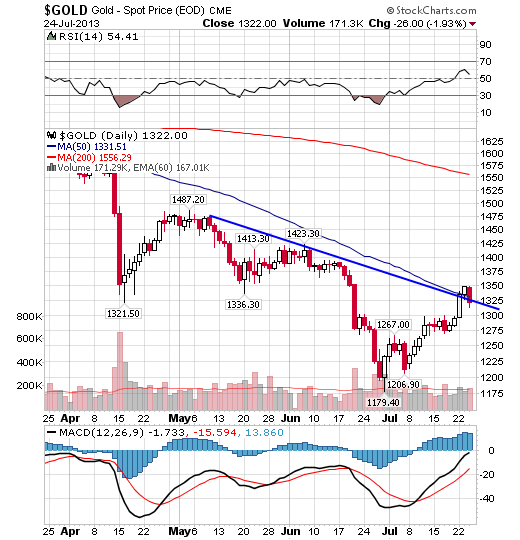 I'm posting a chart of GDX below. This is the ETF for the larger and better financed gold miners. We see on the chart that GDX has rallied above its 50-day MA for the first time this year. Since the miners tend to move before bullion, I consider this action bullish for the whole gold universe.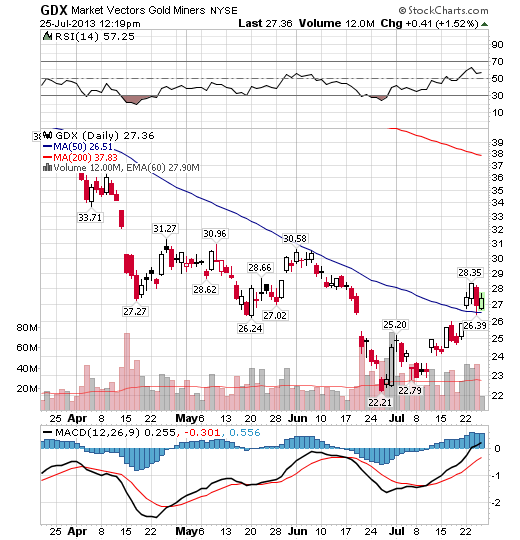 Below, we see it's the same story for the junior gold miners. The whole gold universe is coming alive and looking a lot better. Bold subscribers might buy GDX or GDXJ. They are both above their 50-day MAs but still far below their 200-day MAs.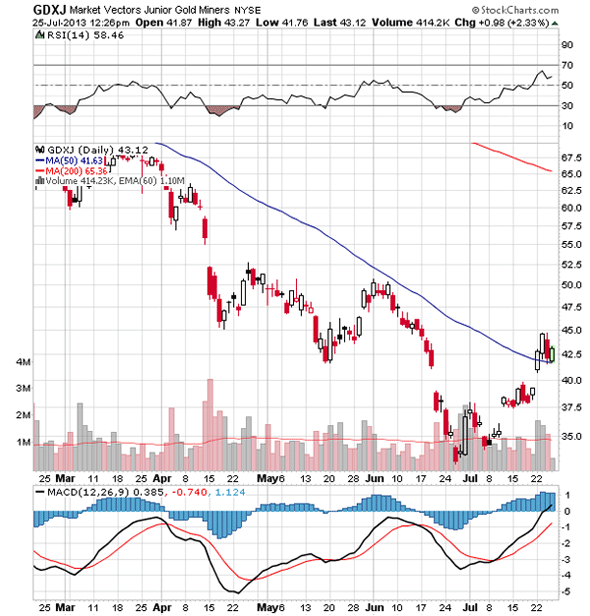 ###
Richard Russell
website: Dow Theory Letters
email: Dow Theory Letters
Russell Archives
© Copyright 1958-2014 Dow Theory Letters, Inc.
Richard Russell began publishing Dow Theory Letters in 1958, and he has been writing the Letters ever since (never once having skipped a Letter). Dow Theory Letters is the oldest service continuously written by one person in the business.
He offers a TRIAL (two consecutive up-to-date issues) for $1.00 (same price that was originally charged in 1958). Trials, please one time only. Mail your $1.00 check to: Dow Theory Letters, PO Box 1759, La Jolla, CA 92038 (annual cost of a subscription is $300, tax deductible if ordered through your business).