Green Shoots
Richard Russell BIG snippet
Dow Theory Letters
Jul 15, 2011
July 14, 2011 -- Gold Rallies to Record on Safe Haven Demand as Debt Concerns Intensify in U.S. (July 14 - Source Bloomberg)
"Gold surged to a record after Moody's Investors Service placed the U.S. rating on review for a downgrade, U.S. debt-ceiling talks stumbled and Europe's sovereign crisis persisted, boosting demand for a haven.
"Immediate-delivery bullion climbed as much as 0.5 percent to $1,589.80 an ounce, and traded at $1,587.55 at 9:36 a.m. in Singapore. Federal Reserve Chairman Ben S. Bernanke's comments that additional stimulus may be needed also drove the metal's ninth day of gains, the best run since April.
"The U.S., rated Aaa since 1917, was put on review for the first time since 1995, on concern the debt threshold will not be raised in time to prevent a missed payment of interest or principal, Moody's said. President Barack Obama walked out of a meeting with legislative leaders on raising the U.S. debt ceiling, according to House Majority Leader Eric Cantor."
Gold - From its July 1st low of 1482, gold has risen almost in a straight line to July 13th high of 1585, a spectacular rise of 103 points. Obviously, gold is in need of a rest or even a correction.
For long-suffering holders of gold mining stocks, however, "green shoots" (remember them?) are beginning to show. Below we see GDM, the gold miners index, shooting high into the 1600s and bettering by a wide margin its preceding peak. Score a big gold star for the gold miners.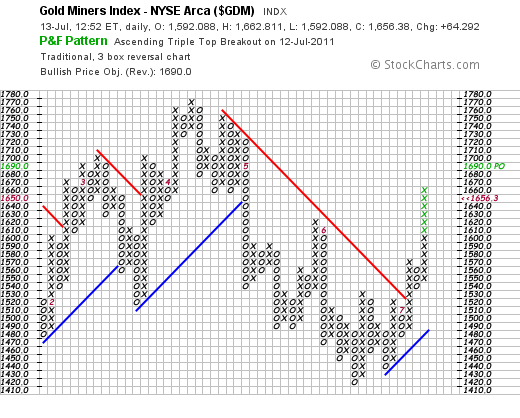 A second look at the gold mining stocks is provided by this P&F chart of GDX. Here we see an upside breakout with a P&F target of 74.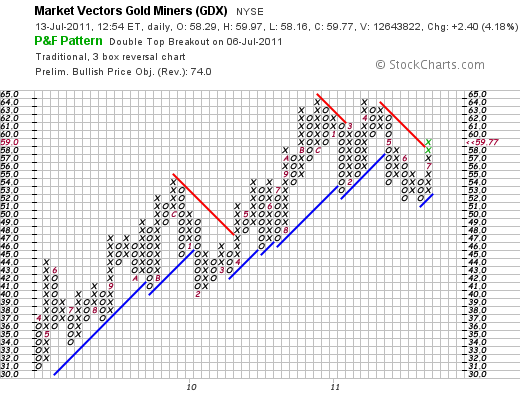 Finally, just to emphasize the situation, I have included a chart below of GDXJ, the "junior gold mining index. Here we see that GDXJ has bounded above both its 50 and its 200-day moving averages, always a bullish move.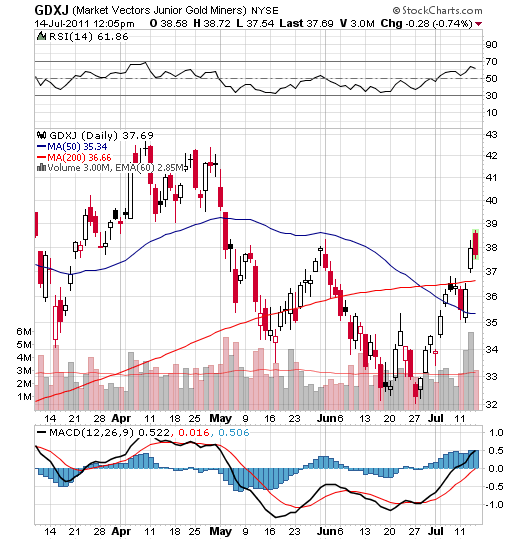 More on gold -- This morning August gold climbed as high as 1594.10. Then came a little intra-day correction, taking August gold slightly to the minus side. As I write gold is again on the plus side, up 1.80 to 1587.40. Either way, gold is fluctuating around an all-time record high. But gold is digesting its enormous gains since July 1. August gold has closed higher six of the last eight trading sessions. Time for a rest?
Below, gold breaks out of a three-month symmetrical triangle.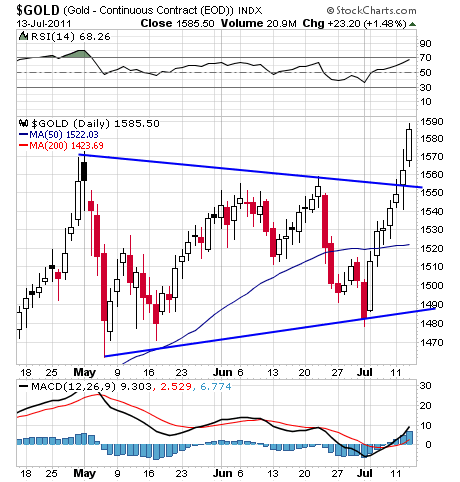 ###
Richard Russell
website: Dow Theory Letters
email: Dow Theory Letters
Russell Archives
© Copyright 1958-2014 Dow Theory Letters, Inc.
Richard Russell began publishing Dow Theory Letters in 1958, and he has been writing the Letters ever since (never once having skipped a Letter). Dow Theory Letters is the oldest service continuously written by one person in the business.
He offers a TRIAL (two consecutive up-to-date issues) for $1.00 (same price that was originally charged in 1958). Trials, please one time only. Mail your $1.00 check to: Dow Theory Letters, PO Box 1759, La Jolla, CA 92038 (annual cost of a subscription is $300, tax deductible if ordered through your business).