...so why not gold
Richard Russell 'snippet'
Dow Theory Letters
Apr 12, 2007
Extracted from the Apr 11, 2007 edition of Richard's Remarks
Gold -- A number of subscribers want to know why I would buy GLD (gold) here. The reason I would buy gold here is because the P&F chart looks favorable. Of course, any chart can change, but this chart looks good. In fact, the chart has the look of a massive base of accumulation.
Only three things can happen to GLD as far as the P&F chart is concerned.
GLD can extend sideways, which would probably represent more accumulation.

It can break out to the upside, which would entail GLD rising to the 69 box.

Or it can break down, which would require GLD to decline to the 62 box.
GLD is trading this morning at 67.02, which, for our purposes, means that GLD is at the 67 box. My take (guess) is that this is such an overall impressive formation that I believe the resolution to this pattern will be GLD rallying to 69. If this occurs, it would be a very impressive move, in which case I'd guess the GLD would continue higher and in due time better its recent high at 72.
The last P&F signal for GLD was a bullish signal at the 65 box -- give us an upside P&F "count" to 85. That would correspond to 850 on gold -- but why not, platinum hit an all-time high today, nickel is at the high as is aluminum All the base metals are strong -- so why not gold.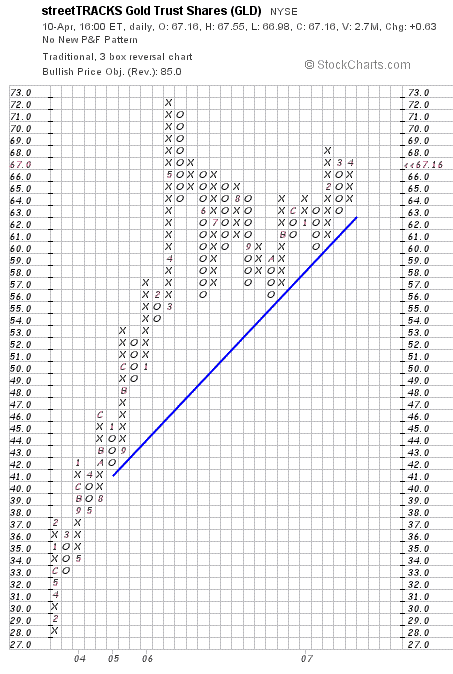 lots more follows for subscribers...

Apr 12, 2007
Richard Russell
website: Dow Theory Letters
email: Dow Theory Letters
Russell Archives
© Copyright 1958-2014 Dow Theory Letters, Inc.
Richard Russell began publishing Dow Theory Letters in 1958, and he has been writing the Letters ever since (never once having skipped a Letter). Dow Theory Letters is the oldest service continuously written by one person in the business.
He offers a TRIAL (two consecutive up-to-date issues) for $1.00 (same price that was originally charged in 1958). Trials, please one time only. Mail your $1.00 check to: Dow Theory Letters, PO Box 1759, La Jolla, CA 92038 (annual cost of a subscription is $300, tax deductible if ordered through your business).

321gold Ltd