The Grinch Who Stole the Christmas Rally
David Petch
Dec 3, 2007
The following article was written one week ago, so it is possible the termination point of wave G was one week early. When broad market indices are in a bear market, sharp rallies that appear out of the blue (such as the sharp three day rally last week) are linked to short squeezes...this further confirms the S&P is still in a bear market. The rally last week terminated wave F, so wave G is now forming. If the labeling is correct, albeit one week early, Monday should be an up day in the S&P followed by a retracement of the last week's advance by 50-80% for the rest of next week. If a decline in wave G occurs, it will match the expected December 7-10th rally point, albeit in a different wave structure.
Over 70% of the GDP in the US is consumer related, with retailers making anywhere from 50-60% of their yearly income in the months of November through December. This is very important to note because it is highly probable that a lot of bad news is being retained to try and keep consumer sentiment (albeit drifting lower somewhat) buoyant until year's end. 2008 is going to be a write-off and I am certain most economists realize this. Let the Wall Street girls and boys enjoy their bonuses, because next year Santa will not be visiting them.
With the theme of this article pertaining to a Santa Claus rally, it could be over anytime between late December till early January. Afterwards, think of "The Grinch Who Stole Christmas". When the pattern (wave G) is complete, it will be obvious even to those who have little market experience. The initial decline phase could be choppy for most of January with some incredible short rallies, but the markets should decisively break lower in February. I have not called a top during the past 24 months, but an Intermediate Degree top is looming. The next leg down in the S&P should minimally last for 8-12 months, basing around 1100-1200. The technical information below goes into further detail describing how the above conclusions were reached.
The upper 55 MA Bollinger band is still rising, suggestive a bottom is not yet in place. Lower Bollinger bands are declining beneath the index, suggestive a bottom is nearly in place. Fibonacci time extensions of various waves are shown mid chart, with the next cluster of Fib dates occurring around December 25th. Short-term stochastics have the %K beneath the %D within the confines of a stochastic triangle. There is at least 5-10 trading days before a base is put in place...personally, I am looking for a bottom December 7-10th.
Figure 1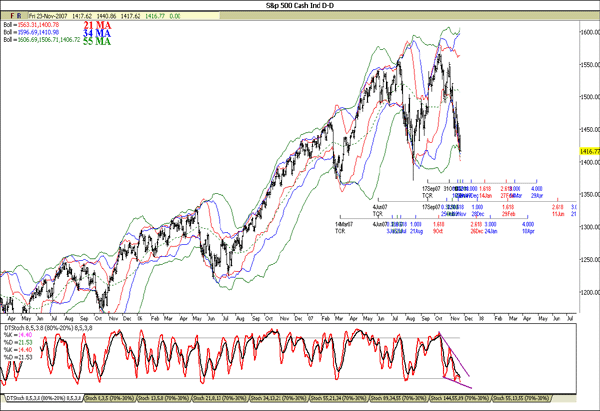 Red lines on the right hand side represent Fibonacci price projections of various upward trending waves projected off their subsequent corrective termination points. Blue lines represent Fibonacci price retracements of the move from March 2007 until June 2007. Areas of line overlap form Fib clusters, which indicate important support/resistance levels. All Fib lines have been passed, with the next level of support at 1400, which just happens to intersect the lower rising trend line. Moving averages are in bullish alignment (50 day MA above the 155 day MA above the 200 day MA), with the 200 day MA acting as support at 1474. Full stochastics have the %K beneath the %D, with around 10-15 days before it can be expected to cross above the %D. The subsequent rally will not be what most expect and this is highlighted in Figure 4.
Figure 2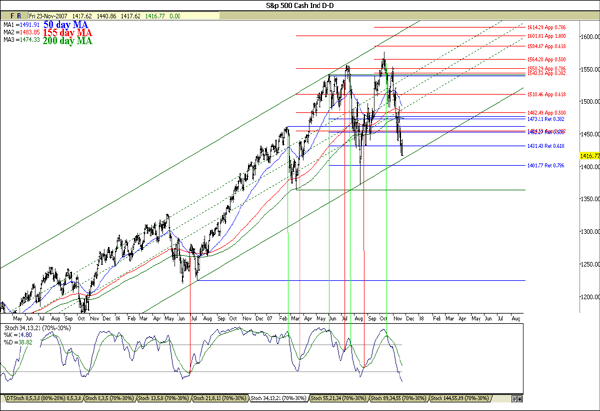 The weekly chart of the S&P 500 Index is shown below, with Fibonacci time extensions of the decline from 2001-2003 shown at the top of the chart and Fib price retracement of the move from 2001 until mid 2002 shown on the right hand side (denoted in blue). Notice how the S&P moved within Fib channels from late 2003 until present: each time the S&P broke to a higher level, it back tested the move, only to move higher. The lower 55 MA Bollinger band is nearing a setup for the next phase of the decline, but needs more time, given the fact the lower 21 and 34 MA BB's are in close proximity. When the lower 21 MA BB begins to curl up, rise for 2-3 weeks and curl down, that should indicate an end to wave [W], which lasted from March 2003 till present. Full stochastics have the %K beneath the %D within the confines of a rising stochastic channel. The coming bounce is likely to have the %K rise to meet the %D and fail, only to fall beneath the structure. I am looking for a top anywhere from late December to mid January 2008.
Figure 3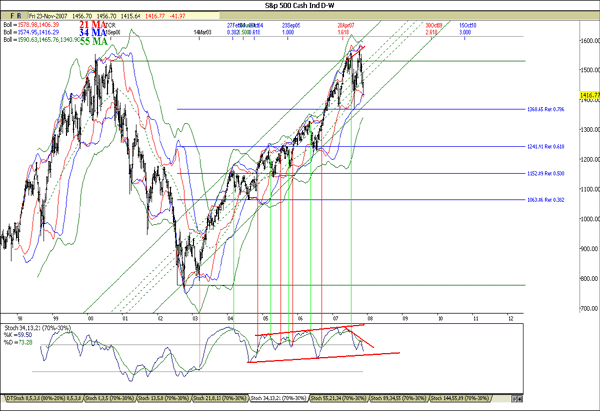 The mid-term Elliott Wave chart of the S&P 500 Index is shown below, with the thought pattern forming denoted in green. An expanding triangle appears to be developing at present, which has profound implications for the subsequent move up in wave G. Expanding triangles supposedly are never fully retraced by the next wave of the same Degree (if it occurs, it should take slightly longer in time), so it is highly probable that the S&P only bounces to 1500-1530. Expect the S&P 500 Index to continue basing for another 5-10 trading days at a minimum before the Santa Claus rally commences (only to be stolen by the Grinch).
Figure 4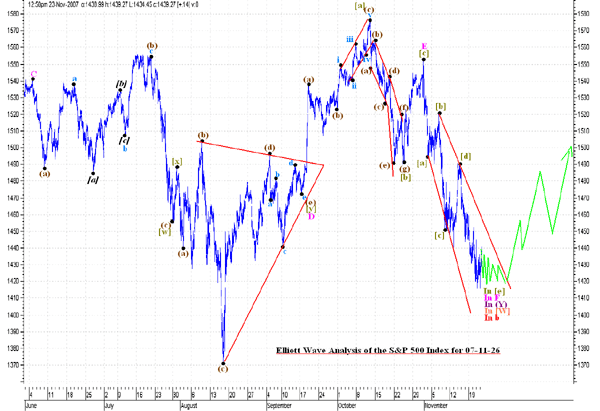 The long-term Elliott Wave chart of the S&P 500 Index is shown below, with the thought pattern forming denoted in green. After the S&P bases and heads higher for most of December, that should mark the end of wave [W]. I have not called for a top in the S&P 500 yet...but it is not too far off. Wave [X] should decline to around 1100-1200 over the course of the following 8-12 months before basing and then rising in wave [Y].b.(IV).
Figure 5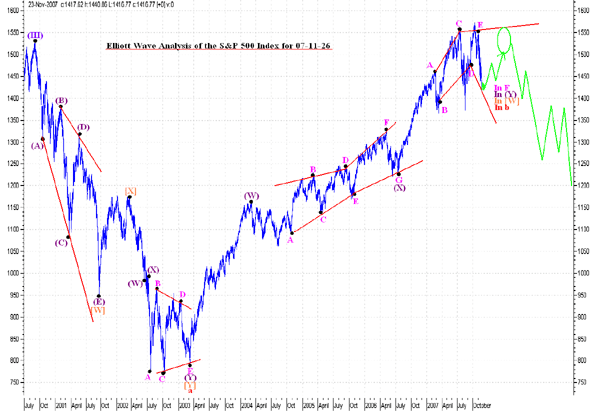 The US government has the problem of many global countries now trying to exit their US dollar positions. This translates into fewer global banks willing to support US deficits unless much higher interest rates are attached. There is no way around seeing much higher interest rates in the US over the coming years or anywhere else on the planet. Monetary expansion within the US is going to have to match what is being shed from blown up derivatives and sub-prime mortgage losses internally as well as what they were receiving externally from other banks purchasing their debt. Sad to say, but investing in gold and silver bullion is the best thing to do at present.
Nov 26, 2007
David Petch
email: ITMmyFAV@aol.com
website: www.treasurechests.info
Petch Archives

Disclaimer: The above is a matter of opinion and is not intended as investment advice. Information and analysis above are derived from sources and utilizing methods believed reliable, but we cannot accept responsibility for any trading losses you may incur as a result of this analysis. Comments within the text should not be construed as specific recommendations to buy or sell securities. Individuals should consult with their broker and personal financial advisors before engaging in any trading activities. We are not registered brokers or advisors. Certain statements included herein may constitute "forward-looking statements" with the meaning of certain securities legislative measures. Such forward-looking statements involve known and unknown risks, uncertainties and other factors that may cause the actual results, performance or achievements of the above mentioned companies, and / or industry results, to be materially different from any future results, performance or achievements expressed or implied by such forward-looking statements. Do your own due diligence.

Copyright ©2006-2009 www.treasurechests.info. All rights reserved.

Unless otherwise indicated, all materials on this page are copyrighted by www.treasurechests.info. No part of this page, either text or image may be used for any purpose other than personal use. Therefore, reproduction, modification, storage in a retrieval system or retransmission, in any form or by any means, electronic, mechanical or otherwise, for reasons other than personal use, is strictly prohibited without prior written permission.