Food For Thought
David Petch
Published Nov 22, 2005
Written Nov 13, 2005
The chart below illustrates the average price of gold silver and gold/silver ratio since 1833. Data prior to 1970 for gold is not useful, due to fixed pricing set by the US government. The price of silver fluctuates over the course of the past 160 plus years due to it being viewed as an industrial metal. The gold/silver ratio peaked around World War II and subsequently declined until the bull market in the stock markets ended in 1966. This 26 year of time saw the gold silver ratio decline due to increased demand in silver initially for world war efforts and subsequently from an overall bull market in the broad indices.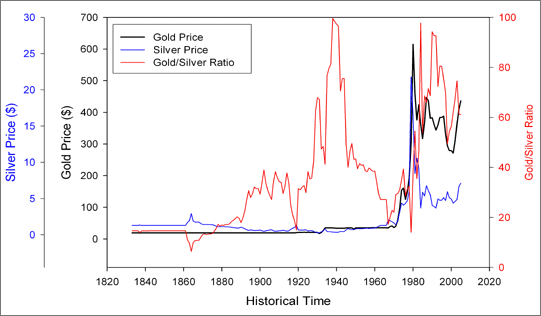 The gold silver ratio subsequently rose and declined to correspond to the 1980 market top in the commodity bull market, exacerbated by the Hunt Brothers attempt to corner the silver market. The gold/silver ratio peaked below 100 between 1980 and 2000, subsequently declining. The gold/silver ratio has a domed decline if top lines are joined together. This suggests that the price of silver will rise relative to gold for the next 5-7 years. All of the prior lows in the gold/silver ratio involved significant abundance of silver above ground. The current point in time however has a situation where more gold exists above ground than silver. With the number of slotted uses for silver growing each year, the supply deficits will keep on growing until all above ground supply is depleted.
I have read there is a 6-8 year above ground supply of silver left, which translates into a maximum cap in the price of silver for another 2-3 years. After that, silvers scarcity will shoot up the price. Historical gold/oil and silver/oil ratios peaked around 20 and near 1-1.2, respectively. Both of these ratios are out of line and should at least see $600-800/ounce gold and $20-25/ounce silver with very conservative values representing 50% of the bull market tops in the ratios. When gold goes parabolic, it will do so in a hurry, along with silver. The chart shows no parabolic stage in gold or silver yet, but that will be the starting point of the parabolic blow off.
A few weeks ago, someone referred to a quote I had on gold, where I said the market was manipulated, thereby producing counts, which could be questionable. I should give further reference to my explanation. I do not think a proper gold count can be applied due to government price fixing. In order to have a truly valid Elliott wave count, it is best to examine indices where the majority of the population can have their behaviour captured in the tape. Examination of the HUI and other PM indices captures the behaviour of traders and market conditions, which IMHO give a better indication of when the precious metal markets fly.
Nov 13, 2005
David Petch
email: ITMmyFAV@aol.com
website: www.treasurechests.info
Petch Archives

Disclaimer: The above is a matter of opinion and is not intended as investment advice. Information and analysis above are derived from sources and utilizing methods believed reliable, but we cannot accept responsibility for any trading losses you may incur as a result of this analysis. Comments within the text should not be construed as specific recommendations to buy or sell securities. Individuals should consult with their broker and personal financial advisors before engaging in any trading activities. We are not registered brokers or advisors. Certain statements included herein may constitute "forward-looking statements" with the meaning of certain securities legislative measures. Such forward-looking statements involve known and unknown risks, uncertainties and other factors that may cause the actual results, performance or achievements of the above mentioned companies, and / or industry results, to be materially different from any future results, performance or achievements expressed or implied by such forward-looking statements. Do your own due diligence.

Copyright ©2006-2009 www.treasurechests.info. All rights reserved.

Unless otherwise indicated, all materials on this page are copyrighted by www.treasurechests.info. No part of this page, either text or image may be used for any purpose other than personal use. Therefore, reproduction, modification, storage in a retrieval system or retransmission, in any form or by any means, electronic, mechanical or otherwise, for reasons other than personal use, is strictly prohibited without prior written permission.