S&P Update
David Petch
Aug 13, 2007
...Well, the S&P bottomed around the 1440 level and is set to continue putting in a topping pattern over the next 2-3 months. The analysis today should illustrate the outcome that is somewhat different than the bulls and the bears, Chimeric market behaviour if you will.
The hedge funds (rampant speculation) and financial/mortgage related stocks (from the housing bubble in the US) are going to cause a significant loss of money that really did not exist. Many hedge funds had pooled capital that resulted in losses 10-15 fold above the entry point. Those with invested capital have nothing, making the losses real. Most hedge funds are locking out clients from being able to liquidate the funds in fear it would cause a financial cascade to the downside. Attempts such as this is like trying to stop flooding by sticking fingers in a dike... a person only has so many fingers.
The US is in dire financial straits, but the rest of the globe has their economies doing well, particularly Asia and the Middle East. Financial havoc in the US will indeed cause some temporary storms on the global markets as hedge funds continue to unwind stored positions of Uranium, copper, tin, lead etc. but once these items are removed from the market and consumed (remember that global supplies of base metals are still in short supply).
The interest rates of the globe must continue to rise in order to combat inflation and soon, Japan and the US will succumb to raising interest rates. Whether the USD goes below 79.3 this year or in two years time (what the charts are suggesting) remains up for discussion. All of the debt liquidation by the US is going to require some form of repayment in USD, which could last the course of the next two years.
As interest rates rise, gold will soon begin to glitter and as per yesterday's post stands to generate returns equivalent to natural gas stocks, which have been beaten with a really ugly stick.
S&P 500 Index
The upper Bollinger bands are in very tight proximity, and the lower BB's are below the index, also in close proximity to each other; this situation implies a bottom is in, with further consolidation before the pattern is resolved (we suspect the resolution will be to the downside in 2-3 months from now). Fibonacci time extensions of various waves are shown mid chart, with the next Fib cluster of dates occurring in early October. Short-term stochastics have the %K beneath the %D, but has curled up and appears set to move to the upside. The upside move is expected to last for 2-4 weeks at a minimum.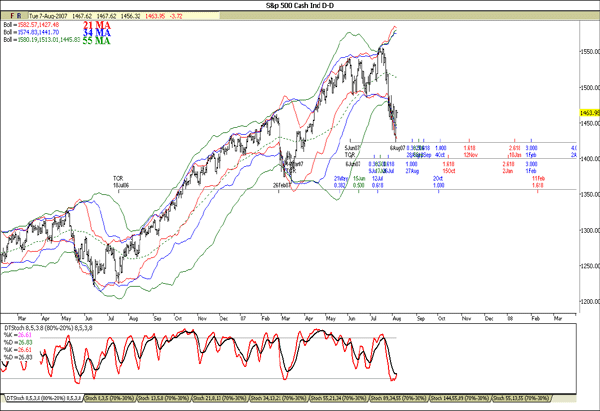 Blue lines represent Fibonacci price retracements of the move from early March 2007 until the mid May top (interestingly, the decline in wave [b] was precisely 61.8% of wave [a]). Red lines on the right hand side represent Fibonacci price projections of the move from July 2006 till February 2007, projected off the March 2007 lows. Areas of line overlap form Fib clusters, which indicate important support/resistance levels. Moving averages are in bullish alignment (50 day MA above the 155 day MA above the 200 day MA), with the 200 day MA acting as support at 1446.63. Full stochastics have the %K beneath the %D just below the lower horizontal channel line. The %K appears ready to move higher, with the upside move expected to last at least 4-6 weeks, based upon on this chart.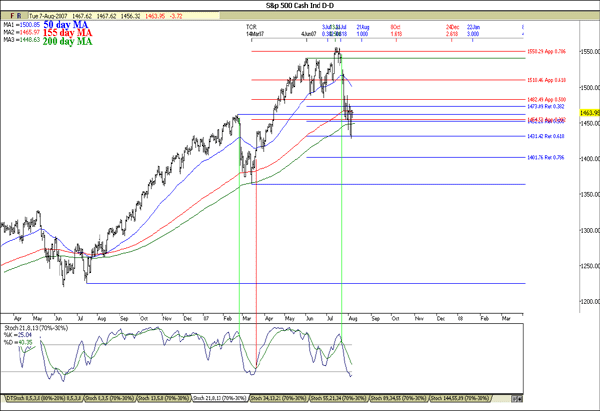 The weekly chart of the S&P 500 Index is shown below, with Fibonacci time extensions of the decline shown at the top of the chart and Fib price retracements of the decline shown on the right hand side (denoted in blue). Notice how the S&P has moved within Fib channels since late 2003; every time the S&P broke through an upper Fib level, the index climbed higher only to retest the breakout and again move higher. The lower 55 week MA Bollinger band is at 1231.29, well below the current index value which suggests further consolidation in the S&P is required before a definitive top is in place. Full stochastics have the %K beneath the %D and beneath the lower trend line of a stochastic triangle. Normally, this would be a bearish omen, but the shorter-term charts suggest an upward move is underway. What likely pattern to emerge in the stochastics will be a narrowing upper oscillation of the %K with the %D before breaking down in 2-3 months from now (at a minimum).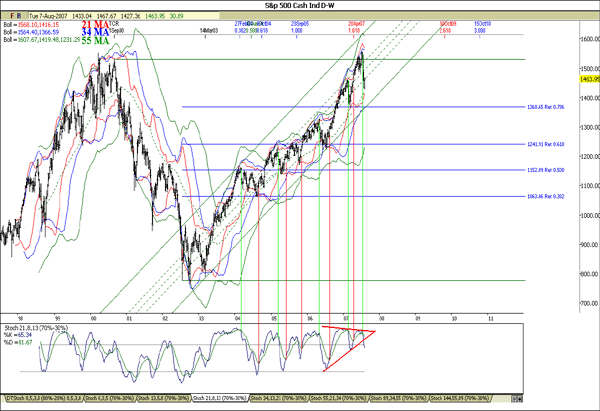 The mid-term Elliott Wave chart of the S&P 500 Index is shown below, with the thought pattern denoted in green. Wave [b] completed somewhat to expectations as per last week's update by basing around the 1440 area in a flat pattern (3-3-5). Wave [c] is likely to be zigzag (5-3-5) or a double zigzag pattern (5-3-5-x-5-3-5) lasting 2-4 weeks at a minimum. The S&P should top out around 1530-1540 and I should note that I am far better at calling for pattern completions/tops in terms of price than I am in relation to time. The markets nowadays tend to make moves that occur in a shorter time frame compared to the past. Since we truly are in the latter stages of this round of global fiat currency (another 6-10 years left at a minimum), these gyrations will only be wilder.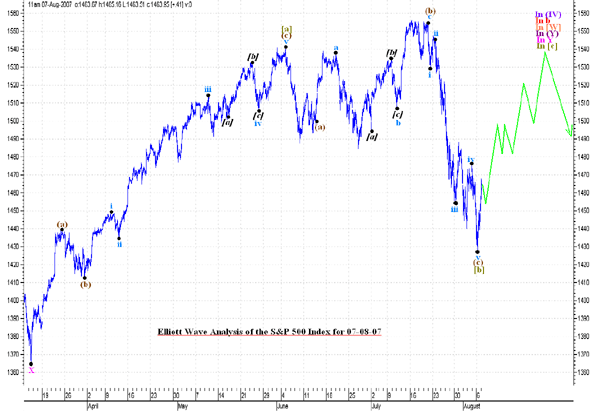 The long-term Elliott Wave chart of the S&P is shown below, with the thought pattern denoted in green. I suspect that a non-limiting triangle is forming at present in wave [c].Y, with waves [d] down and wave [e] up to follow before reaching near the apex of the triangle and breaking down. The pattern for wave [W] is likely to last until early October, but could easily extend into November/December before breaking down. Since wave [W] has been underway since March 2003, it represents 56 months of an upward trending market with no corrective pattern to counter it and as such, expect wave [X] to last a minimum of 12-18 months before wave [Y] commences into 2011-2012 (will be kept afloat by more and more energy stocks/precious metal stocks being stuck into the index). The decline in wave [X] should take the S&P rapidly down to 1200-1250 and have a partial retracement/sideways action for a period of time totaling 12-18 months.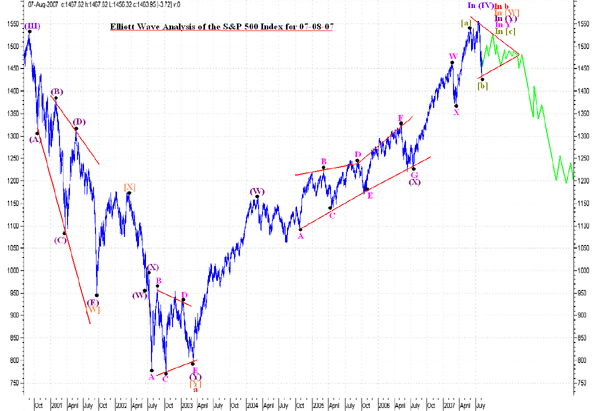 I cover the USD Index, S&P 500 Index, AMEX Gold BUGS Index, AMEX Oil Index and the 10 Year US Treasury Index. Captain Hook, the site proprietor of TreasureChests posts 2-3 times per week with coverage of very important macro issues and how they relate. Also, we currently track some 60 base metal, energy and precious metal stocks.
Aug 13th 2007
David Petch
email: ITMmyFAV@aol.com
website: www.treasurechests.info
Petch Archives

Disclaimer: The above is a matter of opinion and is not intended as investment advice. Information and analysis above are derived from sources and utilizing methods believed reliable, but we cannot accept responsibility for any trading losses you may incur as a result of this analysis. Comments within the text should not be construed as specific recommendations to buy or sell securities. Individuals should consult with their broker and personal financial advisors before engaging in any trading activities. We are not registered brokers or advisors. Certain statements included herein may constitute "forward-looking statements" with the meaning of certain securities legislative measures. Such forward-looking statements involve known and unknown risks, uncertainties and other factors that may cause the actual results, performance or achievements of the above mentioned companies, and / or industry results, to be materially different from any future results, performance or achievements expressed or implied by such forward-looking statements. Do your own due diligence.

Copyright ©2006-2009 www.treasurechests.info. All rights reserved.

Unless otherwise indicated, all materials on this page are copyrighted by www.treasurechests.info. No part of this page, either text or image may be used for any purpose other than personal use. Therefore, reproduction, modification, storage in a retrieval system or retransmission, in any form or by any means, electronic, mechanical or otherwise, for reasons other than personal use, is strictly prohibited without prior written permission.