The Frog in the Pot
David Petch
Jul 23, 2008
Note: The following article was posted for the benefit of subscribers on Sunday July 20th.
Right now, those holding financial stocks can be viewed as a frog in a pot of boiling water. As long as the water does not boil, the frog is safe... but mark my words, before the year closes out, the water will boil.
Trying to have a realistic and "contrary view" when someone is directly involved in a particular market is extremely difficult, especially when being stuck in the pot. This will apply to those in the commodity market within 3-4 years, so everyone involved will have to try and have a level head. As gold bugs, we are trying to stick are toes into the water but are repelled by the heat. It will be important to make sure all participants are carrying a thermometer in their pocket to realize when the markets become overheated to a near boiling point, causing everything to spill over.
Our thermometer will be tracking the market sentiment, market psychology and numerous technical indicators tracked currently employed. Boiling a liquid involves transition into the gaseous phase, which creates a mist. Anyone still in the pot (commodity market) when it begins to boil will literally get "lost in the mist" amidst fear in the market, such as "The world is ending" and "All assets must be transferred into gold and silver". When I was much younger, my father was making chicken soup and left it on the stove for 6 hours on MAX. Later that evening, the inside of the house was a thick fog with the smell of burnt chicken bones. Metaphorically transfer this image to those holding stocks near the end of a bull market (think NASDAQ) and it does not take much thought to the outcome.
At present, the pot of water for gold and silver investors is on the back burner at room temperature. Only once the main market pot begins to boil will our pilot light be activated. When this event occurs, keep the thermometer handy and do not drop it because when the heat really gets turned up in the drive for owning gold and silver someone could find themselves running with the pack, which is the wrong thing to do. Be objective, set exit points for 50% of stock and ride the rest courtesy of the house. We try to constantly develop this theme and expand upon it, so please ensure to keep a mental note of this.
Update of the AMEX Gold BUGS Index
Upper Bollinger bands were all pierced by a sharp upward move in the index, which previously has not occurred in all of the shown. Whenever Bollinger bands are pierced, especially the upper 55 MA Bollinger band, a sharp retracement should follow, accompanied by an extended consolidation before the next up- occurs. Lower BB's are just starting to rise, fitting with the thought that a potential window exists for the HUI to make a sharp move... hold tight, because at some point between August and January 2009, it will occur. Fibonacci time extensions of various waves are shown near the lower portion of the chart, with a cluster of Fib dates occurring near the end of September 2008. A time accordion is shown near the base of the chart, with numbers indicating the number of "time blocks" beyond the initial measurement (wave [1].III). The 9x area is about as long as a wave [2] move can extend beyond wave [1], which does not occur until December 2... still 5 months before the HUI has to make a move to keep the Elliott Wave count valid. Short-term stochastics have the %K beneath the %D, with the potential for another 2-3 weeks of the present decline before a bottom is put in place.
Figure 1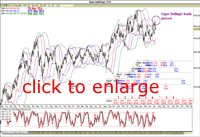 Red lines on the right hand side represent Fibonacci price projections of various upward trending waves, projected off the termination point of their subsequent corrections. Blue lines on the right hand side represent Fibonacci price retracements of wave [1].II. Areas of line overlap form Fib clusters, which indicate important support/resistance levels. The Fib cluster around 450 has been strong resistance the past 10 months, as noted by the recent attempt to spike above it. Moving averages are in bullish alignment (50 day MA above the 155 day MA above the 200 day MA), with the 50 day MA acting as support at 432. Notice how a rising trend emerged from early 2006 until August 2007, only to be back-tested twice over the course of the past 8 months. The pattern from late September 2007 until present has been forming a lower Degree rising pattern similar to the 2006-August 2007 rising pattern, thereby setting the stage for an extremely powerful move in the coming months. Full stochastics have the %K above the %D, but note the short-term weakness stated in Figure 1. Expect anywhere from 3-5 weeks of downside/consolidation before the HUI explodes to the upside, excluding any global event that ignites the fuse beneath the gold market.
Figure 2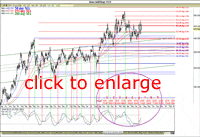 The weekly chart of the HUI is shown below, with Fibonacci time extensions of waves I and II shown at the top of the chart. Red lines on the right hand side represent Fibonacci price projections of wave I projected off the termination point of wave II. Notice the cluster of Fib dates occurring on January 30th, 2009, which intersect the upper channel line around 1200-1300. The lower 55 week MA Bollinger band is at 305.3, up from last week's value of 299.9. The continued advancement of this setting by 4-5 points per week would suggest that another 8-10 weeks of further consolidation is required to see enough of a contraction in volatility to trigger the next upward move. Full stochastics have the %K beneath the %D, but appears to be trying to reverse and cross above it; for now, this indicator suggests further consolidation.
Figure 3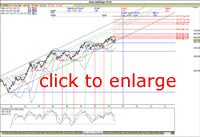 The mid-term Elliott Wave chart of the HUI is shown below, with the preferred count shown in colour and the alternate market path denoted in grey (same count, different path). The count required modification to take into account the sharp spike of wave F which invalidated the extended flat structure I was following. The newly labeled structure is a diametric triangle, resembling a bowtie (contracting triangle followed by an expanding triangle. At present, wave G is the last wave structure to complete this pattern and could last anywhere from 4-8 weeks, pending market conditions. Should things go awry with this count, another (X).[2] wave will form, followed by another corrective leg (wave (Z).[2]) that would take the corrective structure of the HUI into the end of January 2009. Patience is a virtue and was the main lesson for anyone whoever when fishing when they were a youngster. Remember that lesson because it still requires practice for present market conditions, particularly those holding gold and silver stocks.
Figure 4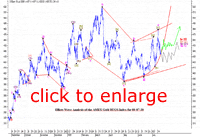 The long-term Elliott Wave chart of the HUI is shown below, with the preferred count shown in colour and the alternate pattern (same count, but longer time frame) denoted in grey. Wave II terminated above the termination point of wave I, thereby classifying it as a running correction. Running corrections always precede the strongest move in 2/3 of time, price and complexity (price and complexity are likely to be the 2/3 that occur for wave III now underway). Since the pattern in the HUI is a terminal pattern for human civilization, it is possible to label it as a corrective structure that will complete with a total of 7 or 9 legs. I have avoided showing the structure to avoid confusion to those following standard Elliott Wave methodologies, so be aware that this possibility exists. The pattern developing to my unrevealed count is a diametric triangle (bow-tie formation), with wave [F].(V) presently developing. This pattern would have a final sharp rise in wave [G].(V) lasting 2-3 years. I may decide to show this pattern in the next few months... but again, this stuff is confusing enough and for most it would not make sense.
Figure 5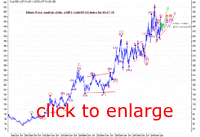 The gold/silver ratio is shown below, along with accompanying statistics. The ratio is presently at 52.64, up from last week's value of 51.04. It appears that gold will be outperforming silver for the next 1-2 months, fitting with expected weakness in the HUI. By time this bull market is complete, the gold/silver ratio will be around 11-16.
Figure 6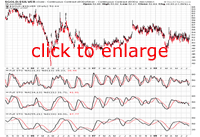 The gold/oil ratio is shown below, with accompanying stochastics, displaying a value of 7.40, up from last week's value of 6.59, suggestive that it about to embark on a journey to the historical ratio value of 21. Should oil remain at $140/barrel, then gold would be $2940/ounce. If oil goes to $300/barrel (which is a strong possibility with Peak Oil kicking in), then it goes to $6300/ounce. If the financial crisis reaches the epic proportion I expect it to, the ratio could spike to 35, which would lead to $10,500/ounce. The above examples should be clear cut as to why it is important to at least own gold and silver bullion, alongside high quality junior stocks.
Figure 7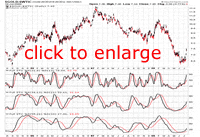 The gold/HUI ratio is shown below, with accompanying stochastics, displaying a present value of 2.19. I am going to get a longer-term chart of this ratio in the coming weeks to assess optimal times to buy and sell the HUI based upon the ratio (I am sure this already exists out there, but it is a new concept to me). If anything, the ratio rising to present levels is highly suggestive that a reversal to the 1.65 area is not far off... this suggests the HUI is about to go ballistic once the present corrective structure is complete.
Figure 8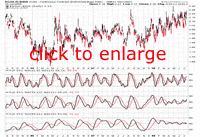 David Petch
email: ITMmyFAV@aol.com
website: www.treasurechests.info
Petch Archives

Disclaimer: The above is a matter of opinion and is not intended as investment advice. Information and analysis above are derived from sources and utilizing methods believed reliable, but we cannot accept responsibility for any trading losses you may incur as a result of this analysis. Comments within the text should not be construed as specific recommendations to buy or sell securities. Individuals should consult with their broker and personal financial advisors before engaging in any trading activities. We are not registered brokers or advisors. Certain statements included herein may constitute "forward-looking statements" with the meaning of certain securities legislative measures. Such forward-looking statements involve known and unknown risks, uncertainties and other factors that may cause the actual results, performance or achievements of the above mentioned companies, and / or industry results, to be materially different from any future results, performance or achievements expressed or implied by such forward-looking statements. Do your own due diligence.

Copyright ©2006-2009 www.treasurechests.info. All rights reserved.

Unless otherwise indicated, all materials on this page are copyrighted by www.treasurechests.info. No part of this page, either text or image may be used for any purpose other than personal use. Therefore, reproduction, modification, storage in a retrieval system or retransmission, in any form or by any means, electronic, mechanical or otherwise, for reasons other than personal use, is strictly prohibited without prior written permission.