Elliott Wave Count on Gold
David Petch
Mar 4, 2008
The following is an excerpt of an article published on March 2nd 2008 for the benefit of subscribers.
I have spent at least 15 hours trying to find symbols for gold on my data feed to no avail. I might have found one way to get it, but the cost for one single quote is not justifiable. As such, I subscribed to Stockcharts to obtain charts. They do not offer data far back enough to produce long-term charts, so what you see is what you get.
The termination point of the correction from 1980 actually was just above $300 ounce, rather than the orthodox low that happened in 2001 at $252/ounce.Wave II was a running correction that took form of a diametric triangle (bow tie formation). Wave III just recently started, implying a move to at least $1500/ounce. Full stochastics at all three settings are definitely stretched, but inflation is just starting to intensify...as such, expect this to drive the price of gold much higher. It is important to note the chart below is in semi-log format but appears to be developing a parabolic shape. My thoughts are that gold is simply going to continue to rise sharply over the course of the next 3 years to create an extreme overbought situation similar to the extreme oversold condition to the 2001 orthodox low.
Figure 1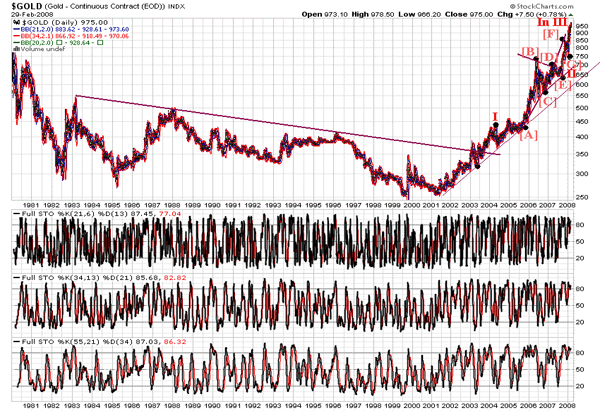 The chart below zooms in on the price of gold from 2003 until present. In future updates, I likely will remove full stochastics and zoom in on the chart by 150% in MS Paint before annotating in order to allow for a more crisp view. For now though, this is what you get. Wave I was an impulsive pattern terminating in late 2004, with wave II just completing in late 2007. There is a possibility that wave II terminated where wave [E].II is located, but the wave up has a corrective appearance (3 wave structure...specifically a zigzag). Full stochastics are stretched on all levels examined, but bull markets often see extreme overbought conditions exist for prolonged periods of time.
Figure 2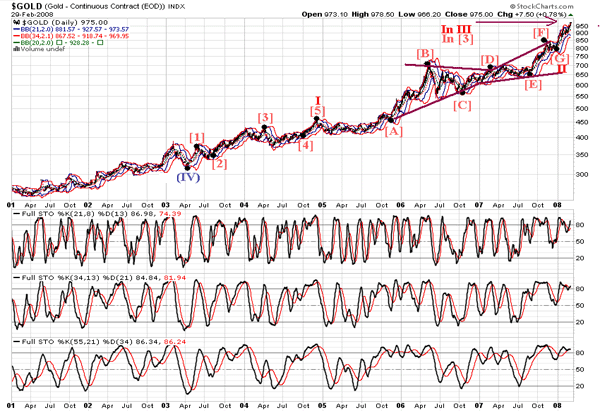 The final chart on gold zooms in to the final portion of wave II and the start of wave III. As I mentioned before, please allow some leeway for the presented count, possibly because of the following point. Notice how gold has put in a rising triangle just above 975. If gold can break above $990/ounce, then follow through to $1500/ounce is possible. Wave V in gold is likely to see a spike to $6000-10,000/ounce, suggestive wave V is going to be the extended wave in time and complexity. The HUI is likely to top out well before the price of gold and silver, so owning the metal beyond 2009 is likely the better alternative. It is also possible that wave (2).III is developing, but the trend for the next 3-4 years is up.
Figure 3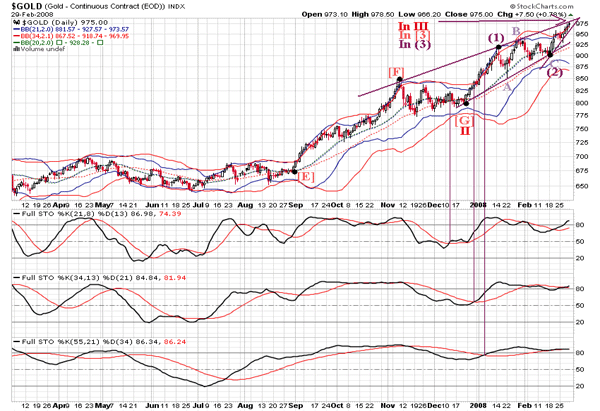 A major portion of the work I do is technically oriented, but I am starting to write 2-3 editorials per week, such as the above. For further viewing of prior work, simply click on the Archive section of this site. I update the AMEX Gold BUGS Index, AMEX Oil Index, US Dollar Index, 10-Year US Treasury Index, S&P 500 Index as well as commentary on market-related issues and new technical analysis findings. We follow some 60 stocks, with a focus on core positions and stocks that actually make up our personal portfolio. As well, the keeper of the site, Captain Hook writes 3-4 articles per week discussing macro issues, ratio analysis of various markets and an in-depth study of put/call ratios and shorting candidates.
Have a good day.
David Petch
email: ITMmyFAV@aol.com
website: www.treasurechests.info
Petch Archives

Disclaimer: The above is a matter of opinion and is not intended as investment advice. Information and analysis above are derived from sources and utilizing methods believed reliable, but we cannot accept responsibility for any trading losses you may incur as a result of this analysis. Comments within the text should not be construed as specific recommendations to buy or sell securities. Individuals should consult with their broker and personal financial advisors before engaging in any trading activities. We are not registered brokers or advisors. Certain statements included herein may constitute "forward-looking statements" with the meaning of certain securities legislative measures. Such forward-looking statements involve known and unknown risks, uncertainties and other factors that may cause the actual results, performance or achievements of the above mentioned companies, and / or industry results, to be materially different from any future results, performance or achievements expressed or implied by such forward-looking statements. Do your own due diligence.

Copyright ©2006-2009 www.treasurechests.info. All rights reserved.

Unless otherwise indicated, all materials on this page are copyrighted by www.treasurechests.info. No part of this page, either text or image may be used for any purpose other than personal use. Therefore, reproduction, modification, storage in a retrieval system or retransmission, in any form or by any means, electronic, mechanical or otherwise, for reasons other than personal use, is strictly prohibited without prior written permission.