Fractal Gold Report
Monthly Gold Pattern Remains Bullish
David Nichols
Posted Jun 18, 2012
The big patterns in markets play out on a time-scale that is not intuitive for the human mind, as our "quotidian lives" play out on a day-to-day basis. So often we lose sight of the most important patterns – the really long-term ones, on the monthly chart.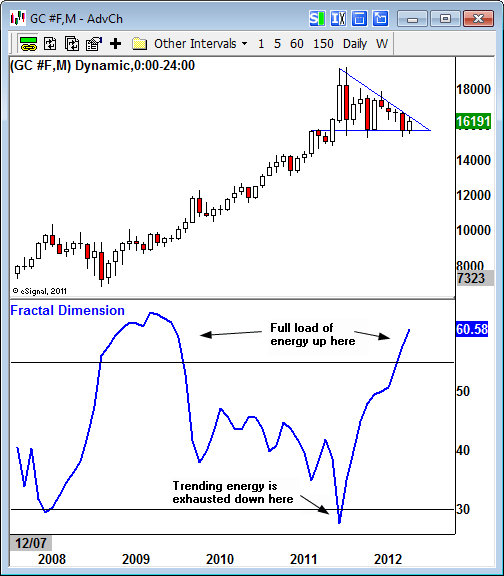 Gold's monthly chart is telling a vastly different story than the one we're getting from gold on a day-to-day basis. Right now in the short-term it feels like gold is stuck in the dumps, or to put it more charitably, stuck in the doldrums. Gold can't maintain any sort of upside momentum, as it's been rare to even see gold go up 2 days in a row, much less 2 weeks in a row.
In fact, it's been nearly 6 months -- 6 months! -- since gold has been able to string together two weeks in a row to the upside.
But in spite of this, the monthly pattern is still in very good shape. On this longer time-frame gold is merely completing a typical consolidation triangle pattern, which is the standard reaction to a very strong trend. This is the energy from the big move up settling out of the market, as gold prices seek equilibrium following such a major event.
There is nothing particular confusing or worrisome about this triangle consolidation pattern, either. It is precisely the same physical phenomenon as a ball bouncing on the floor, with the energy dissipating with each successive bounce.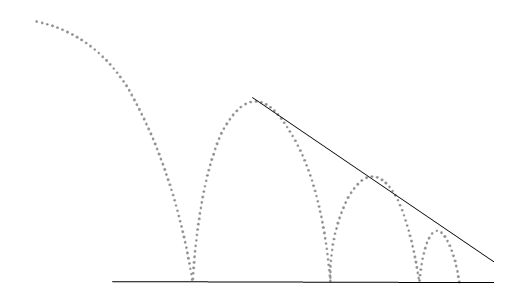 Since markets are fractal, or self-similar in every time-frame, you can observe this triangle consolidation pattern in every market, in every time-frame, from the 5 minute chart on up to the monthly and even yearly charts. Markets always seek equilibrium with narrowing oscillations after a strong trend.
The other important development on the monthly chart is the fractal dimension, which has now climbed all the way back over 55, after reaching a low of 27 at the first high in August 2011. The fractal dimension tells us how much energy is available to a market to power a trend.
The monthly gold chart is now fully consolidated and re-energized. Gold is ready for a big move -- even a huge move.
Once gold gets above the upper boundary line of the triangle – around $1,635 – we'll know that fresh energy is coming into the gold market, and gold is finally finished dealing with the previous uptrend. This will create a clear path higher, as a full load of available energy will be available to release to the upside.
But these breakouts out of a long consolidation pattern are rarely as straight-forward in real-time as they could be, so if you want to stay current with this developing pattern, you can take advantage of our 30-day free trial offer to access my daily reports.
###
David Nichols

email: editorial@fractalgoldreport.com
David Nichols publishes the Fractal Gold Report, a daily report covering the gold market using proprietary techniques that go beyond technical and fundamental analysis. The Fractal Gold Report is available by subscription here.
Fractal Gold Report Disclosure.
Copyright ©2005-2014 Fractal Gold Report. All Rights Reserved.