Charters Towers Gold Mining
Buying "World" Gold Stocks
Bob Moriarty
October 14, 2002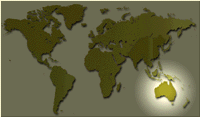 I don't think I have recently read anything about the effects of currency changes on the value of a stock so maybe it's time I threw in my two cents. The issue arose when a new advertiser, Charters Towers Gold, from Downunder, contacted us and we began posting a banner for them.
There are hundreds and hundreds of gold mining companies around the world. No one can keep track of all of them or intelligently follow them. So when we seem to write a lot about companies who advertise on our site, it's not a payoff on our part, it's far more due to the fact we look into each company who advertises with us and many times we find things which just haven't been well covered elsewhere. I personally believe diversification in gold stocks is mandatory so we keep between 25-30 gold stocks in various accounts of ours at any given time.
Barb looked closely at the Australian stock Charters Towers Gold Mining and liked it enough to want to buy some shares. (That's largely because, for reasons we won't go into now, Barb would far rather buy 50,000 4¢ stocks than 500 $4.00 stocks). What we went through made us realize we needed to show you how a North American investor can invest in foreign shares and what the pitfalls might be.
It's all too easy to forget that when you buy a foreign stock, you must buy two things. First and foremost, since the stock is quoted in the foreign currency, you have to 'buy' the currency as you buy the stock. This presents both risk and opportunity not present with U.S. traded stocks. There is the risk of the stock going down and the currency going down. Alternatively there is the opportunity that the stock will go up, and the currency will also go up.
Charters Towers Gold Mining (ASX code CTO) is our first Australian gold advertiser. Unlike all of our Canadian advertisers, there is no OTCBB (Over The Counter Bulletin Board) listing for Charters Towers Gold. If you want to buy some, you have to buy the real thing, the Australian-listed shares.
Located in north Queensland, Charters Towers -- one of the largest goldfields in Australia -- produced over 6.6 million ounces of gold between its discovery in 1872 and 1917, averaging just over one ounce per ton of gold (34 g/t). (A century ago Charters Towers was Queensland's second largest township and known to everybody as "The World.")
Charters Towers Gold believe they have a gold resource POTENTIAL of 15 million ounces and have come up with a mining plan to produce 250, 000 ounces per year at a cash cost of US $115.
I want to explain gold resource POTENTIAL in the words of Charters Towers Gold because it's where the sticking point would be.
"Resource Potential is CTGM's estimate of the contained ounces of gold which it believes, on the basis of a technical evaluation of available data and geological extrapolation, should occur within its tenements. It is emphasized that this term is not covered by the JORC Code and is not equivalent to a Mineral Resource or Ore Reserve estimate."
It is a potential of 15 million ounces, not a resource or reserve.
It's an interesting plan, they have an existing mill and could begin production in as little as 6 months but will need 5 years to gear up to full production of 250,000 ounces. Charters Towers Gold would enter into up to 5 separate joint ventures within their 100%-owned mining district of Charters Towers and produce gold ore from five different mines.
Based on their figures, using the 15 million ounce POTENTIAL, Charters Towers Gold has a market cap of $13 million US making the gold about $.80 an ounce which makes it cheaper than any gold stock I know of. Using a discount rate of 12%, the project has a net present value of US $241 million which makes it an interesting and potentially very profitable investment.
But don't forget, you are also making a currency investment. And given the dismal future of the US dollar, you could have a double payoff, one in the stock and the other in the Australian Dollar.
Naturally there are other factors. First of all and I hope I have highlighted it sufficiently, the 15 million ounces is a guess. It may be a very educated guess based on past production but it's a guess. And second of all, the whole plan hinges on attracting sufficient capital to execute the plan. Based on their foresight of at least dipping their toes in foreign internet sites by contacting us -- off their own bat -- about advertising on 321Gold they have indicated they realize they need to promote their company on distant shores. But we have seen a sea change in gold investment psychology in the past four months and my belief is that they will find success in attracting foreign capital.
It's no secret I believe those very vocal proponents of the gold conspiracy theory have done a world of damage to the image of those wise few investors who invest in precious metals and precious metals stocks. Owning gold in today's world is the act of a prudent man, not a wild-haired screaming lunatic.
Gold is a currency. Perhaps the ultimate currency since an ounce of gold is the only currency without conflicting claims. As a currency, gold competes against all other currencies. All you have to do to understand gold is look at a chart of gold in all other currencies than the US dollar since 1999 and you will immediately realize that rather than being at the heart of some sinister conspiracy, the value of gold is pretty much set as the inverse of the value of the dollar. Since governments believe it is their divine right to manipulate currencies, it's perfectly valid to say gold is manipulated since governments brag about manipulation of the dollar. And when you manipulate the dollar, you manipulate the inverse of the dollar as well. It's all perfectly true. And perfectly meaningless.
So the easy answer as to the direction of gold is to predict the value of the dollar. And since the United States has to convince foreigners to invest $1.5 billion dollars a day in the US in the form of stocks, bonds and other investments just to maintain the current value of the dollar it gets real easy to determine our currency is way overvalued. And as such, the price of gold is way undervalued.
But the value of other currencies is also undervalued in relationship to the dollar and since you have to invest in the currency of your intended stock purchase, it presents additional opportunity. Or risk.
We have an order in to buy a small number of the Charters Towers Gold shares with PennTrade at US $.04. Certainly I would find it attractive at that price but by writing this piece, I have also probably screwed up any potential of actually getting an execution. If you like the Charters Towers Gold story -- certainly I suggest you always do your own due dilligence -- and cannot buy Australian shares through your own broker, drop Tom Wobker a line at Penntrade. We have an account with them. They are wonderful to deal with, experts in mining shares on almost any exchange, and are reasonable in their commissions.
Good brokers are few and far between. Good brokers who actually know the mining business can be counted on one hand. Penntrade, founded by Alex Pennaluna in 1926, is one of our favorite companies and we think you will find them your favorite as well.
-Bob Moriarty
October 14, 2002
---
Nothing we write is intended to be anything more than our opinion about the merits of a stock. Before buying or selling any stock, the investor should do his own due diligence.

We are investors for our own benefit. At any one time we may own 25-30 different mining stocks. It follows that often we will own stocks which we have written about.