..
. . . a girl's best friend
Bob Moriarty
July 7, 2003
On Thursday June 26th, Ashton Mining of Canada (ACA-T) issued a remarkable press release. Literally, they discovered a 4 carat diamond in a drill core. The stock blasted from $1.12 (Canadian) a share the day before the startling announcement to $2.69 a week later adding $78 million dollars to their market cap.

I got a call on Tuesday of this week from Dennis Higgs, President and CEO of Miranda Gold (MAD-V) advising me of the incredible find. Miranda has property surrounded by diamond giants being in between Ashton on the west and DeBeers on the east of their largest property.
Investors in diamond explorers make gold investors look like calm little old ladies. Diamond investors seem to invest far more enthuastically in response to large diamonds than to positive bulk samples.
In 1994, the very first large Canadian diamond was found by Aber Resources (ABZ-T) when they were logging drill core from their first hole. It weighed a remarkable (for the time) 1.75 carats. With another smaller but still visible .25 carat stone, the discovery added a rapid $70 million (Canadian) to Aber's market cap. But when further mini-bulk samples revealed a remarkable and profitable 4 carats total per ton, punters ignored the news.
Earlier this year, Kensington Resources (KRT-T) found a 10.23 carat diamond in a mini-bulk sample following discovery of a 3.35 carat diamond last year from the same pipe. Investors rocketed the stock from about $.70 a share in May to $1.70 before drifting down to almost $1 a share after release of the mini-bulk sample showed marginal results.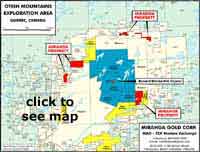 In any case, the Ashton find has revitalized interest in the Otish Mountain diamond play. Miranda Gold is considering alternatives from doing a joint venture on their property adjoining Ashton's find to initiating an airborne survey and drilling under Quebec's miner friendly government reimbursement program which refunds 30% of all exploration costs in Quebec. A flow through financing is also an option Dennis Higgs is considering.
Bob Moriarty
Archives
eMail
Jul 5, 2003
links:
Miranda Gold
Ashton Mining of Canada
Aber Resources
Kensington Resources