There's silver in them, thar hills
Bob Moriarty
Archives
May 4, 2006
I returned from a three week trip to Vietnam, China and Inner Mongolia just ten days ago. Since then I have been in Mexico on a three day visit and spent a couple of days in Chicago at the gold show put on by Rich Radez. The travel doesn't bother me, I spent 15 years of my life delivering small planes all over the world. And I get to stay in some very nice hotels. But climbing a 60 degree decline is hell on the old bones.
My second visit on my Asia tour was to the Ying mine of Silvercorp. Lovely Cathy Fong of Silvercorp has been encouraging me, yes, insisting, for six months that I should visit the property. She also suggested, yes, bugged me, to buy some stock last November when it was hovering at just under $4.
I wish I had listened. Silvercorp has been one of the giant winners as silver shot higher. I wish Cathy had bugged me more on both counts. My visit to the property was wonderful.
Silvercorp owns a 77.5% interest in the Ying silver/lead/zinc property located 240 km southwest of Zhengzhou, the capital of Henan Province in Central China. Silvercorp released a 43-101 in April of 2005 which took into account only five mineralized veins but showed a total of about 99.1 million ounces of silver equivalent metal. A new 43-101 is due shortly based on the 2005 fiscal year program where they discovered an additional 9 silver/lead/zinc veins and completed 13,000 meters of exploration tunnels, 16,000 meters of development tunnels and 14,600 meters of drilling from both surface and underground.
I really like the exploration/development model. With $14 silver and $660 gold, if you have a project which is economic, you need to be getting it into production. If it isn't economic at these prices, it's not a project, it's moose pasture.
Silvercorp took the bootstrapping process, where you make money early on and pull yourself up by your bootstraps, to its ultimate. It's important in any country where you intend to mine, to adapt to the local conditions and culture. It only costs a few dollars more per meter to drift in China than to drill. So if you can drift for $110 a meter and it costs you $80 a meter to drill, you need to be doing as much drifting as possible. If you have a mine, you are going to be boring tunnels anyway. So by doing almost as much drifting as drilling, Silvercorp shaved 18 months off the time to get into production and paid their own way as they drifted. I really like that. And so does the market.
In the Ying project, the mine is so rich that both exploration and development tunnels contained ore grade mineralization. So Silvercorp shipped it off to the smelter and more than paid for their entire exploration budget for the year.
I went to the project on the 10th of April. I had flown down with two Silvercorp officers but they were there to attend a document signing so I was sent off with a geologist to do a quick tour of the mine. We drove for about four hours. Typically, the first couple of hours on any tour are good highway, then ok roads, then a short section of kidney-busting unpaved hell. This journey gradually took us around a beautiful lake where all of a sudden we ran out of road. All I could see was the road running into the lake and a bunch of oversize golf carts carrying rocks in the other direction. Finally it dawned on me that the golf carts weren't carrying rocks, that was very rich ore. Off to be shipped to the smelter.
[click on thumbnails to enlarge images]
The average grades for ore at the Ying mine are richer than any mine I have been to. The silver grade measures 1,400 grams per metric ton, 34% lead and 10% zinc. With current prices of $14 silver, $1.50 zinc and $.53 lead the gross metal value is about $1350 worth of gross metal value. Assuming 90% recovery and about 72% pay from the smelter, Silvercorp stands to gross about $875 per ton. Their mining costs run about $45 per ton so you might reasonably conclude they are going to be making money hand over fist.
While I was there, they got their long awaited mining permit so they are in production for real now at a 140,000 ton per year rate with 100& dilution factored in.
My tour guide and my driver got on one of the empty ore boats with me and we made the 45 minute trip across the lake to the mine site on the other side. It was an incredible trip if only because no one had ever mentioned to me the need for the boat ride. It was a glorious spring day in China and the landscape was beautiful.
Alas we finally arrived at the mine and it was time to get to work. One of the on-site geos (there are 40) who spoke excellent English (A greater number of Chinese speak English better than Americans) gave me an overview of the project and their progress. We suited up and went for a tour of the mine after the brief.
It seemed to me that we trudged our way through all 15 km of tunnels. I saw a lot of silver and lead and zinc and the back of the head of the guy in front of me. In the next 12 months, Silvercorp plans on mining 3 million ounces of silver and about 30,000 tons of lead and zinc. The mine is ready, there are numerous faces to work on and all they needed was the mining permit to get into high gear.
At one point they wanted me to go down an 80 meter decline of about 60 degrees. I had to hang on to a pipe on the side of the decline or go rolling down the slope. I played along and managed to make my way to the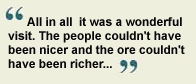 bottom where they showed me another incredible intercept of silver, lead and zinc. Little did I know, since they hadn't told me, that once down the decline, you have to crawl back up. Or die and they bury you there. As I looked up the decline that seemed like a really good alternative. But I soldiered on and crawled back up. I've never heard the sounds of thighs whining before but mine did for the next two days and they informed me that if I ever pulled such a stunt again, dying would be a much smarter choice.
All in all it was a wonderful visit. The people couldn't have been nicer and the ore couldn't have been richer. My Chinese escorts were kind enough to remind me that I must have been in very good shape when I was young and I reminded them that that was many years ago.
Silvercorp is especially well financed, having just completed a $47 million dollar placement (Canadian) just days ago. I was going to make a special effort in this piece to make the point that they didn't really need the money for the Ying mine because it's self-financing from this point on but they even preempted me on that with today's [May 3, 2006] announcement of a deal to purchase 60% of a property within the Ying Project area for $6 million (Canadian) over time.
Silvercorp has a lot more money in the bank than their operations demand. It was a good idea to cash up while they could, the deal was done at $19.10 a unit. But the management of SVM is aggressive and you can count on them adding new projects. They have a project called the Tuobuka gold project located next to the Boka Gold project of Southwestern Resources in Yunnan Province and I would expect them to put a high priority on advancing it but with that much cash they will be shopping. And they have already proven themselves to be highly agile players in the China market.
With a run from $1.40 Canadian a year ago to a high of $20.95 a few weeks ago, I'd be a damned fool if I called them cheap. They aren't, they are expensive. But I thought they were expensive in November at $4. I don't know what the right price for the company is any more than I know the right price for silver or gold right now. There are a lot of factors driving prices up but I would be a lot happier with a healthy correction for the metals and the shares. Nothing goes up forever except the expectation of fools.
Of all the companies in the top five silver producers, only one or perhaps two will be there in three years. The silver market is getting a good shaking and it's dynamic companies such as Silvercorp doing the shaking. I would be very surprised if SVM is not one of the top five silver companies in Canada and the US in a couple of years, they are that good. But before buying the shares, investors need to make sure they have done their due diligence. The stock could go to $12 a share and still be in a roaring bull market. I buy stocks when they are cheap and sell them when they are expensive and you should too.
Silvercorp is not an advertiser, and because of my stupidity we don't own any shares. I would be a buyer on a pull back.
Silvercorp Metals, Inc
SVM-T $17.86 Canadian (May 2, 2006)
47.6 million shares outstanding
Silvercorp website
Bob Moriarty
President: 321gold
Archives