Have Giraffe, Will Travel
Bob Moriarty
Archives
February 24, 2006
This isn't just a job, it's an adventure. I just spent the best part of three weeks trekking around Africa. I flew about 70 hours in total including two days of 24+ hours of sheer agony even though I wasn't in steerage. But it was worth it. I came back with a giant Charlie horse in my left leg which may well be the result of a small blood clot, had the trots for a week which made going any further than slingshot range of a toilet a real thrill [Barb's comment, "Oh please..."] and my beloved new giraffe, Harry, had both ears and a horn broken off in transit. But if Harry can sacrifice both ears for the cause, why should I bitch?
I visited Tanzania first, for a week and I will be writing that trip up shortly but one of the major players doesn't have a website yet and I want my story to be verifiable. And then I went down to Cape Town to see the Indaba Gold Show. Then my real African Safari began. It all started in the Cape Town airport at the giraffe adoption center.
I found Indaba incredibly boring. I should have known when I showed up the first day to plonk down $1200 for the privilege of wandering around the booths. Everyone (but me) was dressed to the tees in black suits and white shirts. Face it, anyone wearing a suit is selling something and we don't much get along anyway. The show was slanted to the London Investment Banker and lawyer side and had little representation from the junior side of mining.
In any case, I said my hellos to everyone, waved and left. On the Tuesday I drove out to Paarl to visit John Disney who is a gentleman and a scholar and there are damned few of us left. On the Wednesday I went to play tourist at the craft shops at Waterside, doing my little contribution to the US balance of payments issue.
One shop was filled with giant giraffes. Barbara and I adopted a pair of giraffes here in Miami, years ago, but they were low class tourist giraffes made for the export trade, not the high-quality, well-bred, sort of giraffe which calls Cape Town home. I fell in love with a handsome male giraffe. (other than the obvious, males differ from the females in that they have a knob in the center of their forehead and are darker than the females).
My intended carried a price tag of 650 Rand which translates to about $110 US. When I asked for the cost of shipping to America, I was told the price of the giraffe was the same as the price of the shipping. So a 650 Rand giraffe became a 1300 Rand giraffe delivered. That seemed a little steep to me and since I had sworn on a stack of Bibles to Barbara that I wasn't bringing anything home from the trip, I passed on the giraffe.
The road to hell is paved with bricks made of good intentions. My next destination was Ouagadougou (for those illiterate of tongue, pronounced a shortened "Waga") in Burkina Faso. When the lovely lady Laura Sandilands of Goldbelt first contacted me and asked if I was interested in a site visit after Indaba, I literally had to look for the country on a map. I wasn't real sure even what continent it was on. In any case I found the right continent, obtained a visa and made plans to fly there with Collin Ellison, President and CEO of Goldbelt Resources.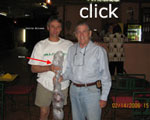 To get to Waga (see what a world traveler I am) we had to fly from Cape Town to Joberg, Joberg to Paris and Paris to Waga via Niger. It was going to be 27 hours of hell. Collin and I made it to the Cape Town airport and went straight to the South African Airways lounge. After catching up on my email, I thought I should at least make a pass through the tourist shops. I did and fell in love with a handsome young giraffe that we've called Harry. Since one of my giant concerns about adopting a giraffe was how to get him home safely, when I stood in the Cape Town Airport and realized I was already through security and the airport Nazis couldn't confiscate my new baby, I made an immediate decision to bring him into the family. All I had to do was navigate security in Paris and Waga and I was home free. Think of Out of Africa, Into Africa and Out of Africa once again.
Collin Ellison looked at me as if I had lost my marbles... me carrying this four-foot-2ins-high giraffe over my shoulder as we walked to the plane. But I ignored him. We made it safely to Paris where we had to collect our bags and carry them to another terminal. I then ran into my first snag, the lovely Air France clerk looked dubiously at Harry, at me and again at Harry and shook her head with a sigh. "I'm sorry, sir," she began, "but I'm afraid security will not allow you to take that on the airplane." Oh rats, though I.
We agree I should try to sneak Harry though security and if that failed, return to check Harry with the cargo luggage. I held great fear as to how Harry would get along in a cramped hold filled with a bunch of smelly luggage. All the while, Collin Ellison was staring at the ceiling and whistling.
Security went through my bag with a fine-toothed comb. They made me open and turn on my computer and ran a cotton swab all over the inside of my carry-on bag. Meanwhile I'm holding Harry at arm's length and pretending he's not really with me. Collin made it through safely and was again scrutinizing the ceiling and whistling. Harry must have looked innocent because no one took even the slightest interest in him. (Maybe they thought he was some special kind of walking stick). I tossed him over my shoulder, casually, and off to the plane we went and after another ten hours of agony all three of us were safely in Waga.
Even though Burkina Faso is one of the poorest countries on earth in terms of GNP per capita, the country was a French colony and maintains a tradition of French Cuisine. On our first night in Waga we ate a wonderful French meal at our hotel and finished with an incredible desert at a pizza restaurant bragging of 16 different sorbets. Still suffering from the jelly belly, I wisely chose to not tempt fate and I settled for a small bowl of strawberries to sooth my palate.
Goldbelt Resources is an old shell with a new and great project, still flying way under the radar scope. I don't think anyone has actually mentioned it but for the first time in history we are in a global shortage in all commodities across the board. While gold and silver have yet to shine, more mundane commodities such as iron, moly, coal, even lowly zinc are hitting new highs day after day as Chinese demand continues for everything real.
Paul Morgan, Executive Chairman of Goldbelt Resources and Paul Naughton got the company to take over the Burkina Faso assets of Resolute Resources in 2005. The Belahouro gold project in North-Central Burkina Faso has a $25 million dollar investment history, first by WMC of Australia and then Resolute in a JV with BHP.
Paul Morgan of Goldbelt has put three mines into production. When Goldbelt made the decision to take over the project, he brought in Collin Ellison, President and CEO of Goldbelt to run the company. Collin, with 30 years experience in development and mine planning, has put six gold mines into production. They approached Resolute in early 2005 and signed a deal in March of that year, paying Resolute in shares and making them a 21% owner in GLD. Resolute was quite happy to have done the exploration and to let more experienced management actually put the project into production.
The initial production target, called Inata, shows 933,000 ounces of gold in the M&I category and an additional 226,000 ounces in the Inferred category. Collin Ellison is pursuing an extremely aggressive plan of adding an additional 600,000 ounces in the Inata region while preparing to begin mining in as little as 18 months from now.
BHP and Resolute put together an impressive in-country team in Burkina Faso and Goldbelt was smart enough to keep the team intact. The very talented and very funny Yves Hirbec runs the administration from Ouagadougou while Dr Francois Ouedraogo, Chief Geologist with 15 years experience in West Africa runs the exploration side, having managed programs for BHP, WMC Resources and Resolute Resources.
Our tour to the hinterlands of Burkina Faso consisted of me, (sans giraffe) Collin Ellison and three investment bankers. The very knowledgeable and talented Dr Julian Barnes of Dundee Precious Metals kept us entertained and laughing for two days. Dundee has taken a 23% position in Goldbelt which speaks volumes about how they feel about both the caliber of management and the quality and viability of the project. Also Geoff McNamara of Societe Generale and Marcio Fonseca of Macquarie Metals made up the remainder of our group. It's always encouraging to see investment bankers with a checkbook in hand when your visit a project.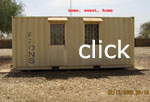 We drove out to the project in two vehicles from Waga. The first two hours were on a nice smooth paved road, the second two hours were on a dreadful dirt/gravel road and the last hour seemed to last a week at least, it was on really rotten roads. But the deal with Resolute also involved turning over all the facilities Resolute has in Burkina Faso and they had put a number of 20 foot containers to good use as cabins for the staff.
The Belahouro gold project lies in the heart of the Birimian greenstone belt consisting of volcano-sedimentary sequences known to host gold in quartz veins. BHP and Resolute conducted a total of 81,000 meters of drilling and spending over $23 million on the project. Since that time, Goldbelt has added an additional 22,000 meters of drilling and has spent over $2 million more on exploration.
In addition to the 1.2 million ounces of gold at Inata, Goldbelt controls roughly an additional 500,000 ounces at nearby Fete Kole and Minfo. Those resources won't play a part in the decision making process for opening the initial 100,000-150,000 ounces of production scheduled for late 2007 but Goldbelt plans on continuing to expand and increase the quality of those resources even as they proceed with mine planning and production.
I'm biased. I happen to really favor the development/production model of metals mining. For an investor it offers the safest and most consistent returns. Even today, Goldbelt is getting about $17 US per ounce of resources while similar exploration/development companies operating in the area are getting between an average of $36 per ounce for pure exploration companies to $94 for developing companies to $67 for actual production companies. Goldbelt clearly offers a significant upside to its current share price.
But every silver lining must have its cloud. With Goldbelt, it's the share structure, (poor liquidity). Since the company has no history, bad or good, before being started a year ago, the share structure is the tightest I have ever seen. Dundee Precious Metals owns 23% of the shares, Resolute Limited controls an additional 21%, management owns about 17% and several small funds own about 13% in total. 74% of the shares are in the hands of very very strong investors who were buyers for the long run. So while the stock can show a printed price of $.78 Canadian as of last Friday, it wouldn't take much buying to run it much higher. A company simply cannot be this undervalued in this sort of market for very long.
I was impressed with the operation being planned, with their business model, the personnel were superb and knowledgeable. Even the caliber of the investment bankers along for the tour was first rate. In short, this is a well managed, well executed business model with a very high potential for both increasing gold resources and shareholder value. I liked the company enough to be quite happy to buy some shares but even that was difficult as I didn't want to be pushing the stock price up. So we own some but not as many as I would wish. I highly suggest anyone considering buying Goldbelt to be careful and to not put in market orders. You could pay a lot more than you want to. The stock is very tightly held and when it runs, it's going to get more expensive in a hurry.
The company is in the same position as Desert Sun with their Jacobina Project. Desert Sun was a $.50 a share company four years ago and proceeded to prove resources while rebuilding a mill in Brazil. They continued to make progress on the mill while adding resources but the shares barely edged upward. But their patient shareholders were rewarded this week with a buyout of about $5 a share. Goldbelt has the same sort of story, production in 18 months (and that's where the most sure returns come for an investor) while constantly adding ounces. It seems to me that Desert Sun is getting about $150 Canadian per ounce of resource and if they can, so can Goldbelt.
We spent two days in the field looking over the prospects at Feta Kole and Inata before returning to Waga and everyone going on their own way. I parted with Collin in Waga and flew on to Paris (via Niger) and back to Miami. As much as I believed giraffe security would be light in Waga, actually it was the worst of the entire trip and much to his chagrin, Harry was relegated to the cargo hold where he was severely abused. He lost two ears and a horn in the process of coming to his new home in Miami. Minor surgery on my part restored him to good health and he seems to like his new abode.
We do own a few thousand shares of GLD and we are biased. Goldbelt is not an advertiser but I think they will be in the future. Again, we want to remind readers that we don't share in your profits so we don't feel responsible for any losses you may take. This is a piece of my opinion and my opinion only. We are not paid to produce it.
Goldbelt Resources, Ltd
GLD-V $.79 Canadian (Feb 22)
GLDDF.pk OTCBB
36 million shares outstanding
Goldbelt Resources website
Bob Moriarty
President: 321gold
Archives