Gold Set To Rise While Debt-Based Assets Collapse
Hubert Moolman
Posted Aug 16, 2017
In a previous article, I have shown how economic conditions, today, appear very similar to that of the early 80s (circa 1983). These similar conditions show up on the long-term gold and Dow charts, as shown in that article.
Now, if those similarities continue, then the Dow will continue much higher from this point on, while gold will go into a long-term bear market. However, I have also pointed out that there are just too many fundamental obstacles, that would make such a scenario almost impossible.
One of the biggest obstacles is the fact that unlike the 1983 scenario, we are currently right after a major interest rate bottom. This prospect of higher interest rates going forward, will act like a strong wind pushing gold higher, while keeping debt-based assets, like the Dow and bonds, down (read more on why this is the case).
On the contrary, the 1983 scenario, came just after the long-term interest rate peak, which had the opposite effect, pushing gold down, while elevating debt-based assets like the Dow and bonds.
The similarities to 1983 are reflected in the long-term chart for gold:
(Click on image to enlarge)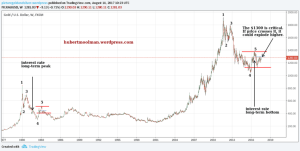 I have marked two patterns 1 to 5, to show how they might be similar. I have also marked the point where interest rates peaked (in 1981), and where they probably bottomed (in 2016).
Therefore, although there appears to be a similarity in the patterns, there are vastly different economic conditions in terms of interest rates, or appetite (or capacity) for debt and debt-based assets. The prices of assets like gold and silver will soar, while bonds and the stock market will collapse.
Consequently, the two patterns (indicated) will likely diverge, with gold going into a bull market as supposed to the 80's bear market. In the short-term, the $1300 level is critical. If gold goes higher than the $1300-level, then we could see an upward explosion in price.
For more on this and this kind of fractal analysis, you are welcome to subscribe to my premium service. I have also recently completed a Silver Fractal Analysis Report as well as a Gold Fractal Analysis Report.
###
Aug 14, 2017
Hubert Moolman CA (SA)
email: hubert@hgmandassociates.co.za
website: http://hubertmoolman.wordpress.com
Hubert Moolman is a self-taught gold and silver analyst who writes a precious metals newsletter specializing in fractal chart analysis and monetary fundamentals (especially gold and silver). He has a background as a Chartered Accountant, and managed his own firm for 9 years. He also has a website that publishes educational articles on gold, silver and the dangers of fiat money.
If you find this information useful, please forward it to friends or family so that I can continue to reach people that would not normally read such informative sites as this one.