Silver Offers A Great Opportunity
Hubert Moolman
Posted May 13, 2020
The stock market has had a great run during the last decade. It has made some people a good stack of money.
However, the March crash has many wondering what it will do next. Will it continue to crash, or will it continue the bull market?
Is it really worth spending time and effort contemplating its next move? I think not.
The market is currently presenting a great opportunity to lock in those stock market profits, and then even growing it much more.
Below, is a long-term chart of the Silver/Dow ratio: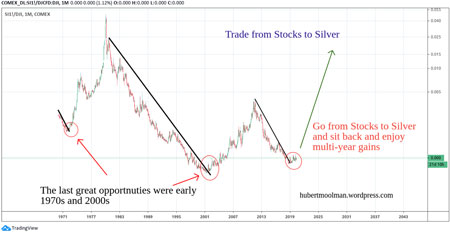 It appears there is a great opportunity to move from stocks to silver. The last time such an opportunity presented itself was in the early 1970s and the early 2000s. One could trade from stocks to silver and enjoy multi-year gains.
Choose to likely get X10 returns with silver or face the risk of getting your general stock market investments cut by at least 90%, in my opinion.
Silver is set to rise significantly over the coming years, just like it did during the 70s. Below, is an update of my cycle analysis for silver: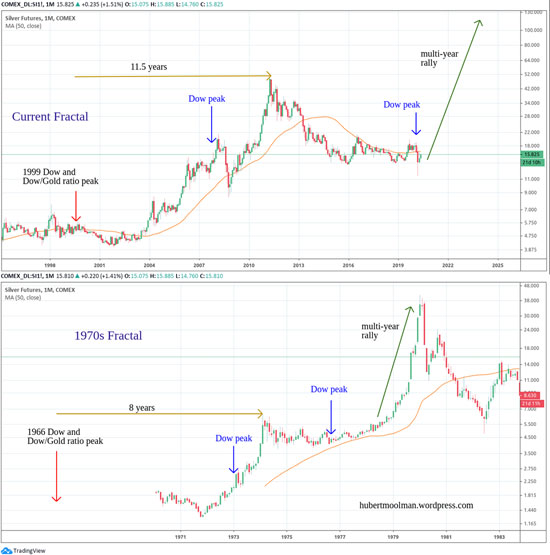 The bottom chart is silver from 1966 to the end of 1979 and a few years beyond, and the top is silver from 1989 to May 2020. I have highlighted key events on both charts to show how the structure of the two bull markets could be similar. The current structure is bigger in terms of time.
The Dow/Gold ratio peaked in January of 1966, before the start of the precious metals bull market. In a similar manner the Dow/Gold ratio peaked in August 1999, before the start of the silver and gold bull market.
Some time before the first important peak of the silver price in February 1974, the Dow again made a significant peak (in January 1973). This is very similar to the October 2007 peak of the Dow, which came before the April 2011 peak in silver.
Again, after the Dow peak of February 1974, there was another significant Dow peak in December 1976, some time before the peak of the silver bull market in January 1980. The Dow recently made a peak (2020), which could be its ultimate peak for its long running bull market. If this is actually the peak, then it is similar to the Dow peak of December 1976, which came some time before the peak of the silver bull market.
So, if the Dow top is actually in, we could be in the midst of a multi-year silver rally like the one from 1976 to 1980. However, this time the structure of the current financial system is likely too weak to continue in its current form, and the problems (or debt) is far too big.
For more of this kind of fractal analysis, you are welcome to subscribe to my premium service. I have also recently completed a Silver Fractal Analysis as well as a Gold Mining Fractal Analysis Report.
Warm regards,
###
May 8, 2020
Hubert Moolman CA (SA)
email: hubert@hgmandassociates.co.za
website: http://hubertmoolman.wordpress.com
Hubert Moolman is a self-taught gold and silver analyst who writes a precious metals newsletter specializing in fractal chart analysis and monetary fundamentals (especially gold and silver). He has a background as a Chartered Accountant, and managed his own firm for 9 years. He also has a website that publishes educational articles on gold, silver and the dangers of fiat money.
If you find this information useful, please forward it to friends or family so that I can continue to reach people that would not normally read such informative sites as this one.