The McClellan Market Report
Daily Edition (snippet)
Gold
McClellan Financial Publications, Inc
Posted Apr 18, 2012
Gold fell a little bit on Monday, but made up for some of the early losses at the close. I have been wondering when traders of GLD and IAU (gold bullion ETFs) were going to respond like the QQQ traders, and start shedding their positions. So far no response.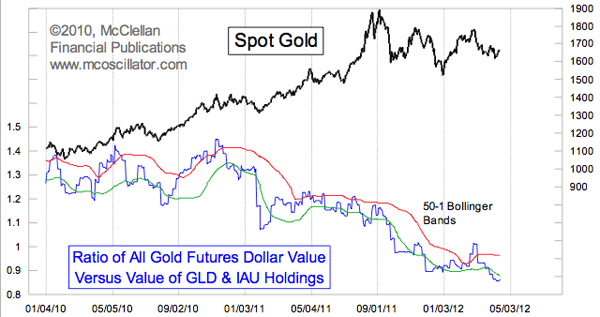 But a related indicator is shown in this chart, and here we are seeing a bottom-worthy sentiment condition. It compares the total dollar value of all gold futures contracts to the total dollar value of gold bullion ETF holdings. Here again, because the ratio can wander over time, using dynamic levels of declaring where "high" and "low" levels are can be helpful. This is the lowest level for this indicator since those ETFs started trading, and pretty well below the lower 50-1 Bollinger Band. That says that futures players have left the market in a big way, and could lift gold prices with their inflows as they start coming back in.
###
Written Apr 16, 2012
Tom McClellan
Editor, The McClellan Market Report
email: tom@mcoscillator.com
website: www.mcoscillator.com
(253) 581-4889
Subscribe to Tom McClellan's Market Reports.
Copyright ©1996-2012, McClellan Financial Publications. All Rights Reserved.