Gold & Silver Market Update
Clive Maund
13 December, 2004

Gold
Gold's plunge on Wednesday was dwarfed by the decline in silver - and both broke below their parabolic uptrends, thus threatening a more prolonged period of correction. That said, gold is now above very strong support in the $430 area, reinforced by the 50-day moving average now a little below the price. It is this strong underlying support that arrested the rapid plunge, at least for now. Clearly, it is important that gold not break down below this key support level, although if it does, it can fall as low as low as the $410 area without breaking below the long-term uptrend. It was the dollar breaking out from its steep downtrend that precipitated the plunge in the metals. The dollar should now rally over the short to medium term, but any rally is not expected to get further than 84.50 maximum on the dollar index, above which level there is heavy resistance.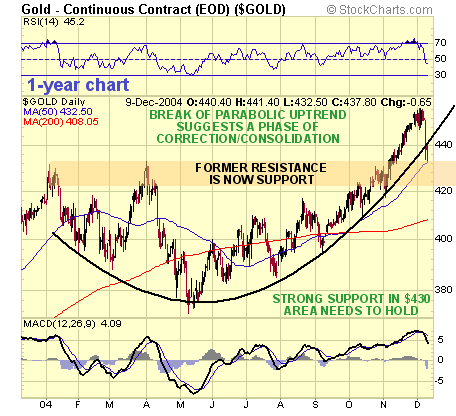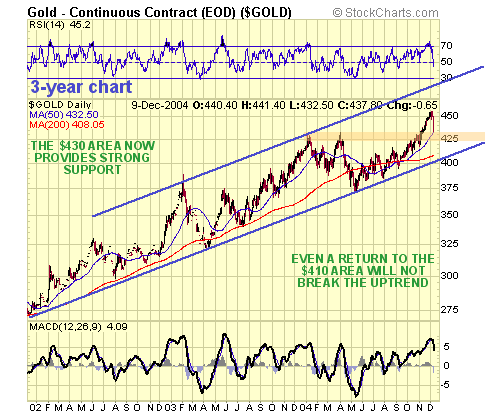 The break of the parabolic uptrends in gold and silver does not mean "game over" for these markets. What it signifies is that the trends had become unsustainably steep, and that a less steep uptrend will resume in due course. It is very difficult to predict at what point these parabolic trends will break down, but when they do break down it is often dramatic and there is little time to take evasive action. The same thing happened in oil a couple of weeks ago. All three commodities are in a corrective phase and need to stabilize before their up trends resume at a less rapid rate.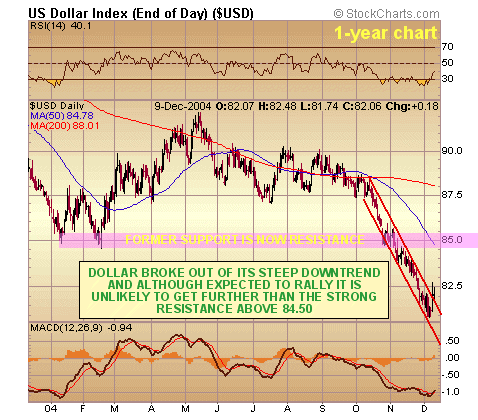 Silver
The decline in silver was much more severe than that in gold, and more serious, as it broke down from an uptrend in force since late 2002.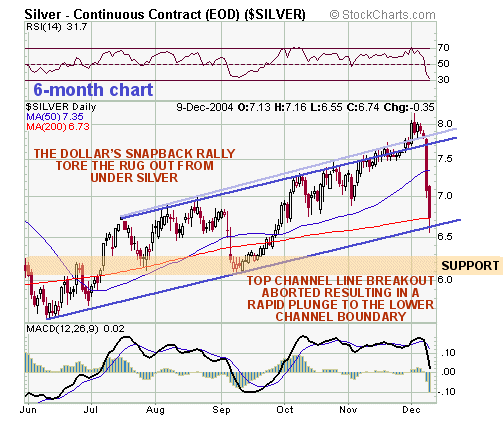 For the time being silver is finding support at the bottom of a linear trend channel at the 200-day moving average, but the risk of continued decline over the short to medium-term remains, once the short-term severely oversold condition unwinds.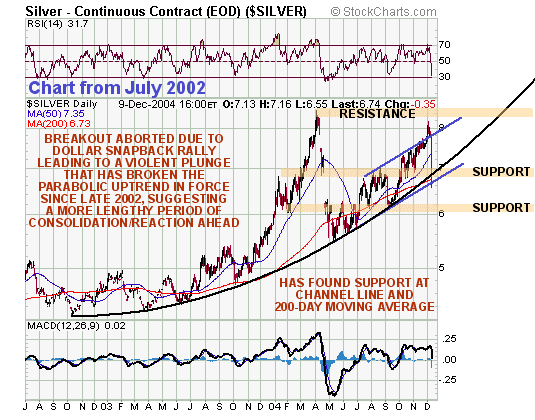 Clive Maund
Clive.Maund@t-online.de

Clive Maund is an English technical analyst, holding a diploma from the Society of Technical Analysts, Cambridge and living in southern Bavaria, Germany.

Visit his subscription website at clivemaund.com.[You can subscribe here].

No responsibility can be accepted for losses that may result as a consequence of trading on the basis of this analysis.

Copyright © 2003-2004 CliveMaund. All Rights Reserved.

321gold Inc Miami USA