SilverMarket Update
Silver stocks are currently hostage to gold stocks
Clive Maund
6 December, 2004

Silver broke out strongly above the top line of the rising trend channel that had contained the price since its May low, as expected. This is an important development, as this line had been tempering and moderating the advance for months but now - as long as the price can remain above it - it is in position to accelerate significantly, and challenge and take out last April's high, which fits what is unfolding in gold, which is also well placed to accelerate. Rapid and substantial gains should follow a break above the highs around $8.40.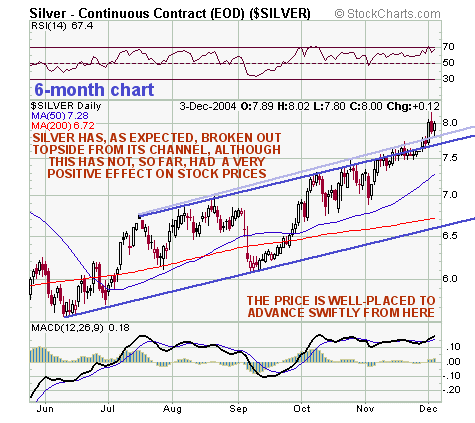 This breakout by silver was expected to lead to significant gains by silver stocks, but the effect was muted, and instead silver stocks got caught up in Thursday's vicious shakeout in precious metals stocks, as investors broke out in a cold sweat at the thought of the gold stocks double-topping with their highs of last winter. Thus, it is clear that the fortunes of silver stocks are currently hostage to what happens to gold stocks, as is very often the case, which is why it is so important when considering the outlook for silver stocks, to keep a close eye on what is happening to the gold stock indices. Silver stocks are thus expected to make significant gains when gold stocks do, i.e. when the gold stocks indices break above their highs of last winter, which in the case of the HUI index will require a clear breakout above 260.
Clive Maund
Clive.Maund@t-online.de

Clive Maund is an English technical analyst, holding a diploma from the Society of Technical Analysts, Cambridge and living in southern Bavaria, Germany.

Visit his subscription website at clivemaund.com.[You can subscribe here].

No responsibility can be accepted for losses that may result as a consequence of trading on the basis of this analysis.

Copyright © 2003-2004 CliveMaund. All Rights Reserved.

321gold Inc Miami USA