Gold $430 Breakout Expected Soon
Clive Maund
4 November, 2004
Gold has been acting very positively in recent days and now, at last, is ready to take out the key resistance at $430. There are several very crucial points to make here. The importance of the $430 level is emphasized by the fact that gold double-topped at this level back last winter and spring, so the fall of this level will therefore have a huge positive psychological impact, and result in the rapid conversion of a lot of disbelievers. A powerful uptrend is therefore expected to ensue once this level is clearly breached. Gold has not raced up to the $430 level this time around - its approach has been measured and steady, making it much less likely that it will be whacked back down. This is emphasized by the fact that gold has exceeded all previous 04 highs for multi-days and it has spent all of October above $400 for the 1st time in 14 years (thanks Ted for these stats).
Once the outcome of the US election had become clear yesterday, the dollar fell heavily, and appears to have completed a small, stubby flag and be about to break lower again, and gold simultaneously firmed up, so that it is now within a few dollars of the breakout line. Obviously, if the dollar now proceeds to take out its lows of last January and February it can be expected to plunge, and gold will break decisively above $430 and advance strongly.
Oil showed signs that its short, sharp correction is probably over. This is a helpful indication, as broadly speaking gold and oil tend to advance together.
To sum up: Gold is expected to break out very soon now above $430, within the next few weeks and perhaps within the next few days, and to enter a powerful uptrend that should run to at least $480 before consolidation sets in. Silver is also expected to advance strongly at this time.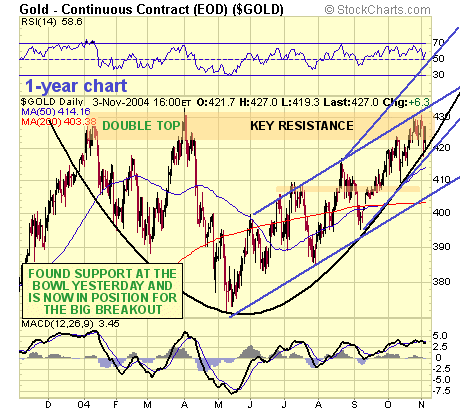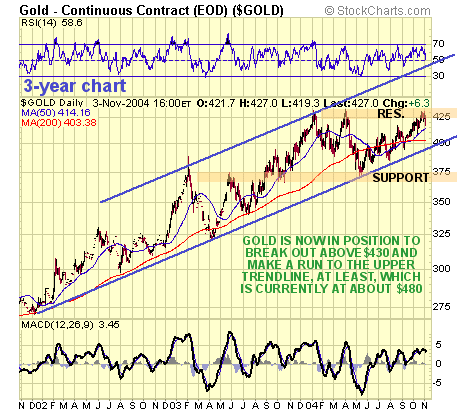 Gold price $426.30 at 3.30 am EST on 4th November 2004
Clive Maund
Clive.Maund@t-online.de

Clive Maund is an English technical analyst, holding a diploma from the Society of Technical Analysts, Cambridge and living in southern Bavaria, Germany where he trades US markets.
Visit his subscription website at clivemaund.com.[You can subscribe here].

No responsibility can be accepted for losses that may result as a consequence of trading on the basis of this analysis.

Copyright © 2003-2004 CliveMaund. All Rights Reserved.

321gold Inc Miami USA