Gold Market Update
Not quite ready for the burning of the books
Clive Maund
28 October, 2004

The dollar crashed support at 87 as predicted and has plunged rapidly to the next support level. This development was expected to result in a gold breakout above the key $430 resistance level, but it did not. Gold did, however, push up against the resistance on Monday before backing off. While acknowledging that the precipitous nature of the dollar decline means that the current support level may not hold for long, it would be wise, in view of the clear support at this level and the short term oversold condition of the dollar, to expect some kind of minor rally or holding pattern possibly lasting some weeks before the dollar breaks lower again. This being so we should not be surprised to see gold back off a little and consolidate from here before it challenges the $430 level once again.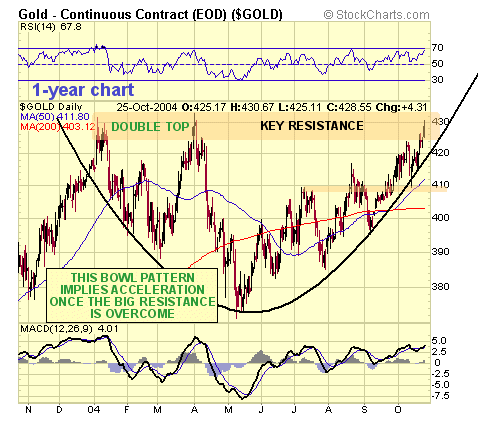 Gold's apparent lacklustre performance as the dollar plunged is viewed as more of a reflection of the importance of the $430 resistance level than an indication of intrinsic weakness; the fact that it stopped right at the January and April highs synchronises with the dollar plunging to its January and February lows. The implication of this is obvious - gold can be expected to break out above $430 when the dollar breaks down below its lows of early this year. The $430 level is such a crucial milestone for gold that when it breaks above it, a powerful advance is to be expected. This will be the point at which "the burning of the books" can be expected, namely the bearish Elliot wavers burning all their gold chart folders.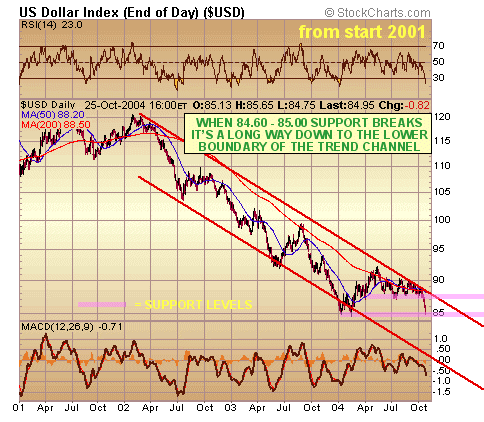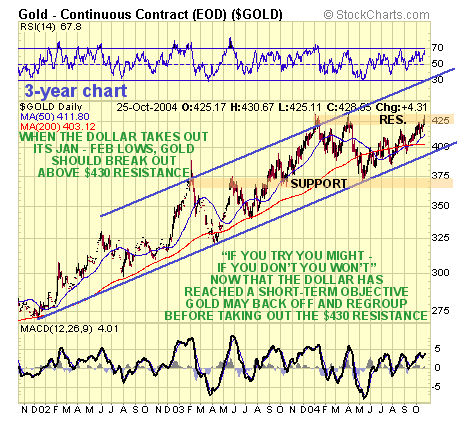 So, to summarize, the dollar, having broken 87 on the index, has fallen to hit its first downside target. It is on an important support level and short-term oversold, and therefore likely to either rally modestly or remain in a narrow trading range, perhaps for several weeks as the oversold condition unwinds. The precipitous nature of the decline indicates that it is unlikely to be long before it breaks lower again - and next time gold is expected to break above $430 and advance strongly.
Clive Maund
Clive.Maund@t-online.de

Clive Maund is an English technical analyst, holding a diploma from the Society of Technical Analysts, Cambridge and living in southern Bavaria, Germany where he trades US markets.
Visit his subscription website at clivemaund.com.[You can subscribe here].

No responsibility can be accepted for losses that may result as a consequence of trading on the basis of this analysis.

Copyright © 2003-2004 CliveMaund. All Rights Reserved.

321gold Inc Miami USA