Silver Market Update
Clive Maund
13 October, 2004
Having attained the short-term target highlighted in the "Marketwatch" for Monday, silver is now reacting heavily. It was also pointed out in that article that the price had not risen sufficiently above $7 for that price level to provide significant support on the way down - and it hasn't, with the price down at $6.84 on Wednesday morning as I write.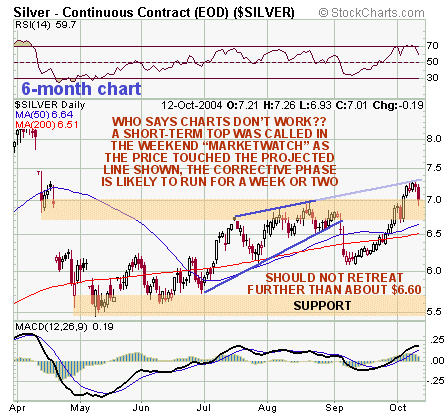 Following a 1-month long uptrend we are now experiencing a healthy cyclical reaction, This short-term downtrend is expected to last a week or two and take the price down to the $6.50 - $6.60 area, possibly $6.50, but we will not want to see it go lower than $6.40 as this would constitute a breakdown from the important parabolic uptrend shown on the 2-year chart below. The current reaction towards the parabolic uptrend is expected to present a further buying opportunity in both silver and silver stocks, enabling investors to scoop up coveted stocks at better prices, in readiness for a turnaround and a resumption of the advance. Note that last week's sojourn significantly above the key $7 resistance level by silver was a positive sign, augering well for future strength, despite this week's drop.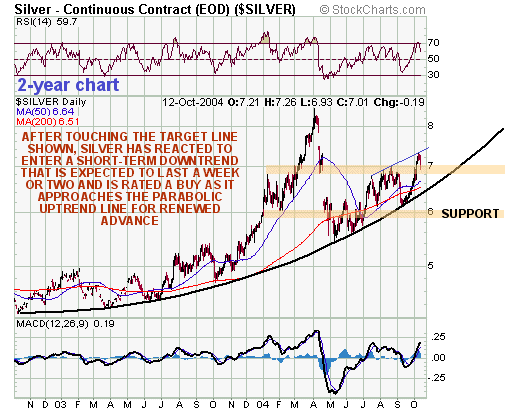 It is always wise to have a fallout plan in the event of our expected scenario not playing out, which in this case is simple to define. If silver breaks below $6.40, which would be a clear break of the parabolic uptrend, it will be a general sell signal for silver and silver stocks.
13 October, 2004
Clive Maund
Clive.Maund@t-online.de

Clive Maund is an English technical analyst, holding a diploma from the Society of Technical Analysts, Cambridge and living in southern Bavaria, Germany where he trades US markets.
Visit his subscription website at clivemaund.com.[You can subscribe here].

No responsibility can be accepted for losses that may result as a consequence of trading on the basis of this analysis.

Copyright © 2003-2004 CliveMaund. All Rights Reserved.

321gold Inc Miami USA