Gold Market Update
Clive Maund
13 October, 2004
The "Marketwatch" for Monday called for a reaction in gold (and silver) this week. Not surprising really as it was overbought, at the top of a trend channel and beneath a zone of heavy resistance. This is classic TA, which continues to work, because as Joseph Granville used to say "There is more maintained stupidity in this business probably than in any other business in the world."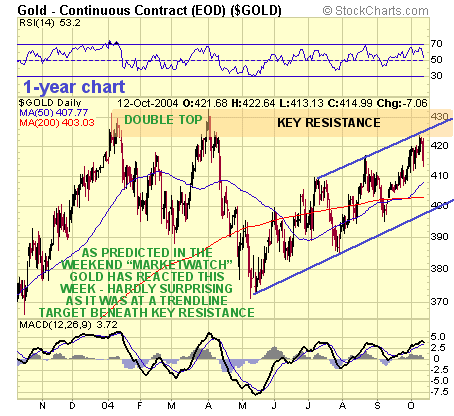 The current reaction is quite normal, and is, in fact, technically desirable in order that gold can marshal the necessary strength to break above the key $430 level decisively. It is also useful in another respect, in that it provides the opportunity to continue accumulating the quality gold stocks at better prices ahead of the big breakout, which is likely once the dollar breaks down below 87, which itself becomes a much greater possibility after the US elections on November 2nd. We must always remain flexible and have a contingency plan in case our expected scenario does not play out. Fortunately, in the case of gold, parameters are easy to define, and quite close; if gold breaks down from its long-term uptrend channel shown on the 3-year chart, it's a general sector sell signal. Should this occur individual stocks can be expected to synchronously break below key support levels.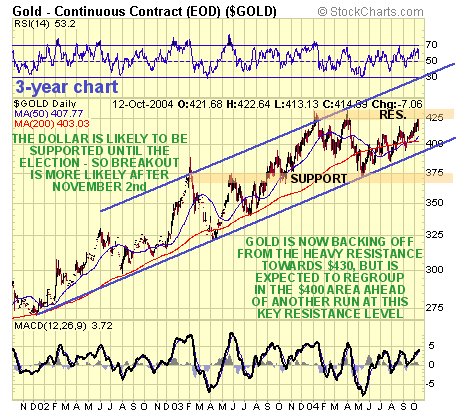 The short-term downtrend now in force is expected to run for a week or two and take gold down probably to the $405 - $410 area and throw up a buying opportunity in gold itself and in gold stocks. Note that the stocks will likely bottom a little ahead of gold.
13 October, 2004
Clive Maund
Clive.Maund@t-online.de

Clive Maund is an English technical analyst, holding a diploma from the Society of Technical Analysts, Cambridge and living in southern Bavaria, Germany where he trades US markets.
Visit his subscription website at clivemaund.com.[You can subscribe here].

No responsibility can be accepted for losses that may result as a consequence of trading on the basis of this analysis.

Copyright © 2003-2004 CliveMaund. All Rights Reserved.

321gold Inc Miami USA