Silver Market Update
Clive Maund
7 October, 2004
Silver has shown remarkable strength this week, breaking above an important resistance level without much help from either copper or gold, which have yet to break above their key resistance levels. The extent of the move was not so important as the fact that it took on and overcame the strong resistance at $7, which had caused it to react briefly but sharply on Monday.
The significance of the $7 resistance level is evident on the 6-month chart, where we can see the trading in this price area before the 2nd gap down in mid-April, and how the July-August advance was brought to a halt at this level, leading to the short, sharp reaction in early September. The break above this level is therefore a very positive technical development, and will continue to have bullish implications even if the price slips back below $7 over the short-term, provided it holds above the longer-term parabolic uptrend.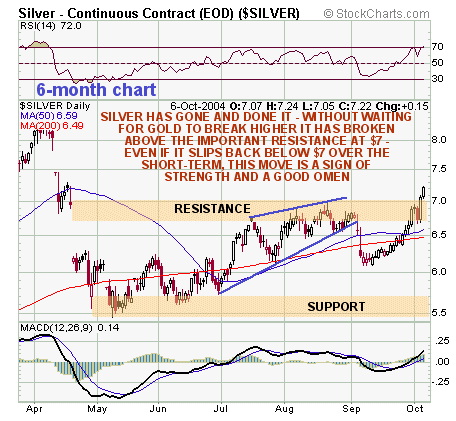 A 2-year chart is included to provide a larger perspective and also to highlight the crucially important parabolic uptrend. The price may slip back below $7 short-term, very possible due to the short-term overbought condition, but what it must not do, in order to mantain the now strongly bullish picture, is break the parabolic uptrend.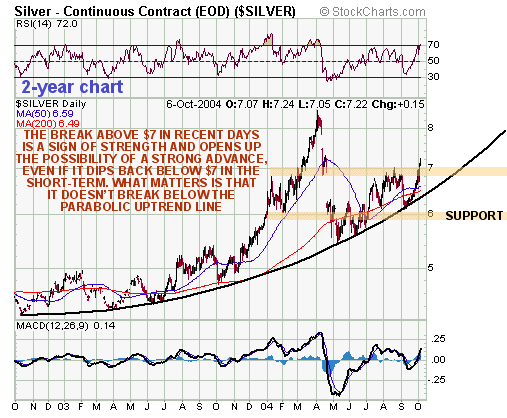 What we may have witnessed these past few days is the birth of a powerful uptrend, and, in a few months, with the benefit of hindsight, we may be able to look back upon the period April through September as a correction and base building prior to a strong advance. It is, of course, highly likely that the uptrend will accelerate dramatically as copper and gold break out to new highs. Note that while there is some resistance to be overcome in the area of the March-April highs around $8.50, the price did not dally long there, so the resistance will be nowhere near as significant as the $7 resistance level that silver has just overcome.
It goes without saying (so I'll say it anyway) that if silver launches into a powerful uptrend from here, the silver stocks can be expected to make very substantial gains, which the individual stock charts reveal that they are in position to do.
7 October, 2004
Clive Maund
Clive.Maund@t-online.de

Clive Maund is an English technical analyst, holding a diploma from the Society of Technical Analysts, Cambridge and living in southern Bavaria, Germany where he trades US markets.
Visit his subscription website at clivemaund.com.[You can subscribe here].

No responsibility can be accepted for losses that may result as a consequence of trading on the basis of this analysis.

Copyright © 2003-2004 CliveMaund. All Rights Reserved.

321gold Inc Miami USA