Gold and Silver Market Updates
Clive Maund
Sep 26. 2005
Gold
Gold broke out of a 9-month trading range last week, and the breakout was by a sufficient margin to signal a new intermediate uptrend, even though the current reaction from a short-term overbought condition may have further to run. The move was all the more impressive as it happened without any help from a falling dollar. As pointed out in the last update, gold needed to "get on with it" quickly and break higher to obviate the risk of a breakdown, as it had been stuck in the trading range for a long time.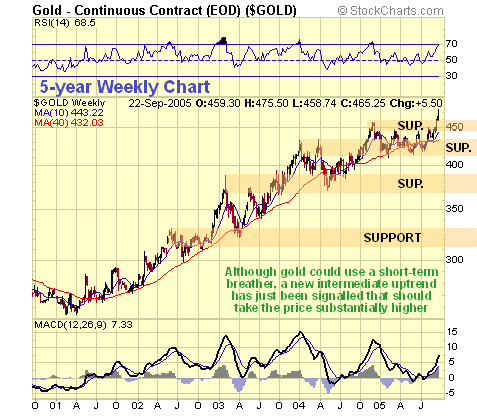 The 5-year weekly chart shows the breakout and preceding trading range in the context of the entire bull market to date. While clearly overbought short-term, hence the current reaction, it is not significantly overbought on an intermediate basis, so the new intermediate uptrend signalled by the breakout should have much further to run. A 9-month consolidation is not normally followed by a week or two up and that's your lot folks.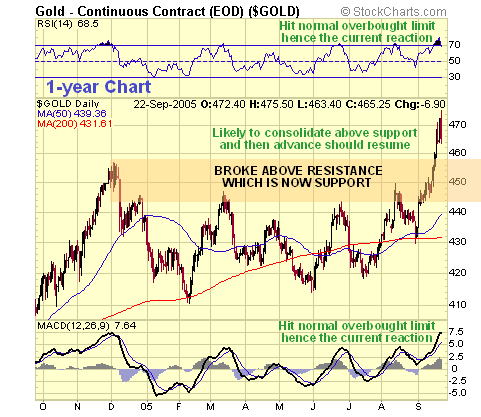 The 1-year gold chart shows the 9-month consolidation pattern and last week's breakout in detail. The short-term overbought condition resulting from the strong advance this month is highlighted by the RSI and MACD indicators, which are at their normal overbought limits. Hence the current reaction that has just set in and which is expected to run further, especially as the latest COT charts show that the Commercial's short positions have increased further ot a high level. This reaction, which is not expected to be very deep due to the change in sentiment resulting from the breakout, should be regarded as a buying opportunity. The large gold stocks, which had already reacted from overbought highs last week, appear to have already discounted a minor gold reaction and were looking ready to go up again on Friday, a notable example being Royal Gold (RGLD), which closed near its highs after a large daily range.
We will be examining a range of large and mid-cap gold stocks on www.clivemaund.com in the near future.
Silver
Gold broke out to a clear new high last week, and although silver is still a long way from doing that, it started to show signs of an impending big move. Crucially for silver, the big silver stocks have started to break higher on good volume, and some of these, such as Coeur d'Alene, are looking set to enter major uptrends very soon now.
The 5-year weekly chart for silver shows the seemingly interminable standoff that has been going on for many months now, following the metals' refusal to break out conclusively in either direction from the large symmetrical triangle formation. Now, however, the time for a major move appears to be upon us. There are 2 compelling reasons for taking a strongly bullish tack here. One obvious one is that gold has just staged a clear breakout from a 9-month consolidation pattern, and although it is now backtracking to alleviate the current overbought condition, and may continue to do so short-term, the breakout looks conclusive, and it should therefore continue higher over an intermediate time frame. On the basis of this observation alone, it is very unlikely that silver will do anything other than go up with it. The other very important reason for silver to break higher is that the silver stocks, large and small, are indicating that it is going to.
We will return now to consider further the 5-year silver chart, as there are some additional important observations to be made regarding this chart. The first is the extraordinarily narrow range that silver has been trading in for much of this year - with the result that the price and the moving averages are now bunched tightly together, a potentially explosive situation, especially in a commodity as volatile as silver can be. This situation has already persisted for some months now, and common sense dictates that it cannot continue for much longer. The MACD indicator at the bottom of this chart dramatically demonstrates the uncannily low volatility in silver at this time. The course of this indicator from April of last year is reminiscent of the bounce of a ball dropped to the ground, that bounces less and less until it finally stops. While the ball may remain lifeless after it has finished bouncing, the same is not true of a commodity like silver. The condition of this indicator is a clear warning to expect a big move sooner rather than later. The whole look of this chart is of a coiled spring ready to snap, and as already made clear above, the course of gold bullion and silver stocks indicates that the snapping is going to be to the upside. Silver is not at all overbought at this time, by historical standards, and the proximity of the price to the moving averages means that the upside is very large, especially as it likes to become insanely overbought from time to time.
Note that we are not looking at short-term charts at all in this update. This is because it is vital to keep the big picture in mind at this time and avoid the pitfall of getting bogged down in distracting detail. Having said that, there is one detail worthy of note, and that is that the Commercial short position in both silver and gold has risen significantly this week (as of Tuesday´s close), and is now at a high level in gold. This makes a short-term reaction in gold likely, which is hardly surprising given its overbought condition of a few days ago, and thus the reaction in gold and silver which is already underway may have further to go before the metals turn up again.
With silver stocks looking so bullish now, a range of silver stocks, both large and small, have been examined in detail on www.clivemaund.com in the recent past, and this coverage will continue, the idea being to highlight the best ones BEFORE they really get moving.
Clive Maund
email: support@clivemaund.com
website: www.clivemaund.com
Clive Maund is an English technical analyst, holding a diploma from the Society of Technical Analysts, Cambridge, England. He lives in Chile.

Visit his subscription website at clivemaund.com. [You can subscribe here].

No responsibility can be accepted for losses that may result as a consequence of trading on the basis of this analysis.
Copyright ©2003-2011 CliveMaund. All Rights Reserved.
Charts courtesy of StockCharts.com.