Why silver is set to GO THROUGH THE ROOF...
Clive Maund
Sep 20, 2007
It was somewhat odd that despite the extraordinarily bullish COT profile for silver, as of last weekend, gold took center stage and has soared during this week as predicted, despite its COT profile not being as dramatically bullish as that for silver, but that's fine by us as it has afforded time to get this article up. Of course, the reason for silver's underperformance relative to gold so far this week is not hard to find - silver broke down below important support last month, whereas gold didn't, and now silver is having to battle the resulting negative sentiment and supply overhang.
The plunge last month provided the Commercials with the perfect opportunity to unload their short positions for a fat profit and by the truckload, which as already pointed out in the last Silver Market update, they were doing with a gusto, resulting in by far the lowest Commercial short position for at least a year, and as we shall see in this article, for a much longer period - at least 4 years. In a two week period they reduced their short position by nearly 20,000 contracts, equivalent to 100 million ounces of silver. This sort of indecent scramble for the exits by the Commercials from their short positions can only mean one thing - the price is about to turn and go up - BIG TIME.
Our first chart goes back to early 2004 and shows the Commercials' net short position to be at a record low for this period. As we can see all the major lows in the Commercials' short position have been followed by substantial rallies, so it is perfectly reasonable to presume that with a record low now existing, a HUGE RALLY in silver is brewing. This is simply because the Commercials almost always make money with the eminently fleeceable Large Specs being their primary victims.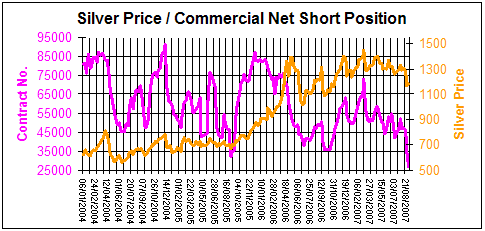 The second chart shows the ratio of the Commercials' short to long positions over the same period. This chart has the advantage that it is just a ratio so the actual number of contracts held is irrelevant. Obviously a low reading for this ratio should be strongly bullish, and checking past correlations with lows in the silver price we can see that this is indeed the case. It is thus most encouraging to observe that the ratio has fallen to a level even lower than the 2005 low, which preceded the powerful advance in silver in 2005 and into 2006.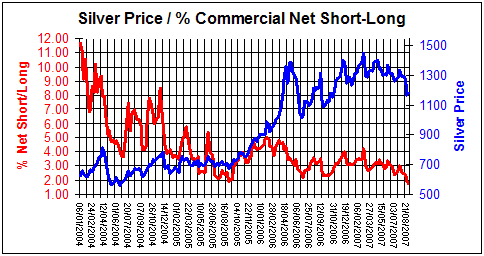 In conclusion, the price of silver looks set to go through the roof - remember, it has underperformed this week only because it broke down last month and therefore has to work off resistance at the red zone shown on the chart below. The fireworks should really start once it breaks clear above this zone and also the Distribution Dome shown on the chart, i.e. once it breaks above about $13.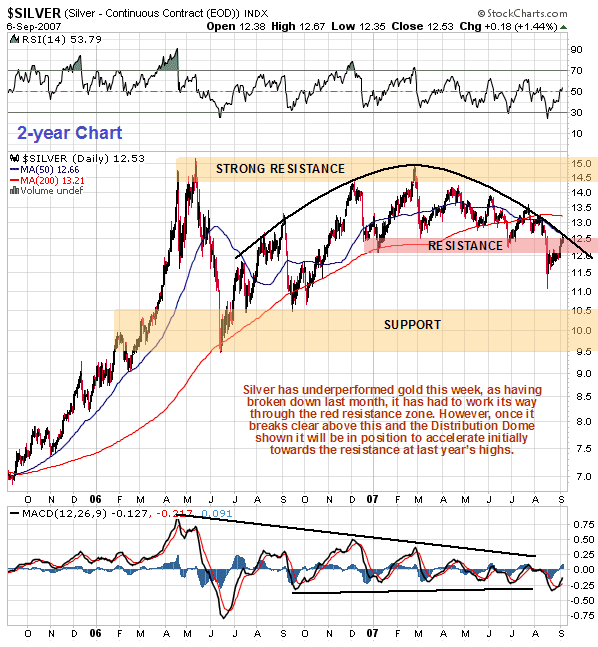 So what about the outlook for silver stocks? If we see the powerful silver rally expected you should practically be able to close your eyes and throw darts to select silver stocks and still make good money. However, we do aim to be more precise than that, which was a reason for the article The Great Silver Stock Shopping List posted on the site [for subscribers] on 5th September, and we will be looking at more silver stocks not included on that list in the near future.
originally published on Sep 7, 2007
Clive Maund
email: support@clivemaund.com
website: www.clivemaund.com
Clive Maund is an English technical analyst, holding a diploma from the Society of Technical Analysts, Cambridge, England. He lives in Chile.

Visit his subscription website at clivemaund.com. [You can subscribe here].

No responsibility can be accepted for losses that may result as a consequence of trading on the basis of this analysis.
Copyright ©2003-2011 CliveMaund. All Rights Reserved.
Charts courtesy of StockCharts.com.